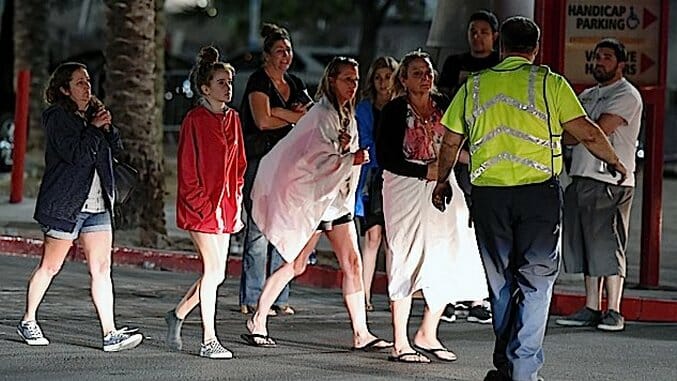 The Sun City development in Mesquite, NV is an "over-55 "active community with a homeowners association, a neighborhood watch, a golf course, miles of bike trails, a fitness center, a pool, a movement studio, and an "arts & crafts room (with a kiln!)." Most of its residents are retirees in their 60s or 70s, some of whom keep a house in the community as a winter residence. They live on streets with names like "Water Lily Lane," "White Water Run," and "Cool Springs Lane."
"My husband and I just went to a party last night," said a woman who lives in the community's Prominence subdivision, and preferred not to be identified by name. "The whole community had a party at the pool at our rec center, and on the way home I said to my husband, 'I'm so glad we live here, I feel so safe.' Then I got up this morning and found out the shooter lives two blocks from me."
That shooter, a 64-year-old retired accountant named Stephen Paddock, lived on Babbling Brook Court. He opened fire on an outdoor concert Sunday night from a room on the 32nd floor of the Mandalay Bay hotel in Las Vegas, using at least 10 guns to kill at least 58 people before killing himself. It's the deadliest mass shooting in American history, and as of now, nobody knows exactly why he did it. Nor does his home base shine on any light on those motivations—Prominence is as unlikely a breeding ground for a domestic terrorist as you'll find in the whole country.
"Our neighborhood is lovely!" the woman exclaimed. "We are such a close-knit neighborhood, we do things together all the time. It's beautiful, it's like living in a resort, as far as I'm concerned."
Her husband walked her dog this morning on a trail separating two of the smaller streets in the subdivision, and saw a full SWAT team outside Paddock's home. But despite her proximity to the shooter, the woman didn't know him personally.
"I don't think he was a very social person, from what I understand," she said. "But other than that, people who knew him say he seemed like a very normal individual."
"I didn't know him, and I couldn't even tell you what he looks like," said Charlene Bradshaw, who lives even closer to Paddock. "There are people who socialize and do things with each other, but it's not usual for someone to be a stranger to his neighbors. A lot of us mostly keep to ourselves."
Bradshaw described the average resident of Prominence as comfortably middle-class. It's the kind of neighborhood, she said, where it's considered impolite to even talk politics. It was a scene of total shock in the subdivision on Monday morning, she said, where most bystanders held the same perspective—some knew Paddock's wife, slightly, but few knew the man himself.
"It's pretty upsetting to everybody here in the community," she said, describing the stunned reaction of her neighbors. "They're not letting any news or media in, but there's police and SWAT and CSI all around his house. I can hear a helicopter buzzing around in. His house backs up on a trail to the dog park, where everybody here walks their dogs every single day."
"People I talk to are all saying the same thing: Thank God he didn't open up down at the Casa Blanca or the rec center or pick people off walking in the dog park, you know? Very tragic that someone like that doesn't reach out for help first."
"A lot of people moved here away from areas were there mass shootings," Bradshaw continued. "I came from California. This a very peaceful, quiet area, and there's not a lot of crime. I mean, if someone gets arrested, they put their name in the paper! It's that small of a community. I worked for San Francisco 9-1-1 for a while, and you know, in a big city, things happen, horrible things, that never make the paper. But here, if someone gets a traffic ticket, it makes the paper."
The woman who lives two blocks from Paddock and requested anonymity said that nobody can leave the neighborhood at the moment.
"I was going to get up this morning and go to my aerobics class, but I found out that if I leave, I can't get back in. We're pretty much stuck in here right now."
As for what inspired Paddock to undertake one of the worst crimes in American history, the residents of Prominence are just like the rest of the country—limited to blind speculation.
"It's just so strange," the woman concluded. "I would have never thought the shooter could come from here. It's a crazy world out there, is I guess all you can say."