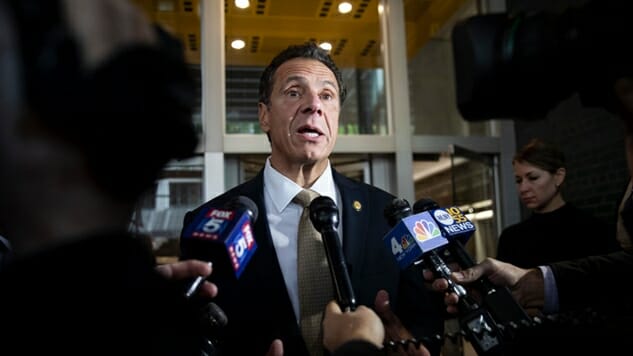 Andrew Cuomo, last seen fending off a progressive challenge from former Sex and the City star Cynthia Nixon, is now endorsing a progressive agenda after winning reelection for New York governor. It could not be clearer which way the winds are blowing in the Democratic Party (read: left), and a transparently corrupt politician (who shut down a probe once it got close to his corruption) who has made a career out of being a diet Republican endorsing a litany of leftists policies is the clearest indication yet as to where the Democratic Party is headed.
And in his speech echoing FDR, Cuomo set about to do all this in the Legislature's first 100 days

— Shane Goldmacher (@ShaneGoldmacher) December 17, 2018
Legalizing marijuana for recreational purposes is a big deal because it removes one of the most racist policies in America. Marijuana has been legal for most of America's history, as the History channel wrote:
Anglo-Americans and Europeans have known about marijuana's medicinal benefits since at least the 1830s. Around that time, Sir William Brooke O'Shaughnessy, an Irish doctor studying in India, documented that cannabis extracts could ease cholera symptoms like stomach pain and vomiting. By the late 19th century, Americans and Europeans could buy cannabis extracts in pharmacies and doctors' offices to help with stomach aches, migraines, inflammation, insomnia, and other ailments.
In 1937, Franklin Delano Roosevelt signed the Marihuana Tax Act amidst a panic about immigrants. Racism was the key argument directed towards the populace as to why the government needed to make marijuana illegal, and arresting people for low-level marijuana sales and possession is an integral part of the inherently racist War on Drugs. If America wants to reverse course on its sordid and racist history, legalizing marijuana for recreational purposes would be a good start, for no other reason than to make our police focus on actual crime.
Jacob Weindling is a staff writer for Paste politics. Follow him on Twitter at @Jakeweindling.