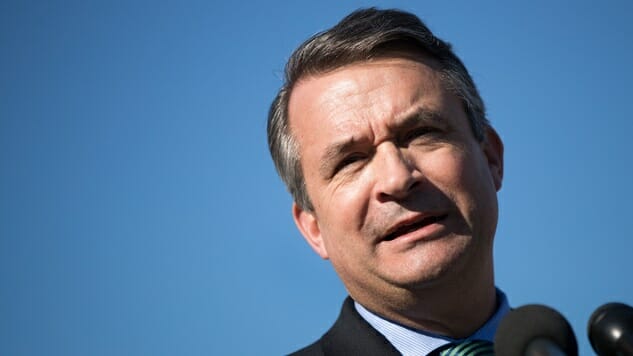 Welcome to "Meet a Competitive House Race," a new Paste feature in which we highlight—you guessed it—a competitive 2018 House race from somewhere in America. Between now and election day, we'll hopefully hit them all. You can see a full list of other House races we've profiled at the bottom of this page.
What's the deal with today's district? Where is it?
Today marks the official start of primary season, and we're going to venture into one of the most contentious slivers of America's heartland: Nebraska's 2nd district. In a state with only three districts, Nebraska's 2nd is the smallest, only covering parts of two counties. But its central hub is Omaha, the state's largest city, making it the most likely in any given year to go blue.
Who lives there? How do they vote?
In what seems to be a developing pattern, a whole lot of white people live here. 81 percent of the district's population to be precise, with black and Hispanic populations comprising 20 percent. That wasn't always the case—some Dems have accused the state's conservative legislature of gerrymandering both Bellevue and Offutt Air Force Base, which hold large minority populations, out of the district in 2011. Despite the criticism, the reworked district paid off for the GOP as the 2nd went for both Mitt Romney and Donald Trump in presidential elections following the boundary revision. The district voted for Barack Obama in 2008.
Is Trump going to screw the Republican?
There's always a chance, though incumbent Don Bacon hasn't been as cozy with the president as others.
Give me some more background
Bacon was one of some established Republicans who called for Trump to withdraw from the presidential election following the release of the infamous "grab them by the pussy" tape in 2016, suggesting that he "allow a strong conservative candidate, like Mike Pence, from the GOP to win in November." Despite this bout of condemnation, Bacon didn't rule out voting for Trump, making his stance substantially weaker in the process. While Bacon has kept Trump at a distance in the media, the narrative seems to change within the House chambers. Bacon has voted in unison with the president's desires a whopping 97 percent of the time, more than anyone else we've covered in this series to this point.
What's up with the Republican(s)?
Don Bacon is still in the infancy of his political career. His slim 2016 victory over Democratic incumbent Brad Ashford was viewed as an upset, and this is the first public office he's held. Until that victory, Bacon's only political experience was as an aide to Rep. Jeff Fortenberry. Bacon has supplanted his lack of experience in office with a long, decorated career in the United States Air Force, part of which was served at Offutt Air Force Base. Bacon retired as a Brigadier General in 2015, and has since been an advocate for the advancement of electronic warfare. He worked heavily in the field during his service and sees it as imperative to combating future threats. He has also been vocal about combating Russian and Chinese threats in both outer space and cyberspace while calling for an increased U.S. military presence in the Balkans to counter Russian interests in the region.
His 2016 campaign platform focused on the usual GOP talking points, such as lowering the national debt, decreasing regulations and further strengthening the military, but entering office at the same time as Trump led him to skew policy decisions toward more fringe positions. While Bacon audibly broke with the president over DACA protections, his support of other failed and unfavorable legislative decisions as led to increased anger within the district. At a town hall last month, Bacon's defense of his support of the repeal of Obamacare, the tax reform bill and pro-gun legislation drew ire from attendees. In defense of the Trump administration's divisive immigration reform plan, Bacon told his audience that 15 terrorists attempt to enter the country each day, citing a briefing from the Department of Homeland Security. The remark drew dismissive laughter from the audience.
That reaction is going completely unheard by Bacon's campaign. Campaign ads supporting Bacon that mention the unpopular tax reform bill, the only substantial bit of legislation passed by Congress since Trump took office, have decreased by more than half since January, which is both smart and discouraging. Many conservative candidates have seen backlash as they try to promote their reelection bids based on the tax bill, but they haven't been able to find a substantial enough replacement for such a pillar, leaving their campaigns markedly weaker by comparison to those of Democrats.
Bacon has also been criticized for taken campaign contributions from Robert Mercer, an investor in Cambridge Analytica (and Steve Bannon's erstwhile patron), the Koch Industries PAC and Mike Pence's Great America Committee.
What's up with the Democrat(s)?
Two candidates are locked in a tight struggle heading into the May 15 primary: former Rep. Brad Ashford and Omaha nonprofit director Kara Eastman. The battle between the two has been drawn along philosophical and regional lines. The more centrist Ashford has garnered more national support, including a donation from House Minority Leader Nancy Pelosi, while Eastman's more progressive platform has drummed up support within local and state political circles. In a debate last month, the two clashed over a Medicare-for-all initiative supported by Eastman. Ashford said any plan of that nature would never pass in a divided Congress, suggesting that focus be put more on restoring Obamacare protections removed by Republicans.
Eastman has been critical of Ashford's political leanings, stating that she was the only true Democrat in the race. Ashford acknowledged his past in both the Republican and Democratic parties, but explained that his experience in both parties have informed his ability to effectively navigate the center. Ashford has also come under fire from Republicans for calling Bacon a "carpetbagger" in a tweet, referencing the fact that Bacon isn't a local product such as himself. While the comment is problematic, Bacon's campaign manager Mary Jane Truemper's claim that the comment was offensive to veterans was a bit overblown. "Brad Ashford believes that veterans are qualified for his photo ops, but not fit to serve in public office," said Truemper. In another bout of drama, state Republicans later held a vote to condemn the statement.
What do the polls say?
Bacon has a clear path to the GOP nod for the general election, but the race between Ashford and Eastman remains close heading into next week's primary. Ashford has the edge in campaign funds, holding a full $200,000 lead over Eastman in fundraising. Both pale in comparison to Bacon, who holds $1.5 million in his coffers. The disparity isn't a good sign for either Democrat, but Ashford also has the fact that he lost to Bacon in 2016 riding against him.
What's weird about the district?
That loss by Ashford factors heavily into the messaging around the campaigns of both Dem candidates. Eastman has positioned herself as the new candidate, pushing for a new perspective in the House seat. Ashford's loss impacts the district's perception of his chances against Bacon, which could lead to a push for Eastman. It could also result in some viewing his centrist stance as the best chance at defeating Bacon, similarly to Conor Lamb's victory in Pennsylvania. Ashford only lost by 1 point in 2016, which he could point to as an easily surmountable deficit as the country moves away from supporting Trump's new definition of the Republican party.
Give me a prediction
Ashford probably has the better chance of the two to take down Bacon, but the swing status of the district and narrow margin of victory for Bacon in 2016 mean that either Dem stands a good chance at defeating him. We'll go with the Democrat, whoever it may be.
Past races:
—California 48th: Dana Rohrabacher, vs. some Democrat, eventually
—Florida 26th: Carlos Curbelo vs. Debbie Mucarsel-Powell
—Colorado 6th: Mike Coffman vs. Jason Crow
—Washington 8th: Dino Rossi vs. too many infighting Dems
—Iowa 1st: Rod Blum vs. Probably Abby Finkenauer