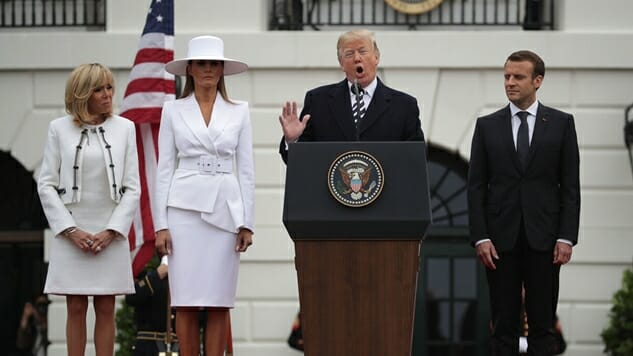 At least sixteen women have accused President Trump with behavior ranging from the inappropriate to sexual harassment or assault. Stormy Daniels alleges that her affair with Trump came just after Melania was pregnant with Barron. Donald Trump bragged on The Howard Stern Show that he could walk through dressing rooms at his beauty pageants—some contestants being as young as 16—because he could "get away with things like that." Donald J. Trump is a gigantic piece of trash, and First Lady Melania continually tells the story, unwittingly or not. Let's go to the tape.
1. Melania knew we were all doomed on Inauguration Day.
2. This is just cold.
That moment when your wife resists holding your hand… PRICELESS. ???????? @realDonaldTrumppic.twitter.com/hDpPddTv5C

— BetsyBits (@BetsyBits) April 24, 2018
3. Donald goes fishing at the beginning of this video, comes up empty.
WATCH: President Trump and First Lady Melania Trump depart the White House on their way to Ohio pic.twitter.com/unoZ5xyEXN

— NBC News (@NBCNews) February 5, 2018
This one could be innocent at first glance, but check the date: three weeks after Michael Cohen admitted to making the Stormy Daniels payments. When it looks like a duck…
4. To be fair, this one is a different kind of oafishness.
Pres. Trump and the First Lady arrive in Charlotte, North Carolina for Rev. Billy Graham's funeral. https://t.co/f1iaBQs2Copic.twitter.com/J2HaT1MWci

— ABC News (@ABC) March 2, 2018
Upon first glance, this looks like yet another Melania rejection, but it's far more nuanced. She begins holding hands with him while they are still on the plane, then once she discovers the winds are pretty intense and about to whip up her dress, she abandons symbolism for practicality, and ensures that she will not become the first First Lady to flash the entire world. Where POTUStupid comes into play is continuing to try to grab Melania's hand as she holds down her dress, with it taking more than half the trip down the flight of stairs before the president realized that it wasn't going to happen. To be fair, Trump does have a well-documented fear of stairs, so he did have a lot on his plate with at the moment.
5. This is like LeBron's block in Game 7 of the 2016 NBA Finals.
Well this is embarassing https://t.co/XaPL1AbCm5pic.twitter.com/mumhuQHDFz

— Haaretz.com (@haaretzcom) May 22, 2017
Jacob Weindling is a staff writer for Paste politics. Follow him on Twitter at @Jakeweindling.