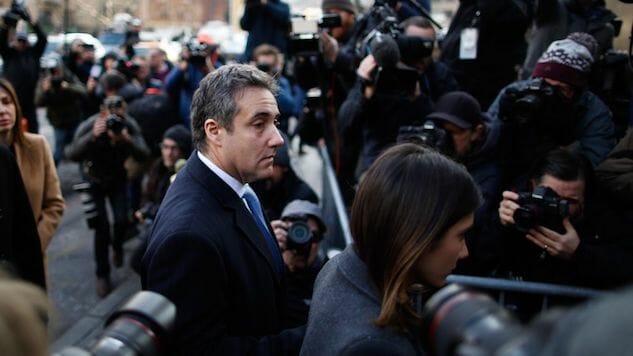 After having spent upwards of 70 hours fruitfully cooperating with special investigators, President Trump's former lawyer Michael Cohen is prepared to extensively describe how his ex-client acted as a racist, a liar and a potential criminal before a House committee on Wednesday. Lanny J. Davis, a lawyer and adviser to Cohen, told the New York Times that Cohen, "worked very hard on this moment to not only tell the truth, but to back it up with documents."
While he was charged last year with violating campaign finance laws and lying to Congress in his testimony, Cohen is now purportedly ready to share evidence that the president has engaged in potentially criminal conduct since taking office. Particularly, he plans to walk the House through his past actions on Trump's behalf that resulted in his own criminal charges, including his knowledge of Trump's continued involvement with plans for a Trump Tower Moscow, and his sending of hush money payments amounting to $130,000 to porn actress and Trump mistress Story Daniels, and the subsequent illegal repayment of those bribes by Trump.
According to The Times, Cohen will also expand on past claims of Trump's racism. Last year, he told Vanity Fair that Trump often used racist language, and described hearing Trump say that "black people are too stupid to vote for me." Cohen will also speak to Trump's continually inaccurate description of his own personal wealth, and is prepared in some extent to support that with documentation.
Of course, White House press secretary Sarah Huckabee Sanders has already attempted to get ahead of Cohen's testimony. "Disgraced felon Michael Cohen is going to prison for lying to Congress and making other false statements," she said in a statement. "Sadly, he will go before Congress this week and we can expect more of the same. It's laughable that anyone would take a convicted liar like Cohen at his word, and pathetic to see him given yet another opportunity to spread his lies."
In response to questions from House members about his trustworthiness, Cohen's lawyer Davis said his client's response will be, "I take full responsibility, I lied in the past; now you have to decide if I'm telling the truth."
Per The Times, presidential aides are worried how Trump will react to the testimony. Cohen will speak to the House while Trump is in Vietnam for a summit meeting with North Korean leader Kim Jong-Un.