Mike Pompeo Gifting CD with Elton John's "Rocket Man" to Kim Jong-un
Photos by Ian Gavan/Getty, Win McNamee/Getty
Politics
News
Mike Pompeo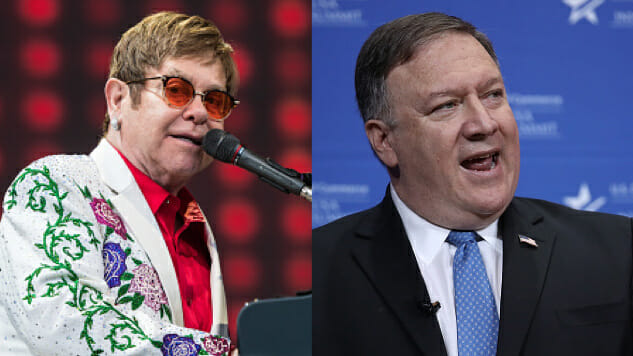 Sure, the diplomatic talks between the United States and North Korea have been going well enough, but you know what might really seal the deal and illuminate the path to denuclearization? An Elton John CD, that's what.
Secretary of State Mike Pompeo arrived in North Korea Friday to see if Kim Jong-un is actually serious about this denuclearization business and to pressure Northern leaders in developing a plan, and he's reportedly bringing gifts: a CD containing Elton John's "Rocket Man" and a letter from Trump, according to The Guardian. Because who doesn't love a nuclear pun?
No word on whether the CD is a copy of Elton John's 1972 classic Honky Château, which houses "Rocket Man," or if it's a more of a mixtape situation. We do know it's a signed copy, but not by John—instead, Trump left his own John Hancock on the gift.
Last year, when North Korea was conducting nuclear tests like it was their damn job and tensions between the two countries were peak terrifying, the president jokingly called Kim Jong-un "Little Rocket Man" on Twitter. Then when Trump met Kim in Singapore last month, he apparently enlightened the North Korean dictator as to this jest. Kim said he'd never heard the song, reports South Korean news outlet The Chosunilbo. Hence, Pompeo is set to remedy that musical travesty.
This weekend's trip marks Pompeo's third to North Korea since April. At the Singapore meeting, Trump and Kim both signed a document pledging North Korea's nuclear dismantlement, but the timeline, details and numerical specifications of that agreement remain vague.
Trump is known a fan of John's music, but the admiration doesn't fly both ways. After Trump's election, his then-spokesperson Anthony Scaramucci laughably claimed, "This will be the first American president in U.S. history that enters the White House with a pro-gay rights stance. Elton John is going to be doing our concert on the mall on inauguration." A spokesperson for John was quick to rebuke that statement. Among Trump's inaugural performers were the Mormon Tabernacle Choir, 3 Doors Down and 16-year-old opera prodigy Jackie Evancho.
Listen to Elton John performing "Rocket Man" at a concert circa 1982 via audio from the Paste archives below.