Mitch McConnell Was Chased out of Two Different Restaurants by Protestors Over the Weekend
Photo by Alex Wong/Getty
Politics
News
Mitch McConnell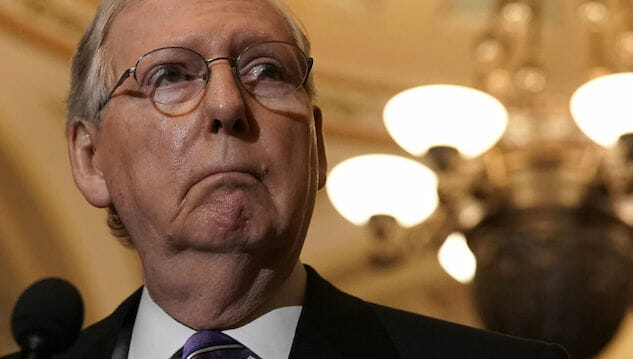 Senate Majority Leader Mitch McConnell was confronted by protestors twice last weekend while eating at two different restaurants in Louisville, Ky. The most recent protest involved members of the Occupy ICE organization playing Public Enemy's "Fight the Power" while chanting "no justice, no peace."
The protests took place back to back, with the first one interrupting McConnell's Saturday lunch and the second disturbing his Sunday dinner. Both groups of protestors confronted McConnell about U.S. Immigration and Customs Enforcement, as well as his involvement in the Trump administration's zero-tolerance policy, which separated thousands of migrant children from their families. Despite the fact that McConnell has openly opposed Trump's family separating policy, he is the Senate Majority Leader who has the power to do something about the situation, so Louisville protestors are determined to make it impossible for him to eat at a restaurant in his hometown in peace.
The Saturday protest took place at Bristol Bar & Grille. The protestors made a scene outside of the restaurant, using Twitter to attract more supporters. McConnell walked out of the restaurant and the protestors followed him to his car, chanting "vote you out, vote you out" and asking "where are the children?" The protest was peaceful until one disgruntled protestor yelled, "We know where you live." Among the protestors were three members of the Democratic Socialists of Louisville. The group was quick to distance themselves from the violent comment by stating:
This person is not a DSA member, nor do we know who he is or what he meant by that statement. We believe it is a reference to peacefully protesting in front of McConnell's house, which is a regular occurrence in Louisville. However, we cannot speak more to the comment because it did not come from our organization or our members.
However, the Sunday protest was less threatening than the Saturday protest, as well as far more entertaining. While McConnell was eating dinner at Sarino, an Italian restaurant, protesters began gathering outside. The protestors blared the song "Fight the Power" by Public Enemy while chanting "no justice, no peace." Across the street, the bar Four Pegs was hosting a trivia night when the trivia host noticed the protestors. Following the end of trivia, the host announced that McConnell was at the restaurant and proceeded to bring out his speaker and join in.
An organizer for Occupy ICE in Louisville, Jesus Ibañez, confirmed that the protestors were members of Occupy ICE. Ibañez said, "They did it to hold McConnell accountable. One person had a megaphone … and then management kicked them out." Ben Norton was a patron at the bar that night and watched the protestors as they attempted to enter the restaurant, only to be escorted out. Norton said, "It was nice to see people giving their elected leaders (crap) when they aren't doing their best."
The two public protests aimed at McConnell last weekend make three protests against him in less than a month. On June 25, McConnell and his wife Elaine Chao were confronted at Georgetown University in Washington, D.C. The protesters asked "Why are you separating families?" to which Chao responded, "Why don't you leave my husband alone?"
McConnell isn't the only politician being publicly confronted by protestors. From Kirstjen Nielsen to Scott Pruitt, before his scandals caught up with him, the entire Trump administration is being publicly shamed for the role they played in separating migrant children from their parents. Trump signed an executive order on June 20 putting an end to the separation of families at the southern border. However, thousands of children still remain separated from their parents, with little to no hope of reunification.