Natalie Portman Declines to Attend Israeli Awards Ceremony Due to "Recent Events" (Updated)
Photos by Pascal Le Segretain/Getty, Ian Gavan/Getty
Politics
News
Natalie Portman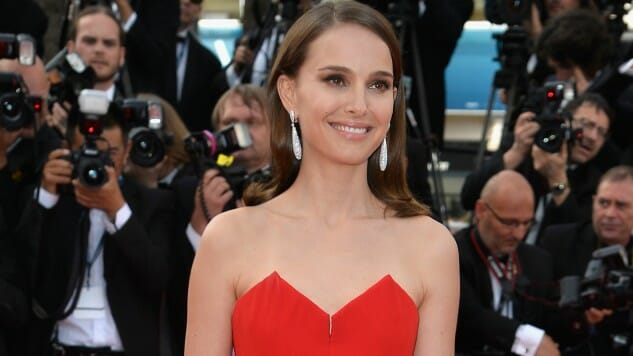 Update: Natalie Portman has issued a statement on her decision via Instagram.
Original Story: Academy Award winner Natalie Portman has politely declined to attend an awards show in Israel at which she was to be presented with a major award, citing "recent events" via her representatives. According to the New York Times, neither Portman nor the Genesis Prize Foundation, the organization behind the award, offered any more specific reason for her withdrawal. Some believe her reasons stem from the deadly protests occurring along Israel's border with Gaza, where three Palestinians were killed by Israeli fire. Israel has garnered negative attention frequently for using firearms against unarmed protestors along the dividing fence between the country and Gaza.
The protest supposedly started as a grassroots movement that Hamas, the militant Islamist group controlling Gaza, adopted. Their purpose is to draw widespread attention to the 11-year blockade of territory Palestine believes belongs to them. Israel's military says its actions are meant to defend its border from attackers posing as protestors who would likely cross the boundary illegally, and therefore harm Israeli communities and soldiers.
"I was saddened to hear that Natalie Portman has fallen as a ripe fruit in the hands of B.D.S. supporters," said Israeli culture and sport minister Miri Regev in a statement, associating the actress' decision with the Boycott, Divestment and Sanctions movement against Israel. "Natalie, a Jewish actress who was born in Israel, now joins those who refer to the success and wonder of the rebirth of Israel as 'a tale of darkness and darkness."
The reference at the end of that quote refers to Portman's 2015 directorial debut A Tale of Love and Darkness, a film about Israeli author Amos Oz that takes place during the early years of the state of Israel. Portman's reps said that "[r]ecent events in Israel have been extremely distressing to her and she does not feel comfortable participating in any public events in Israel" and that "she cannot in good conscience move forward with the ceremony."
It has been made clear, however, that Portman never issued any support for the pro-Palestine B.D.S. movement. Supporters of the movement nevertheless used Portman's action as ammo, citing it as growing evidence of prominent figures becoming more dissatisfied with Israel's policies. "This latest rebuff to Israeli cultural events and accolades, coming from an Israeli-American superstar, is arguably one of the strongest indicators yet of how toxic the Israel Brand has become, even in some liberal circles in Hollywood," Omar Barghouti, a co-founder of the B.D.S. movement, told The NYT in an email. "I can sense our South Africa moment coming closer."
The Oscar winner has dual citizenship in both Israel and America, and provocative Israeli politician Oren Hazan has suggested extreme measures, requesting that Portman's citizenship be taken away, while others have cited her as being "one of us" who "identifies with her Judaism and Israeliness." Portman has not issued any comment concerning the matter, but she did have this say during a 2015 interview:
I think all Israelis know that it's much easier to criticize in Israel than outside, I don't know, it's such a hard combination to be … to obviously have deep love for the place you're from and also see what's wrong with it. So it becomes a tricky thing, certainly increasingly tricky.
Portman has long opposed Israeli Prime Minister Benjamin Netanyahu, whose racist remarks in 2015 sparked quite a lot of dissension between the two. "We, who have such a history with antisemitism, should understand the danger of racism and of how we treat minorities, and I felt that his comments were very much not showing a Jewish spirit of equality and dignity and peace," said Portman.
The Genesis Prize Foundation's awards ceremony, which was scheduled for June 28, has now been canceled. It was announced back in November that Portman would be awarded the Genesis Prize, which honors individuals "who inspire others through their dedication to the Jewish community and Jewish values." The award was founded in 2013, and is meant to celebrate Jewish achievements and contributions made to humanity. Previous recipients include Michael R. Bloomberg (2014), Michael Douglas (2015), Itzhak Perlman (2016) and Anish Kapoor (2017).
Portman most recently starred in Alex Garland's acclaimed sci-fi film Annihilation, and she can be seen in the forthcoming and highly anticipated The Death and Life of John F. Donovan from Xavier Dolan, the true-life astronaut drama Pale Blue Dot from Noah Hawley and Vox Lux from Brady Corbet.