Japanese Prime Minister Shinzo Abe Supports U.S. Pursuing "All Options" in North Korea
Photo by Carl Court/Getty
Politics
News
North Korea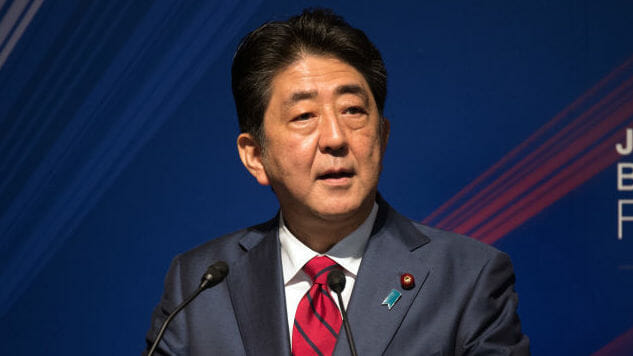 Shinzo Abe, the Prime Minister of Japan, supports the United States' stance on North Korea.
In a New York Times op-ed yesterday, Abe reiterated his "ironclad" alliance with the United States, and specifically voiced his support for President Donald Trump saying that "all options are on the table" when it comes to North Korea.
North Korea has made waves in recent weeks with missile tests and by releasing pictures of nuclear warheads. The nation says that it has a fully functional hydrogen bomb and working intercontinental ballistic missiles, though experts say they likely can't fit said hydrogen bomb into said missile yet.
Abe says that while he supports trade sanctions against North Korea passed by the United Nations this month, advocates for denuclearization must be ready to pursue other courses of action. He points out that North Korea has promised to denuclearize the Korean Peninsula before, and each time has reneged on the agreement and continued to manufacture nuclear weapons.
Politico reports that in response to North Korea's belligerence, Trump has "pointedly refused to take a military option off the table." Experts point that military action would likely result in huge casualties for both Japan and South Korea, but Abe "firmly" supports this stance anyway. Abe thinks that the most imperative thing is to denuclearize North Korea as quickly as possible.