NRA Bigwigs Tried to Get Access to Putin, Starting in 2015
Photo by Ore Huiying/Getty
Politics
Features
NRA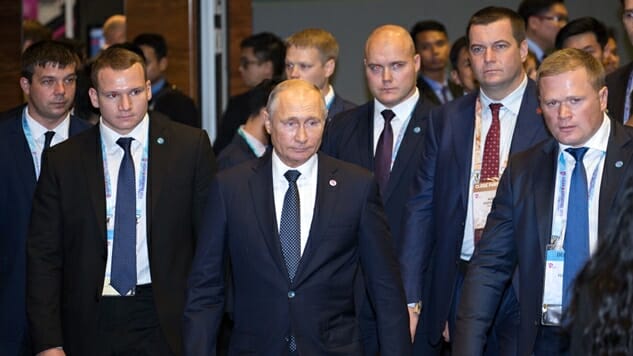 If there is one thing that your average media consumer has missed in the Mueller investigation, it is the centrality of the National Rifle Association to the special counsel's probe. This is not wishful thinking. It is clear that Mueller has the NRA in his sights. The media has largely kept this portion of the investigation out of the frenzy, as they are no doubt terrified of the potential backlash that raising these uncomfortable facts could spark. Plus, the NRA has not been explicitly named in crimes the way that Roger Stone or Paul Manafort have, so there is a level of complexity to reporting on this aspect of the investigation that major media has largely eschewed in favor of a "wait and see" approach, which is understandable. Given the intransigence of Republicans, this is not a story you want to get wrong.
That said, damn near every week there seems to be a new story advancing the NRA's complicity in whatever happened in 2016, and last night, Betsy Woodruff of The Daily Beast published another shocking report:
A former NRA president hoped to win access to Vladimir Putin on a trip to Moscow, according to an email from one of the trip's organizers. That organizer, Republican operative Paul Erickson, also said the trip could have "enormous diplomatic consequences." The email, sent in November 2015 and reviewed by The Daily Beast, came just months before the Kremlin's election meddling went into full gear.
In the email, Erickson wrote that an official with the Russian Central Bank had made a tantalizing, though tentative, offer to former NRA president David Keene: an interview for his newspaper with Russian President Vladimir Putin. At the time, Keene was the opinion editor for The Washington Times, a conservative newspaper. He had previously helmed the NRA, and he maintained close ties with its top officials. And he was one of the small group of people on the trip.
"[I]mpressing the NRA's Russian hosts is also the quickest way to secure a private interview with President Putin on behalf of David Keene and the Washington Times—a plum that was dangled in front of Keene by Torshin himself during a recent Torshin visit to Washington, DC," Erickson wrote. "High stakes all around."
In Robert Mueller's Maria Butina indictment, he published an e-mail that we later found out was sent by Paul Erickson to an acquaintance on Oct. 4, 2016 that said "I've been involved in securing a VERY private line of communication between the Kremlin and key [unnamed political party] leaders through, of all conduits, the [unnamed gun-rights organization]."
There is an immense amount of smoke around the NRA, and the Maria Butina indictment makes Paul Erickson look like, at minimum, a useful idiot working on behalf of the Kremlin spy's agenda. While there is not enough information in Robert Mueller's indictments to say that this kind of complicity was emblematic of the entire NRA, news reports paint a very harrowing picture for the "gun-rights organization" whose advocacy efforts are centered around the agenda of gun manufacturers—not gun owners. This shocking Yahoo report last May from one of the best reporters in the business, Michael Isikoff, has been largely forgotten despite the fact that no one has challenged its efficacy and a central character in his report is one of America's least respected failsons:
The FBI has obtained secret wiretaps collected by Spanish police of conversations involving Alexander Torshin, a deputy governor of Russia's Central Bank who has forged close ties with U.S. lawmakers and the National Rifle Association, that led to a meeting with Donald Trump Jr. during the gun lobby's annual convention in Louisville, Ky., in May 2016, a top Spanish prosecutor said Friday.
The top Spanish prosecutor Jose Grinda told Isikoff that "Mr. Trump's son should be concerned" about the content on the FBI wiretaps. McClatchy reported last January that the FBI is investigating whether Alexander Torshin (who Mueller said "directed" Maria Butina's spy operation at the NRA) "funneled money to the National Rifle Association to help Donald Trump win the presidency."
Speaking as someone whose job it is to pay attention to this intricate and wildly complex investigation, I can confidently state that something will happen to the NRA in this investigation. There is far too much smoke for there not to be a fire somewhere, and the only question is whether these NRA higher ups who keep appearing in news reports were part of a larger, coordinated plan greenlit by the organization, or if folks like Paul Erickson represent a small group trying to "[secure] a VERY private line of communication between the Kremlin and key [unnamed political party] leaders through, of all conduits, the [unnamed gun-rights organization]."
Jacob Weindling is a staff writer for Paste politics. Follow him on Twitter at @Jakeweindling.