Right-Wing Troll Jacob Wohl Helps Concoct Fake Sexual Assault Allegation Against Pete Buttigieg
Photo by Spencer Platt/Getty
Politics
News
Pete Buttigieg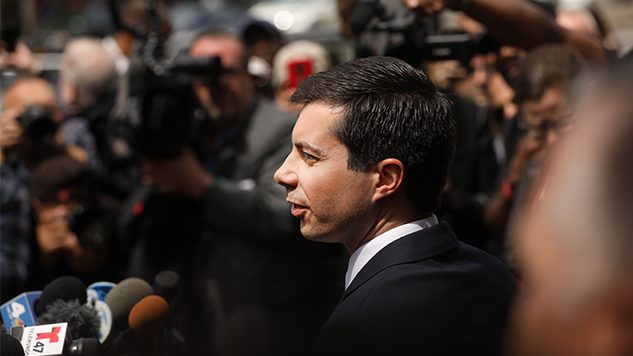 Right-wing lobbyist Jack Burkman and conspiracy theorist Jacob Wohl have attempted to smear 2020 hopeful Pete Buttigieg with false allegations of sexual assault. On Monday, a now-removed post was uploaded to Medium under the name Hunter Kelly accusing Buttigieg of sexual assault. However, that man has now come forward and said these allegations were false and the posts related to it were created without his consent.
Kelly's account fits with what an anonymous Republican source told The Daily Beast about Wohl and Burkman's scheme. The source, who asked to remain unnamed for fear of retribution, said that the pair tried to convince him to accuse Buttigieg of sexually assaulting him while he was intoxicated. Their overall goal, according to the source, was to stymie Buttigieg's run for the Democratic ticket.
The since-removed Medium post created under Kelly's name was tweeted by David Wohl, Jacob's father, and also spread by Big League Politics, known for disseminating right-wing conspiracy theories. Kelly's Medium and Twitter accounts were both created this month, and he told The Daily Beast that he didn't have any control over the posts that came out on those accounts.
Upon receiving a call from the publication and being told that The Daily Beast was reporting on Wohl and Burkman's plans to undercut Buttigieg's run with lies, Kelly told them, "I was unaware this was happening. But yes it is true."
Kelly verified his identity to The Daily Beast with a selfie, writing "Here is a selfie of me, sorry I have been crying. Today and the promises made didn't go as planned."
He posted on Facebook in response to the false allegations spread under his name, writing, "I WAS NOT SEXUALLY ASSAULTED."
"It's important for everyone to know that I was not sexually assaulted and would never falsely accuse anyone," he continued. "To keep it brief for now, I was approached by a political figure to come to D.C. to discuss political situations from the standpoint of a gay Republican. When I arrived they discussed Peter Buttigieg and started talking about how they would be working a campaign against him."
"I went to bed and woke up to a fake Twitter @RealHunterKelly and an article that I in no way endorsed or wrote. I have since left and am working on a formal statement to give to everyone including the Buttigieg family," he added.
Kelly told the Advocate that Burkman and Wohl had flown him to Washington, D.C., on Sunday evening and had forced him to sign a statement accusing Buttigieg of assault.
"It's not going to throw us," Buttigieg said in response to Wohl and Burkman's scheme, per the Daily Dot. "Politics can be ugly sometimes but you have to face that when you're in presidential politics."
Wohl and Burkman's scheme is yet another hijacking of the #MeToo movement that harms actual victims and plays into cruel lies asserting that gay men are sexual predators.