One Pizza Hut Told Their Employees to Stay During Irma
The deep dish from chains in Florida
Kevork Djansezian / Getty
Politics
Features
Pizza Hut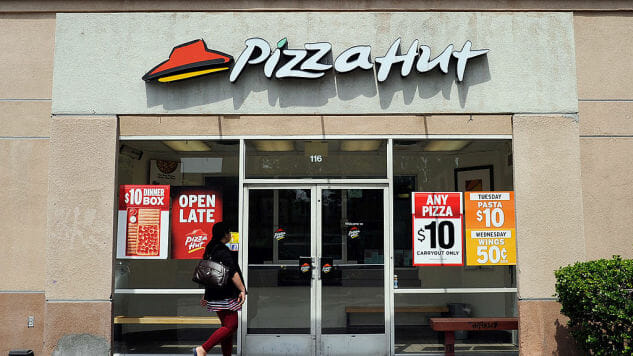 Pizza Hut's motto is "Make It Great," but where their employees are concerned, apparently one Jacksonville franchisee preferred to make it dangerous. According to the Post, one Hut in Florida told their workers they'd be "punished for skipping shifts."
A manager of one Pizza Hut in the path of Hurricane Irma threatened to discipline workers who evacuated for the storm outside of a designated time frame — and the brand has come under fire on social media for the "shameful" policy.
A memo circulated in the Jacksonville location. It contained "an explicit list of instructions for employees."
The document continued:
"To all Team members," the memo begins, before laying out a policy that dictates that employees cannot evacuate more than 24 hours before the storm and must return within 72 hours. "Failure to show for these shifts, regardless of reason, will be considered a no call/no show and documentation will be issued," it reads. "After the storm, we need all TM's available to get the store up and running and serve our communities as needed."
As various commenters have pointed out, escaping natural destruction in the last twenty-four hours is a fraught venture: if you wait until then to buy supplies, there is a chance it will be sold out. Lines will be crowded, airplanes downed, and most likely, the highways required for evacuation will be filled the brim. Trapped in car, which is bad, or outside of a shelter, which is worse. If, like Pizza Hut, you are dependent on minimum-wage labor for work, why would you care about your cogs?
The Root detailed what they called "the finer points" from the memo:
As a general rule of thumb, we close stores 6-12 hours before storm hits. Or night before if a daytime storm.
If evacuating, you will have a 24-hour period before storm "grace period" to not be scheduled. You cannot evacuate Friday for a Tuesday storm event!
Failure to show for these shifts, regardless of reason, will be considered a no call/no show and documentation will be issued.
The Root discussed coverage of oppressed Florida workers, as seen in the Outline:
Notably, most of the people interviewed for the article worked service-industry jobs: sources for the piece worked at Lowe's, Texas Roadhouse and Walmart, among others. Florida is an at-will state, meaning employers are well within their legal rights to fire an employee at any time, with no advance warning. Floridians who defied evacuation warnings from state officials for fear of losing their jobs weren't completely unjustified. Still, the pressure to remain gainfully employed could have endangered Florida workers' lives.
Pizza Hut bit back on social media, according to the Chicago Tribune:
Pizza Hut responded with a statement posted on its website. It read, in part: "We absolutely do not have a policy that dictates when team members can leave or return from a disaster, and the manager who posted this letter did not follow company guidelines. We can also confirm that the local franchise operator has addressed this situation with the manager involved."
What could the workers do? Between the destructive power of nature and the depriving nature of late-stage capitalism, between the wind and the wheel, millions of people in Florida were forced to make a choice no American should ever make: do I keep my life, or my job? Winds come and go, but wages, like the weather, are continually over the heads of workers, and the forecast is forever.