Puerto Rico Cancels Controversial Contract With Whitefish Energy
Photo by Mario Tama/Getty
Politics
News
Puerto Rico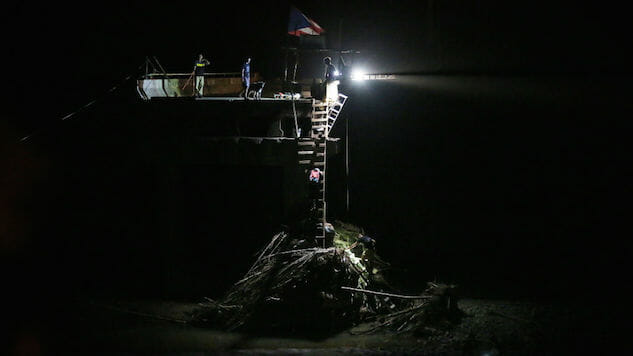 After significant backlash, Puerto Rico is canceling the $300 million contract it signed with Whitefish Energy, the small Montana company tasked with rebuilding Puerto Rico's entire power grid, The NYT reports.
The cancellation ends a long saga in the tormented history of Puerto Rico's recovery effort. Whitefish was hired days after Hurricane Maria hit Puerto Rico, at a time when it only had two full-time employees. Weeks later, that hiring became the subject of controversy when it became clear that Whitefish had subcontracted hundreds of workers when a project like this would normally require thousands, leading to the power grid repair taking longer than hoped.
When news outlets began reporting on the contract, journalists discovered that Whitefish's contract stipulated that the government wasn't allowed to "audit or review" Whitefish's expenses or profits. Puerto Rico's governor, Ricardo Rosselló, voiced his concerns alongside San Juan mayor Carmen Yulín Cruz. Whitefish responded by tweeting a threat to Cruz to pull their workers out of her city. The FBI then began an investigation into the contract and the Puerto Rico Electric Power Authority's selection process.
Ricardo Ramos, chief executive of PREPA and the one who hired Whitefish, was disappointed by the news. He says that he hired the company based on their ability to get started the quickest without asking for a huge payment up front. (Other companies had expressed doubts at PREPA's financial situation, and thus asked for payment immediately.) Still, he understands why the contract had to be canceled.
Whitefish has already been paid over $20 million for work they have already completed, and will finish whatever projects they are currently working on before leaving Puerto Rico. The NYT reports that Governor Rosselló has agreed with the governors of New York and Florida to send utility crews to aid in the recovery effort going forward.