Puerto Rico Hires Small Montana Energy Company Connected to Trump Donor to Fix Power Grid
Photo by Mario Tama/Getty
Politics
News
Puerto Rico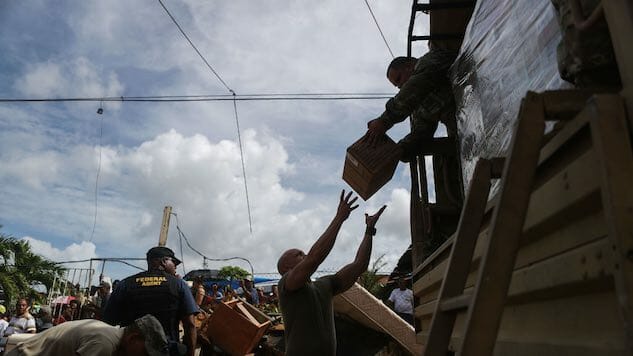 The relief effort in Puerto Rico continues, and it seems that, rather than leaning on mutual aid agreements that have traditionally helped U.S. utilities recover after disasters such as Hurricane Maria, the Puerto Rico Electric Power Authority has opted to hire a private company.
The company, known as Whitefish Energy, is based in Montana and seems to have no large-scale power grid experience. Per The Washington Post, Whitefish had just two full-time employees before the hurricane hit Puerto Rico, as they typically ramp up employment when they receive a contract. As of now, they have over 280 workers in Puerto Rico, most of them subcontractors.
The contract, which is worth $300 million, is by far the largest from Puerto Rico in the relief effort. It is also several orders of magnitude above any contract Whitefish has ever accepted (they received $1.3 million for an 11-month job in Arizona). Complicating the narrative is the fact that Whitefish's chief executive Andy Techmanski is familiar with the Interior Secretary Ryan Zinke, though Zinke's office claimed it had no role in securing the contract. On top of that, The Daily Beast reports that Whitefish is funded by a private-equity firm owned by a Trump donor. Joe Colonnetta is a general partner at HBC Investments, and has contributed large sums of money to Trump's campaign. He gave over $50,000 dollars in 2016 alone, and his wife added over $30,000 more.
Thus, the decision to hire Whitefish looks more than a little suspicious, and the United States Congress has noticed. Per WaPo:
"The fact that there are so many utilities with experience in this and a huge track record of helping each other out, it is at least odd why [the utility] would go to Whitefish," said Susan F. Tierney, a former senior official at the Energy Department and state regulatory agencies. "I'm scratching my head wondering how it all adds up."
For their part, PREPA says that Whitefish was the first to agree to the power authority's terms and conditions. Ricardo Ramos, the executive director, stated that Whitefish was the first to say they were available, and that PREPA was content with the company's progress. The power authority hired them on Sept. 26, six days after the hurricane hit. For reference, Florida requested aid via the mutual aid agreements before Hurricane Irma hit, and received over 20,000 workers in return.
As of this writing, over 75 percent of Puerto Rico is still without power. The governor, Ricardo Rosselló, has said that power will be restored by Christmas, which Techmanski seems to doubt. The relief effort has been troubled from the get-go, and it seems as though this might continue that trend.