Trump's Pals Are Rebuilding Puerto Rico, and Their No-Bid Contract Says That We Can't Supervise Them
Photo by Joe Raedle/Getty
Politics
Features
Puerto Rico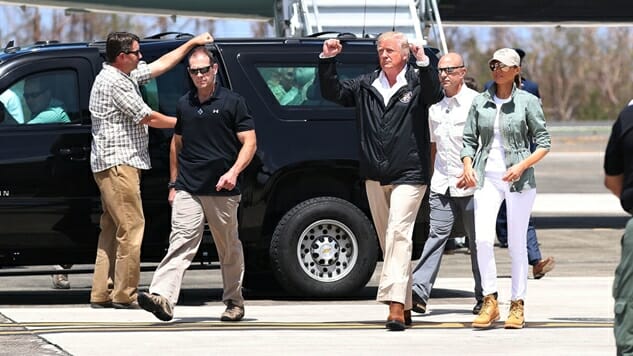 A small Montana company called Whitefish Energy received a $300 million no-bid contract from the federal government to help restore power to Puerto Rico in the wake of Hurricane Maria. The largest agreement they had made with the U.S. government prior to this deal was for $1.3 million. Whitefish Energy had just two full-time employees before they were handed this contract by the Trump administration. Coming as a surprise to no one who has followed America's newly elected kleptocracy, Whitefish Energy is funded by a private-equity firm owned by a Trump donor, Joe Colonnetta.
This deal has raised eyebrows across the entire country, including Susan F. Tierney's—a former senior official at the Energy Department and state regulatory agencies. She told The Washington Post that "the fact that there are so many utilities with experience in this and a huge track record of helping each other out, it is at least odd why [the utility] would go to Whitefish. I'm scratching my head wondering how it all adds up."
Whitefish Energy subsequently threatened the mayor of San Juan over her criticism of this deal.
We've got 44 linemen rebuilding power lines in your city & 40 more men just arrived. Do you want us to send them back or keep working?

— Whitefish Energy (@WhitefishEnergy) October 25, 2017
Now, Julianna Goldman of CBS News obtained a copy of the contract between the federal government and Whitefish Energy, and it confirms many of our worst fears.
$300m in taxpayer money includes…
-Chinook helicopte airlift: $20,277
-S61 helicopter airlift: $15,993
-Passenger helicopter: $3,969 pic.twitter.com/9WcuyxwP3S

— Ken Klippenstein (@kenklippenstein) October 27, 2017
$332.41 per person for accommodations each day

$79.82 per person for food each day pic.twitter.com/jX51fRDZWf

— Ken Klippenstein (@kenklippenstein) October 27, 2017
Whitefish contract states, "In no event shall [government bodies] have the right to audit or review the cost and profit elements." Wow. pic.twitter.com/dIyQXb6AK0

— Ken Klippenstein (@kenklippenstein) October 27, 2017
Incredible: Whitefish contract states Puerto Rican govt "waives any claim against Contractor related to delayed completion of work." pic.twitter.com/k4wWxrLFq2

— Ken Klippenstein (@kenklippenstein) October 27, 2017
Congressman Raja Krishnamoorthi from Illinois has called on the Oversight Committee to look into this farce. FEMA has come out and said that they did not play any role in green-lighting this contract.
FEMA statement makes clear the agency had no role in okaying Whitefish Energy power contract in Puerto Rico pic.twitter.com/kyvpysoHF7

— Jamie Dupree (@jamiedupree) October 27, 2017
note: the Puerto Rico Electric Power Authority appointed an emergency manager who "wrest[ed] control of the utility away from its board of directors and Gov. Ricardo Rosselló." This was a decision made by officials in the U.S. government, not those who typically run PREPA.
To recap: the Trump administration handed a $300 million contract for humanitarian assistance to a small company funded by a Trump donor, and stipulated that the government has absolutely no right to audit or review the costs included in this contract, which are paid for by you and I. This is the definition of kleptocracy, and we should all be enraged. Puerto Rico has been irrevocably damaged by a massive hurricane, and our president's chief priority is to use this crisis to help his donors and his political brand. This is such a craven move that Whitefish even followed Trump's lead of feuding with a mayor demanding help in a time of need. Of all the evil things that this administration has imposed on this country, this ranks near the top.
UPDATE: The Trump administration has released a statement shifting the blame to PREPA (who's powers were usurped by an emergency manager).
White House statement: "The decision to give a contract to Whitefish Energy was made exclusively by Puerto Rico Electric Power Authority." pic.twitter.com/1EvrSr1hRt

— David Wright (@DavidWright_CNN) October 27, 2017
Jacob Weindling is a staff writer for Paste politics. Follow him on Twitter at @Jakeweindling.