Local Bar Threatened with Legal Action After Denying Republican "Beers 4 Brett" Party
Photos by Chip Somodevilla/Getty
Politics
News
Republicans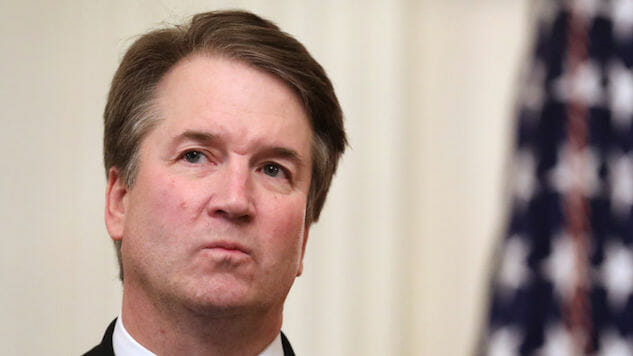 According to Seattle's KIRO7, a local group of College Republicans hoped to celebrate Brett Kavanaugh's election onto the Supreme Court with a 'Beers for Brett" party. Cool. They went to Facebook to create an event hosted by Shultzy's Bar and Grill. Shultzy's responded to the event and said: "Shultzy's is a sports-themed bar & grill that welcomes everyone. We do not promote or endorse any one religious or political viewpoint. As such, due to the political nature of your planned event, we request that you find another venue to celebrate," per KIRO7.
Shultzy's decided, fairly, that they didn't want to potentially cause trauma to other patrons, such as sexual assault survivors or literally any woman who might have been at the bar at the same time.
The College Republicans didn't see it that way. UW College Republicans president Chevy Swanson said of the event, "We're happy this is all over, we wanted to grab a beer—you know, kind of a little of a joke. We all know Brett Kavanaugh likes a beer." When they were told they couldn't continue with their joke, though, the College Republicans sought a lawsuit, like any normal person.
Shultzy's, intimidated, allowed the event to happen without further incident.
However, KIRO7 spoke with a constitutional expert who said the bar would not have been in danger of legal jeopardy. Per Law & Crime, the first amendment lawsuit sought by the College Republicans would not have applied to Shultzy's, since it's a private establishment: "The First Amendment does not apply to private action. This would be a purely private bar exercising their own judgment on who they want to serve on the basis of political ideology, and they could do that under national law."
Regardless, it didn't stop 15 members of the UW College Republicans from showing up unwanted.