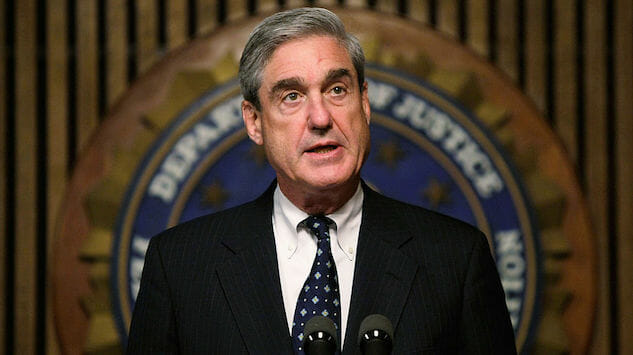 In a Thursday evening tweet uncharacteristically devoid of all-caps phrases and simple quips, President Trump declared:
Anything the Russians did concerning the 2016 Election was done while Obama was President. He was told about it and did nothing! Most importantly, the vote was not affected.

— Donald J. Trump (@realDonaldTrump) April 18, 2019
While the President has been quick to spout off about "NO COLLUSION," "WITCH HUNT!" and "NO OBSTRUCTION," "the vote was not affected" is a saying heard far less from Trump. Perhaps because it's such an indefensibly incorrect claim.
First, it's untrue that President Obama was told about a Russian effort to undermine the 2016 election and did nothing. From The Washington Post's Philip Bump:
He pushed for a sweeping statement addressing the Russian effort, but couldn't get agreement from Republicans in Congress to do so. His Homeland Security director and director of national intelligence did release a report specifically warning state elections officers against the threat of being hacked by Russia. Unfortunately for its impact, it was released on Oct. 7, 2016, right before The Washington Post published the "Access Hollywood" tape and WikiLeaks began releasing emails stolen from Hillary Clinton's campaign chairman, John Podesta.
While it may be true that Russia did not successfully manipulate actual voting results, it's important to consider their other attempts at result-meddling, especially considering the incredibly narrow margins by which Trump took Michigan, Pennsylvania and Wisconsin (he eked out a victory in these three states by only 78,000 votes collectively).
So how exactly did Russia go about affecting the vote? Again according to WaPo's Bump:
Well, [with] those Podesta emails for one. Mueller's indictments against a number of alleged Russian intelligence agents details how they accessed the Democratic National Committee network and Podesta's email account (among other targets) and transferred the data to WikiLeaks. There, the stolen material became a central component of the election coverage for much of the last month.
An analysis by Bump and WaPo showed that in the month leading up to the election, "Clinton," "Wikileaks" and "Comey" were all referenced far more on cable news than even "Access Hollywood." And this matters. In fact, it's a point that Mueller explicitly makes.
"Although the investigation established that the Russian government perceived it would benefit from a Trump presidency and worked to secure that outcome," Mueller writes in his report (upcoming emphasis ours), "and that the campaign expected it would benefit electorally from information stolen and released through Russian efforts, the investigation did not establish that members of the Trump campaign conspired or coordinated with the Russian government in its election interference activities."
After the released Wikileaks material was massively influential in redirecting the national conversation, Trump began to continually praise the organization, and his campaign dispatched longtime ally Roger Stone to figure out what else the group had that could help them out.
A Suffolk University and USA Today poll from late October of 2016 asked Americans whether leaked excerpts of private Clinton speeches would make people less likely to vote for her. Thirty-seven percent said yes.
The Mueller report may not be the immediate smoking gun some Democrats had hoped for, but it certainly doesn't exonerate Trump. In fact, it concludes that the Russian effort to affect our election was successful, and that all the Trump campaign had to do was sit back and watch it work.