Roy Moore's Campaign Spokesman Literally Had No Answer When CNN's Jake Tapper Asked Him a Very Simple Question
Politics
News
Roy Moore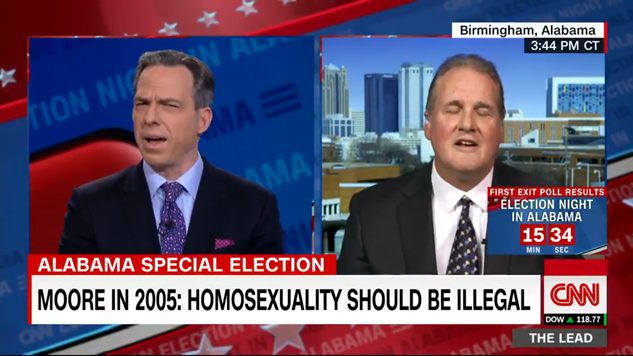 When future generations are pouring over our records, wondering how the smartest era in human history could be so stupid, this video will be instructive.
Roy Moore campaign spokesman responds with silence when asked if he knew people can be sworn in with a text other than the Christian bible pic.twitter.com/B65qIKBjlI

— The Lead CNN (@TheLeadCNN) December 12, 2017
The silence is excruciating and incredibly telling. Had Ted Crockett, Moore's campaign spokesman, known this basic fact about the melting pot that is America, he at least could have pushed back with the "fake news" nonsense that has become the standard Republican trope to any inconvenient fact. But he didn't, because Jake Tapper introduced a new piece of information into a brain that seemed to short circuit the moment it invaded his carefully crafted mountain of BS.
Jacob Weindling is a staff writer for Paste politics. Follow him on Twitter at @Jakeweindling.