Scott Pruitt to Repeal Obama-Era Policy Curbing Greenhouse Gas Emissions
Photo by Riccardo Savi/Getty
Politics
News
Scott Pruitt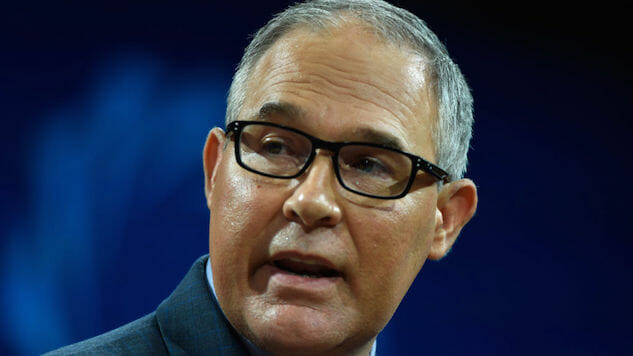 Scott Pruitt, once enemy of the E.P.A. and now head of the E.P.A., announced today in Hazard, Ky., his plans to roll back the Obama-era Clean Power Plan, a policy designed to curb greenhouse gas emissions. Meant to be Barack Obama's signature act dealing with global warming, the 2015 plan would have reduced emissions from the coal industry by 32 percent over the next decade.
This announcement should surprise no one, as The New York Times reports that this is an issue Pruitt has been raising for years. Ever since the Clean Power Plan was signed, Pruitt has been fighting against it. It shouldn't shock anyone to discover that after President Donald Trump nominated him to be the head of the Environmental Protection Agency, Pruitt is doing everything he can to dismantle whatever protections the environment had.
Here's a real fun quote from The NYT's report:
Industry groups cheered the announcement, but have also indicated that they would prefer that Mr. Pruitt replace the Clean Power Plan with a new, more modest regulation on power plants in order to blunt any court challenges.
What that means is this: Industry groups don't want a plan that actually forces them to change, but they also don't want to be unregulated because they know that people will protest it. So they want a relatively useless regulation because, as long as there is some law in place, however weak, people won't be able to sue them for poisoning the air.
And for those worrying that once this policy is repealed we'll see a spike in greenhouse gas emissions from coal, worry no more! This policy never actually went into effect, you see, because Pruitt was among many politicians, lawyers and other rich people who sued to stop it. These lawsuits tied the policy up in the Supreme Court and blocked it from ever being truly enacted.
The NYT makes sure to mention that most states are moving away from coal power anyway, for purely economic reasons. This repeal would only help states clinging to coal plants for no reason. They cite Colorado as an example of a state that is profiting from moving to cleaner sources of energy:
Gov. John Hickenlooper of Colorado, a Democrat, noted that his state planned to exceed the goals that had been set under the Clean Power Plan because the state was closing coal plants early and developing jobs in wind and other renewables. "We have dramatically cleaner air and we are saving money. My question to the E.P.A. would be, 'Which part of that don't you like?'" Mr. Hickenlooper said.
The repeal will take months, at the very least, before it can be finalized. And there is no avoiding the necessity of regulation on coal, as the chairman of the Arkansas Public Service Commission, Ted Thomas says:
Even if they repeal the Clean Power Plan, or replace it with something that doesn't require us to do very much, you still have to reckon with the fact that ultimately regulations on carbon are coming. So we need to develop options to deal with that other than sticking our heads in the sand and hoping we can just file lawsuits forever.
We'll end where The NYT's report does, on another quote from Thomas: "You can either be prepared or unprepared, and that's a pretty simple choice."