Why Did a Car Plow into a Crowd of Protesters in St. Louis?
Cars and protesters
Joe Raedle / Getty
Politics
Features
St. Louis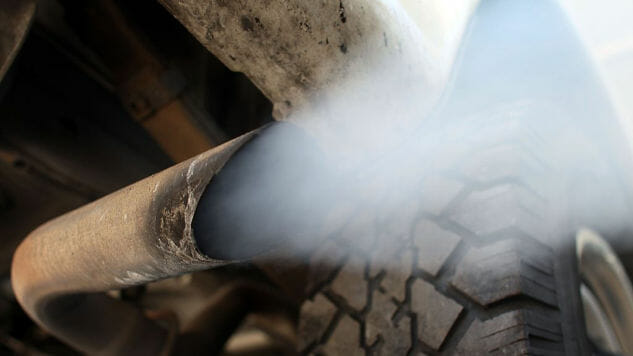 A car plowed into a crowd of protesters in St. Louis Wednesday night. According to the St. Louis Post-Dispatch
A disturbing sequence of photos shows a car driving through a group of protesters blocking Manchester Avenue on Wednesday, Aug. 23, 2017. The car stopped and then accelerated. Only minor injuries were reported. The driver was taken into custody about a block away from the protest.
Photos from tonight's candlelight vigil/protest that ends w/ car driving through protesters in St. Louis https://t.co/mvL5lRIT7n@stltodaypic.twitter.com/GXRJO8aP3g

— David Carson (@PDPJ) August 24, 2017
The protesters had blocked the street to protest the police shooting of a Kenny "Kiwi" Herring, a local transgender woman who, officers alleged, had stabbed a cop. Videos of the interaction seemed to show the car rolling up to the protesters, then stopping, then driving on through the crowd. According to another story in the Post-Dispatch, the various accounts did not agree:
Police and a witness gave differing versions of how protesters were injured when a driver pulled into a group that had blocked an intersection on Wednesday night. The witness, Keith Rose, said the driver had his middle fingers raised before he accelerated through the group of people who were blocking Manchester Avenue and Sarah Street in the Grove neighborhood. But St. Louis police said the driver stopped, honked and attempted to drive around the protesters before some of them surrounded his car and began hitting it with their hands and a flag pole. The police statement, from spokeswoman Schron Jackson, said that three protesters were injured after they jumped onto the car and fell off when the driver pulled away.
As several sources have pointed out, the idea of hitting protesters with motorized vehicles has a long history in modern America. In recent years, it has been a fetish narrative of the alt-right. At Salon, Henry Grabar noted that ISIS and other terrorist training manuals have celebrated the "deadly and destructive capability of the motor vehicle ad its capacity of reaping large numbers of casualties if used in a premeditated manner" for years. However,
… Saturday's attack also has a lineage closer to home: a long-running right-wing fantasy of running over protesters, especially members of Black Lives Matter who have blocked intersections and highways during rallies. It's an idea, as the artist Gary Kavanagh observes, that has far broader currency than the white nationalism on display at the "Unite the Right" rally that brought Fields to Charlottesville. "Run them over" is a popular anti-BLM catchphrase … This February, Troy Baker, president of the police union in Santa Fe, New Mexico, shared an image from the "Prepare to Take America Back" Facebook page, a right-wing meme factory with links to conspiracy theories. "All lives splatter: Nobody cares about your protest," it reads over an image of a jeep plowing through a crowd. … But "jokes" like those have been accompanied by a string of drivers doing exactly that.
Additionally, there may soon be law behind the laughter now:
This is not just a handful of sociopaths living out a 4chan meme. Across the country, Republicans legislators have attempted to codify the idea that protesters surrender their rights when they stand in the road. The philosophy behind these bills was elucidated by Keith Kempenich, a trucking company CEO and North Dakota state legislator whose mother-in-law was stopped by a Dakota Access Pipeline protest. "There's a line between protesting and terrorism, and what we're dealing with was terrorism out there," he told the Washington Post."
Kempenich wrote a House bill which would have given legal immunity to drivers ramming protesters. It failed.
However, Salon continues, "The North Carolina House approved a similar bill in April, after protesters blocked streets in Charlotte after Keith Lamont Scott was killed by a Charlotte police officer, that would give even more leeway to drivers." Paul Blest in The Outline notes that "at least six states have introduced bills intended to quell civil rights movements."
After the hit-and-run in Charlottesville, as the Daily Beast points out, Fox News silently deleted the article "advocating that cars drive into liberal protesters attempting to block traffic."
And only after a woman was killed Saturday in Charlottesville, Va.—when a car allegedly driven by white-supremacist activist James Alex Fields plowed through a crowd of anti-racism demonstrators—did Fox decided to delete it. On January 29, 2017, the cable outlet's unabashedly conservative opinion site Fox Nation published an article titled, "Here's A Reel Of Cars Plowing Through Protesters Trying To Block The Road." "Here's a compilation of liberal protesters getting pushed out of the way by cars and trucks," wrote the article's author. "Study the technique; it may prove useful in the next four years."
Why would they display such an article? As Buzzfeed discusses, "Viral Videos Of Cars Driving Through Protesters Are Very Popular On Conservative Sites." The Daily Caller also took down its videos. Other sites were indifferent, and left them up:
… other extreme-right websites have been posting videos of cars driving at protesters for months. One video, posted in January 2016, went viral, garnering 37 million views and 569,000 shares on Facebook. … Websites based in Macedonia, as previously identified by BuzzFeed News, have also seized on the trend. The Conservative Daily Post (15,000 Facebook engagements), Donald Trump News (38,000 Facebook engagements), and Conservative Fighters (17,500 Facebook engagements) have all published stories with provocative headlines.
Among these: "Anti-Police Protester Refused to Let Cars Pass, She Learnes Her Lesson Quickly." I have no doubt many such lessons were learne-d and learne-d well by these sites, who know their audiences all too well. "Learn" seems to be a common phrase. Another headline reads: "Protester Learns the Hard Way Attempting to Swarm Innocent Car." Agreed; when I look at a car, the first thought which pops into my head is "Innocent. As a newborn child." For sites which are so focused on "learning" and "education," they seem to have not been schooled on how to cover their tracks well: the questionable articles are still up.
In St. Louis, odd as it is to say, we all got lucky: nobody was killed. Barcelona showed us that pedestrians can be targets now. A car is as good a tool as any other for inflicting deliberate suffering. Who knows what the drive in St. Louis was thinking?
What is certain is that the notion of the car as a neutral party, and the driver as a put-upon everyman, must go by the wayside. After Charlottesville, we cannot afford that naivete. No more cute winking about it.
In the end, it makes sense that the fringe would fantasize about cars as battering-rams. By celebrating the criminal use of automobiles, right-wing extremists have discovered a tool which meets their strange standards: a suburban weapon which is also the ultimate safe space. It appeals to the alt-right fantasy of being simultaneously powerful and victimized: attacking, and fleeing, at the same time.