U.S. Student Loan Debt Sets Record, More than Doubling the Amount Outstanding After the Recession
Photos by Scott Barbour/Getty, Sion Touhig/Getty
Politics
News
Student Loan Debt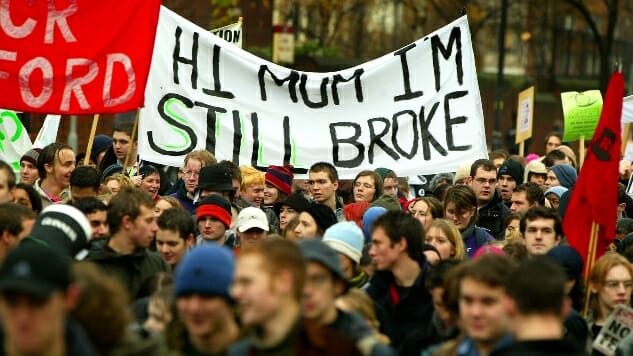 U.S. student loan debt reached a record $1.465 trillion last month, according to new analysis by Bloomberg.
That number is more than double the $675 billion that was outstanding at the end of the recession in June 2009.
Today, student loan borrowers are facing serious debt burdens: Over 2.7 million borrowers owe over $100,000, of which about 700,000 owe $200,000 or more, according to data from the U.S. Department of Education.
"Over 90 percent of student loans are guaranteed by the U.S. Department of Education, meaning that if a recession causes a rise in youth unemployment and triggers mass defaults, this contingent liability could prove burdensome for the U.S. government budget," Paul Della Guardia, economist at the Institute of International Finance, told Bloomberg.
Of all borrower groups, young adults who took out loans in 2012 are having the hardest time making monthly installments and paying back their loans. Loans disbursed in 2012 have defaulted at a faster rate than any other loan cohort since the financial crisis.
Borrowers in this group entered the workforce when the unemployment rate was twice as high as it is today. Accordingly, these young adults may have found it difficult to establish a career. On top of that, landing a job took almost three times longer in 2012 than it does today, according to data from the Bureau of Labor Statistics.
This news comes only a handful of days after the Education Department announced that it will cancel $150 million in student debt. Announced last Thursday, the loan forgiveness program applies to about 15,000 borrowers who attended schools that have since shut their doors. Federal student loan borrowers can apply to have their debt erased if they attended a school that closed while they were enrolled, or soon after, and the credits did not transfer. The underlying principle is that borrowers should not be responsible for loans taken out for an education that turned out to be of no use, per the New York Times.
The program was supposed to take effect last year, but Education Secretary Betsy DeVos tried to delay the change. In September, a federal judge ruled that DeVos's delay was illegal, ordering the department to follow the new rules.