10 Ways Gen Z and Millennials Will Transform American Politics in the Near Future
Photo by Eduardo Munoz Alvarez/Getty
Politics
Lists
The Future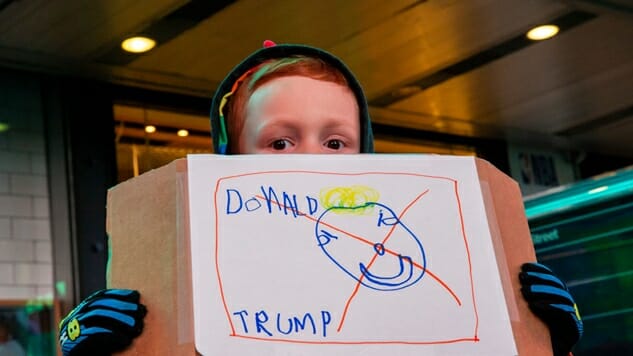 Millennials are the largest generation in American history. That is, until Gen Z emerged. This demographic largely defined as those born after 1996 is poised to outnumber millennials this year. While it's become common knowledge that millennials differ from our older generations in terms of our views on capitalism, race and party affiliation, what's less well-known is what Gen Z thinks about our modern politics. Many conservatives have prophesied that Gen Z will return the political headwinds back in the direction of conservatism, and our younger, larger compatriots are poised to rebuke my "radical" millennial generation.
Pew just released a poll demonstrating that Gen Z is largely in-sync with millennials—and even more progressive in some areas—and the future is undoubtedly going to be more liberal than the past (evergreen sentence). Contrary to popular belief, millennials are not getting more conservative as we age, and the largest batch of reinforcements in human history are on their way. Here are 10 examples from Pew and a recent UMass Lowell millennial poll demonstrating how the future is certain to be far more tolerant and far more aggressive in combating the major threats to life that previous generations were unable to address.
Key for how Pew defines each generation
Silent: Age 73 to 90
Baby Boomers: Age 54 to 72
Gen X: Age 38 to 53
Millennials: Age 22 to 37
Gen Z: Age 21 and under
1. 70% of Gen Z and 64% of millennials think that government should do more to solve problems
This is nearly double that of the silent generation (39%) and a great leap forward from Boomers (49%) and Gen X (53%). However, Pew notes that "Among Democrats, however, these generational divides largely disappear. Roughly eight-in-ten Gen Z (81%) and Millennial Democrats (79%) say the government should do more to solve problems, as do about seven-in-ten Democratic Gen Xers, Boomers and Silents."
There's only one way to explain those percentages, and it's that there are less Republicans in these new generations than in previous ones.
2. 27% of millennials tell UMass Lowell that they will vote for Donald Trump in 2020
Pew found that 30% of Gen Z approves of Trump (compared to 43% of Boomers and 54% of the Silent Generation), and if 2020 were left solely up to the people who will have to deal with Trump's mess, he would not get anywhere near a second term. The only reason that a two-term Trump presidency is very much in play is because of older generations.
3. 67% of millennials think the country is on the wrong track
This is actually right in line with the entire populace, demonstrating how a lot of the generational divide is not over the status quo—it has been nearly unanimously rejected—but of what replaces it.
4. 43% of Gen Z Republicans say that blacks are treated less fairly than whites
This figure is more than double that of Boomer (20%) and Silent (20%) Republicans, and nearly double that of Gen X Republicans (23%). This political sea change on its way won't just be limited to the Democratic Party.
5. 35% of Gen Z say they personally know someone who uses gender-neutral pronouns
This may be where Pew finds the biggest split between Gen Z and millennials, as the 25% of millennials who know someone who does not use gender-neutral pronouns is closer to the 16% of Gen Xers than they are to Gen Z.
6. More millennials believe it is too hard to vote than it is too easy to vote
Only 20% of millennials think that it's too easy to vote, versus 36% who believe it is too hard and 44% who say it's neither too easy or too hard. If just 9% of that 44% are actually falling in the "I don't know" bucket, that means that a plurality of millennials are able to connect modern limitations of our most basic democratic right to America's original sins of slavery and genocide. If there is one major, consistent difference between millennials, Gen Z and older generations in these polls, it's on the topic of systemic prejudice. Older folks don't think as much of it, while my younger compatriots place it near the center of our political worldview.
7. Millennials dislike cable news
The next time that someone tells you millennials don't read, remember that the big three of CNN (-9 favorable), MSNBC (-10 favorable) and Fox News (-27 favorable) all fall behind print journalism like the New York Times (+4 favorable) and The Washington Post (+3 favorable) in millennials' eyes. Facebook (-20 favorable) is viewed closer to Fox News than the friendly face that Mark Zuckerberg tries to put on his industrial data siphoning project, and Twitter (-13 favorable) isn't in much better shape.
8. The biggest generational split may be on NFL protests
Again, we see systemic prejudice as a generational flashpoint in American politics. When Colin Kaepernick tells us that kneeling during the national anthem is about protesting systemic injustices in this country, that resonates far more than the flag-humping patriotism shtick that's employed on the other side of this divide. Gen Z (+23 approve) and millennials (+26 approve) differ dramatically from Gen X (+9 disapprove), Boomers (+24 disapprove) and Silent (+39 disapprove) on whether NFL players' protests are acceptable.
9. The gender gap still exists, regardless of generation
Men, please do better. This is sad.
10. Here are two simple visualizations that summarize the stark generational and gender divide in the Trump era
Jacob Weindling is a staff writer for Paste politics. Follow him on Twitter at @Jakeweindling.