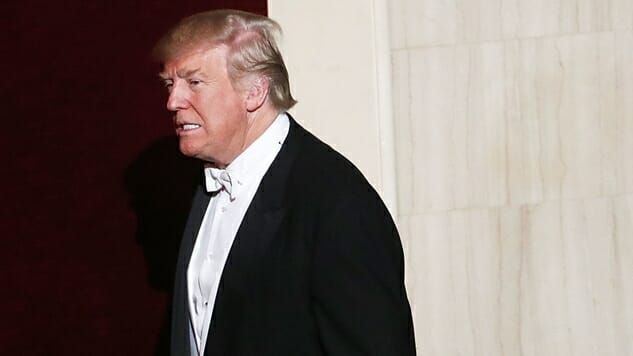 The de facto criminal-adjacent organization known as the Trump Foundation has finally been unmasked for all to see, and they signed an agreement today to dissolve the "charity." Per The Washington Post:
President Trump has agreed to shut down his embattled personal charity and give away its remaining funds amid allegations that he used it for his personal and political benefit, the New York attorney general announced Tuesday.
New York Attorney General Barbara Underwood announced that the Donald J. Trump Foundation is dissolving as her office pursues its lawsuit against the charity, Trump and his three eldest children.
The attorney general's suit, filed in June, alleged "persistently illegal conduct" at the charity and sought to have the foundation shut down. Underwood is continuing to seek more than $2.8 million in restitution and has asked a judge to ban the Trumps temporarily from serving on the boards of other New York nonprofits.
This shouldn't come as a shock, given that Donald Trump has always viewed "charity" as nothing more than a vehicle to personally enrich himself. I know it's impossible to keep track of all the scandals these days, but it's genuinely shocking that the Forbes report that President Trump literally stole money from kids with cancer didn't stick in the public's consciousness. This is who the president is:
The best part about all this, according to Eric Trump, is the charity's efficiency: Because he can get his family's golf course for free and have most of the other costs donated, virtually all the money contributed will go toward helping kids with cancer. "We get to use our assets 100% free of charge," Trump tells Forbes.
That's not the case. In reviewing filings from the Eric Trump Foundation and other charities, it's clear that the course wasn't free—that the Trump Organization received payments for its use, part of more than $1.2 million that has no documented recipients past the Trump Organization. Golf charity experts say the listed expenses defy any reasonable cost justification for a one-day golf tournament.
…
And while donors to the Eric Trump Foundation were told their money was going to help sick kids, more than $500,000 was re-donated to other charities, many of which were connected to Trump family members or interests, including at least four groups that subsequently paid to hold golf tournaments at Trump courses.
President Trump likely stopped fighting this lawsuit from the New York Attorney General because he would have to bring more information about it to light. Given that The Washington Post's David Fahrenthold won a Pulitzer for exposing the rampant corruption known as the Trump Foundation, it was likely a futile effort to expose the organization to more scrutiny. Even though Trump denies he did anything wrong with the Foundation, if that were truly the case, he wouldn't have agreed to comply with prosecutors and liquidate his piggy bank masquerading as a charity.
Jacob Weindling is a staff writer for Paste politics. Follow him on Twitter at @Jakeweindling.