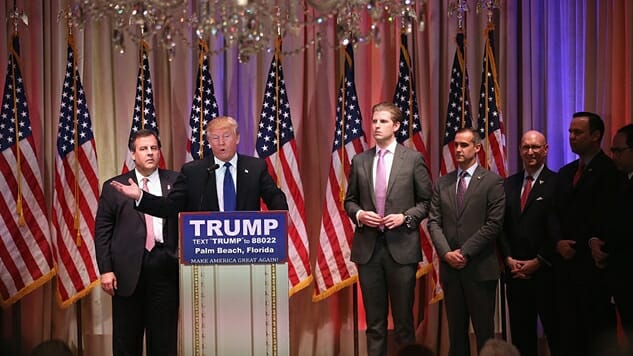 Remember that long Forbes report detailing how The President of the United States literally stole money from kids with cancer after taking over his son's foundation? I bring that up because context is important in any story about the Trump Foundation—the Trump Organization's "charity" (the latter of which is currently being sued by the state of New York, largely thanks to the reporting that won David Fahrenthold of The Washington Post a Pulitzer).
From NYAG lawsuit: Donald Trump personally ordering the use of $100,000 from his nonprofit foundation to settle a legal issue for his private club Mar-A-Lago. Which is against the law. pic.twitter.com/gA6dcVewU7

— Jon Swaine (@jonswaine) June 14, 2018
Because journalism, we cannot come right out and say that this is exactly what it looks like, but c'mon man. Per the Palm Beach Post:
Nearly all of the $706,000 in donations made by the Donald J. Trump Foundation in Palm Beach County since 2008 went to charities that hosted lavish fundraisers at Mar-a-Lago — the president's highest-profile business in the county.
While the timing and frequency of the donations suggest charities that fete at Mar-a-Lago — especially those that return after fundraising at other venues — are rewarded for their loyalty, several local charities said the donations were not a quid pro quo or a reward for doing business with Trump.
This is how journalism is done. Present the facts that you have gathered independently, and only once the timeline has been made clear do you include the perspective from the folks implicated in your research. Now, clearly not every single charity that solicited donations from Trump's orbit is part of Trump's (money laundering) orbit. As anyone who has planned a wedding can attest, finding open venues when you need them is a difficult process. That said, Christine Stapleton of the Palm Beach Post brought the receipts on some charities:
A Palm Beach Post review of the Trump Foundation's tax records found a pattern — donations, typically $25,000 — to eight charities after they relocated their events to the Trump family's private Palm Beach club. That list included the event widely considered the grandest gala of the island's social season, the Red Cross Ball.
The Red Cross received a $21,000 donation in 2015 — the year it decided to move its tiara-studded event from The Breakers back to Mar-a-Lago. It is the only donation the foundation made to the local chapter of the Red Cross between 2008 and 2016 — when the foundation announced it would dissolve. The local chapter of the Red Cross declined to comment.
The Red Cross has its own issues with being a charity/black donations hole—as ProPublica has devoted an entire webpage to its exhaustive investigations into the Red Cross' nefarious activities—so those reports further buttress Stapleton's detailed reporting. Trump hasn't contributed his own money to the Trump Foundation in a decade, and a look back at Forbes' report on the president usurping Eric Trump's charity is especially instructive to this entire ordeal:
In reviewing filings from the Eric Trump Foundation and other charities, it's clear that [Trump's golf] course wasn't free—that the Trump Organization received payments for its use, part of more than $1.2 million that has no documented recipients past the Trump Organization. Golf charity experts say the listed expenses defy any reasonable cost justification for a one-day golf tournament.
Additionally, the Donald J. Trump Foundation, which has come under previous scrutiny for self-dealing and advancing the interests of its namesake rather than those of charity, apparently used the Eric Trump Foundation to funnel $100,000 in donations into revenue for the Trump Organization.
And while donors to the Eric Trump Foundation were told their money was going to help sick kids, more than $500,000 was re-donated to other charities, many of which were connected to Trump family members or interests, including at least four groups that subsequently paid to hold golf tournaments at Trump courses.
If you're still not convinced that Donald Trump would effectively launder money through his charity that he hasn't donated to in ten years, let me tag in the Financial Crimes Enforcement Network at the Department of the Treasury (think of them like the Navy Seals of spreadsheets and bank statements):
Trump Taj Mahal, a casino in Atlantic City, New Jersey, admitted to several willful BSA violations, including violations of AML program requirements, reporting obligations, and recordkeeping requirements. Trump Taj Mahal has a long history of prior, repeated BSA violations cited by examiners dating back to 2003. Additionally, in 1998, FinCEN assessed a $477,700 civil money penalty against Trump Taj Mahal for currency transaction reporting violations.
"Trump Taj Mahal received many warnings about its deficiencies," said FinCEN Director Jennifer Shasky Calvery. "Like all casinos in this country, Trump Taj Mahal has a duty to help protect our financial system from being exploited by criminals, terrorists, and other bad actors. Far from meeting these expectations, poor compliance practices, over many years, left the casino and our financial system unacceptably exposed."
Trump Taj Mahal admitted that it failed to implement and maintain an effective AML program; failed to report suspicious transactions; failed to properly file required currency transaction reports; and failed to keep appropriate records as required by the BSA. Notably, Trump Taj Mahal had ample notice of these deficiencies as many of the violations from 2012 and 2010 were discovered in previous examinations.
Perhaps there is an alternate explanation for how an organization like the Red Cross would take just one donation from the Trump Organization, then move their gala to Mar-a-Lago—or any of the other strange ~$25,000 donations scrutinized by the Palm Beach Post. Whether there is enough information available to convict the Trump Organization in a court of law is to be determined thanks to the efforts of the New York Attorney General's office, but as far as this writer is concerned, there is more than enough shadiness out in the open to indict the Trump Foundation in the court of public opinion. It's a slush fund designed to fill the pockets of one of the worst human beings in history—all in the name of charity.
Jacob Weindling is a staff writer for Paste politics. Follow him on Twitter at @Jakeweindling.