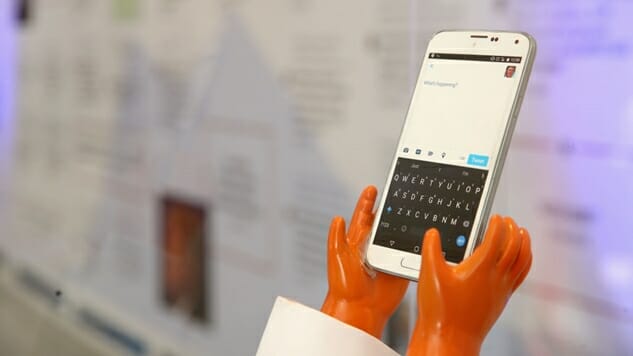 Twitter has a catch-22 on its hands. It claims to be a platform that will not tolerate abuse and harassment, while also wanting to leave world leaders' words uncensored. The problem for Twitter is that a certain world leader also continually violates its policies. Trump has targeted plenty of people for harassment, like when he tweeted that Mika Brzezinski "was bleeding badly from a face-lift." Trump has also sent out threatening tweets, like when he seemed to try to bait North Korea into all-out nuclear war with his "fire and fury" tweet. He has also retweeted anti-Semitic memes. Looking over Twitter's rules and Trump's tweets finds it clear as day that Trump is in violation of their standards and guidelines.
This is a real dilemma for Twitter. They have two priorities that both should be followed: abuse and harassment are bad (too bad Twitter doesn't stick to that principle enough) and publicly accountable figures have a different impact on Twitter than private citizens like myself. As harrowing as that "fire and fury" tweet was, it was of immense importance to the news. Thanks to Twitter, we got a direct look inside of the mushbrain of the most powerful man alive. That's seriously valuable.
Now, Twitter is trying to find a way to thread the needle between letting public figures like Trump be abusive, and trying to curb that abuse. Per The Washington Post:
The next time a politician, dignitary — or perhaps a president — makes an utterance that violates Twitter standards, the message might be accompanied by a note that expands on the 280-character tweet, a top official with the company said Wednesday.
Twitter is exploring how it can annotate offensive tweets that break its rules but remain in the public interest, said Vijaya Gadde, the company's head of legal, policy, and trust and safety. It's an effort to stem offensive content and hate speech and follows comments last year by chief executive Jack Dorsey, who said he is rethinking core parts of the platform to stem harassment and other abuses.
"One of the things we're working really closely on with our product and engineering folks is, 'How can we label that?' "Gadde said in a response to questions from the Post's Silicon Valley correspondent, Elizabeth Dwoskin. "How can we put some context around it so people are aware that that content is actually a violation of our rules and it is serving a particular purpose in remaining on the platform."
Context is the key word here. Censoring stuff on platforms is an incredibly dicey proposition that does have a slippery slope. While Facebook finally admitted that white supremacy does not fall under the nuanced slippery slope position—given that white supremacy's thesis is that non-white people should not have freedom like white people do—there is still a lot of work to do. This kind of contextual update to harmful information is exactly the route these social networks should be taking, and Amazon's refusal to provide context on a book about the patently absurd and dangerous Qanon conspiracy theory is a demonstration of the typical Silicon Valley failure.
For years, Facebook, Twitter, YouTube and the like fought tooth and nail against the notion that they are media companies, and therefore require editorial judgement. They simply wanted to advertise themselves as platforms, and then run away from any and all culpability of the garbage people put on to their platform. After the Christchurch massacre demonstrated for everyone how white supremacy is not something that can be trifled with, it seems like we have reached something of a new era where these companies admit that they have editorial responsibility. It's unfathomably depressing that it took the mass murder of 50 Muslim worshipers (live-streamed on Facebook Live) to even potentially change the paradigm, but given the demonstrated incompetence and ineffectiveness of social networks like Facebook and Twitter, we should be happy with any progress we can get out of these companies that clearly wish they could just keep raking in cash without any of the responsibility that comes along with their success.
Jacob Weindling is a staff writer for Paste politics. Follow him on Twitter at @Jakeweindling.