Bernie Sanders Is About to Put the Heat on Walmart at Its Own Shareholders Meeting
Photo courtesy of Getty
Politics
Features
Walmart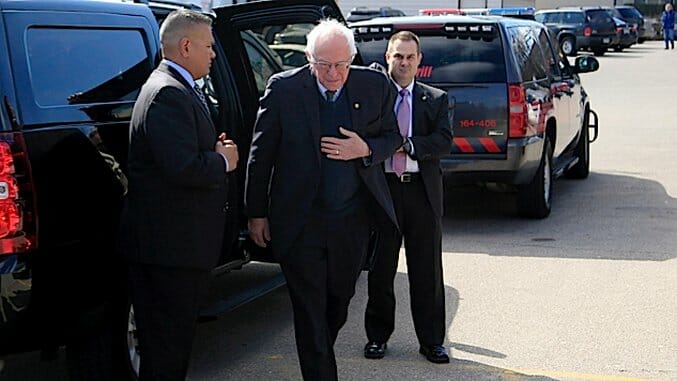 It's no secret that Walmart's workers have long antagonized for better working conditions on multiple fronts, from wages to healthcare to hours. As the Washington Post reports, that fight continues at this year's shareholders meeting, where they'll have a special guest fighting in their corner:
This year they'll have someone new delivering the message on their behalf: Sen. Bernie Sanders.
The presidential candidate, who has repeatedly called on Walmart to improve its working conditions, is heading to Bentonville, Ark., on June 5 to introduce a shareholders' proposal that would give hourly Walmart workers a seat on the company's board.
The idea isn't too radical—the proposal would only ask that the board, which is currently with wealthy executives, "consider" hourly workers when new positions open. But the mere idea of giving a worker that much power is likely anathema to the board, since they know where it could lead:
"At a time of deepening racial and economic divide and insecurity, hourly associates can guide a more fair, inclusive and equitable corporate ecosystem that bridges differences," the proposal says. It was filed by Walmart employee Cat Davis, who is also a leader for workers' rights organization United for Respect.
Davis was the one who invited Sanders to the meeting, which is right up his alley after his "Stop Walmart Act" from last fall, which demanded that the company and others like it cease buying back their stock for the good of shareholders until all workers are paid $15/hour and executive pay is capped at 150 times the median employee salary.
The Stop Walmart Act will likely not pass, and this proposal probably won't either when you consider the history of such attempts:
Walmart shareholders have voted down every employee proposal in company history, according to United for Respect.
That doesn't bode well, but the presence of Sanders will at least increase the pressure on the company to treat its workers more fairly, even if they don't get a voice on the board. And that pressure can pay dividends, as we saw last year when pressure from Sanders played an enormous role in forcing Amazon to pay its workers $15/hour.
Sanders had this to say xts[0]=68.ARDF2VkkJh22Oiqlq5ZxO0p1BdTolWaKlAkMGrCPKglX9eEEaXgSp6ZUcMvxoo_MUEZbDeZf8C55JRnzSgm0oAlojg2-URVpwUwx-YcGN_jL9eNu6nK6WmitQmx-olR0-2LfJMbKVQ0rZE3BPvhFtT3QmMUP80Ip2_ray8Gp4ZaBJ89CS1AvyenTsGS1KhIu-8eotcTJc9ofB8tjIZ67qXbnRTi6yaTNTszPKxXF6-wjkifuu1iHS2TgJnQYCooUdX_E9pIta4XfGjAvtxTBiqw0srGPfoXfIax8YBJjWICQnMn_BNEtRKXrMxDubgTJ3KGVafOtE-agPvbeUpYxLatZRZQTQ2lIs3Iq9fgc4CyJ358iNIhh_Q&tn=-R">on Facebook:
Walmart workers are sick and tired of being paid poverty wages, while the Walton family is worth over $170 billion. I'm honored to have been invited by Walmart workers to demand they have a seat at the table of Walmart's board. If hourly workers at Walmart were well represented on its board, I doubt you would see Walmart's CEO making over a thousand times more than its average worker.