Police Arrest Teenager for "Ethnic Cleansing" Threats That Shut Down Charlottesville Schools
Photo by Stephen Maturen/Getty
Politics
Features
White Supremacy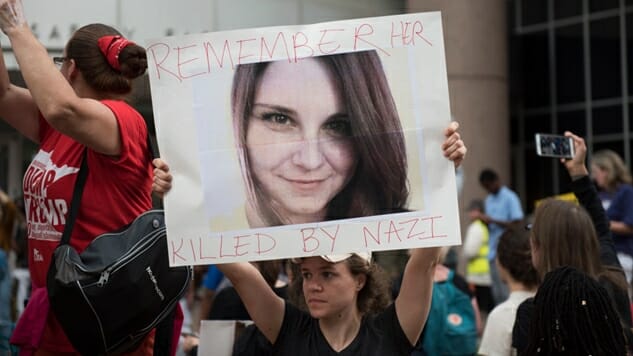 Imagine if ISIS had posted a threat online about how they were going to "cleanse" specific public schools of infidels, and the schools threatened found the threat credible enough to shut down for two straight days. That would probably be front page news in America, right? Now replace "ISIS" with "white supremacist," and you're describing a situation happening right now that major media largely ignored until an arrest was made today (prior to the arrest being made, this story was not on the homepages of the New York Times, The Washington Post, Wall Street Journal, or CNN, and only WaPo has it on their homepage now—credit to NBC News, who had this on their front page before any of those four).
Today, police arrested a teenager over the threat. Per NBC News:
Charlottesville Chief of Police RaShall Brackney said at a news conference Friday afternoon that the teen, who was not named, identifies as Portuguese and is a resident of Albemarle County.
Authorities said during their investigation into the threat, which referred to the "ethnic cleansing" of black and Hispanic high schools students, they learned who posted the message on 4chan and executed a search warrant for the teen's arrest.
He faces a felony charge of threats to commit serious bodily harm to persons on school property and a misdemeanor charge of harassment by computer.
A lot of people will be quick to dismiss this as just "shitposting" by someone too naive to understand what they are saying (the latter is likely true), but the mass murder of 50 Muslim worshippers in a mosque in New Zealand is a grim demonstration of how shitposting is only shitposting until it isn't. Plus, this happened in a city where a white supremacist murdered Heather Heyer (pictured in the title photo of this article)—and the President of the United States responded by saying there were "very fine people" on both sides. This is not an isolated incident. Not only is dismissing the "ethnic cleansing" posted by this teenager downplaying the severity of a historical evil, but it is an ahistorical take.
None of this is new. The Nazis did all this before, as Adam Serwer wrote in The Atlantic:
"Apparently it matters little to his followers what he says," a New York Times reporter wrote of Hitler in 1930. "Their chief concern is how he says it. What he says may not be true to those who know better, but to those who like it it is not without its logic."
Ultimately, as with the New Zealand shooter, every joke, every pithy reference, every pretend gesture toward the moral standards of liberal democracy has the same punch line: We are going to kill you. There is nothing more profound to unearth from their ideas, or from them.
What Charlottesville schools Superintendent Rosa Atkins described to the Richmond Times-Dispatch is the same kind of Nazi/New Zealand shooter terrorism described by Serwer:
"It affects everyone. … If we open our schools, how will our teachers and staff be able to operate during the day? How effective will they be during the day, knowing that there is a threat against our school system?"
From her quote, you cannot tell whether it is white supremacist terrorism, Jihadist terrorism, or the terrorism of some other arcane political ideology—which is instructive. Terrorism is the same, no matter the rationale behind it. The goal is to frighten and intimidate us while creating a spectacle (typically murderous) that will live on forever in people's minds. All terrorism is unconscionable, and threatening the lives of children is barbaric. It doesn't matter who did it, this act cannot be dismissed as simple youthful stupidity. This is a hateful ideology responsible for millions (billions?) of deaths across the continents of Europe, Asia, Africa, Australia and North America, and it must be met with a forceful dismissal at every turn. White supremacy is the most immediate security threat this country faces, and it's long past time that we started prioritizing the fight against it.
Jacob Weindling is a staff writer for Paste politics. Follow him on Twitter at @Jakeweindling.