Are You a Digital Media Veteran Who Wants to Work For Literally Nothing? The Website WhoWhatWhy Has You Covered
Photo by Oli Scarff/Getty
Politics
Features
WhoWhatWhy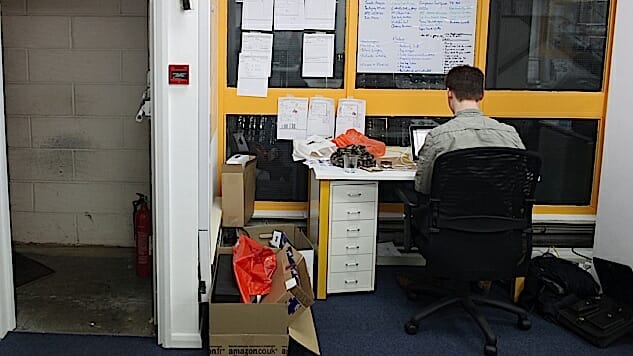 Digital media can be a terrifying field. It seems like every day a new outlet is shuttering its doors or reducing staff, and just to have a job feels extremely lucky. The work is often exciting and stimulating, but it comes with a certain tenuous feeling—there are broader forces that writers and editors and owners can't control, and as John LeCarre once wrote, "little ships cannot change course as easily as the winds that drive them."
But what I'm about to show you goes beyond the generalized anxiety of life in American media: This is…well, just look:
It's bad enough not to pay your interns. But this site wants to hire an unpaid MANAGING EDITOR. pic.twitter.com/uhHovunJTp

— Peter Sterne (@petersterne) January 3, 2019
That's right—as Peter Sterne discovered, the company WhoWhatWhy, which specializes in "groundbreaking investigative journalism," is offering an UNPAID managing editor position. The job offer is still up on LinkedIn, for now, and it really boggles the mind: A part-time (but seemingly creeping toward full-time) position that offers not a single red penny to the worker.
This is, to put it mildly, a new low in the industry. They want "five years of experience in online journalism," they require a minimum of ten hours per week and a "long term commitment," and again, I must repeat: THEY DO NOT PAY.
Who on earth would be interested in this job? Is it supposed to be about exposure? For an industry veteran, and not even a writer??
This may be inside baseball to readers of this website, but the broader political angle here is the audacity of management at any company believing they have the right to free intellectual labor. (And then have the audacity to act as media critics.) This would never happen at a factory, for instance, and the idea that someone out there running a media company believes it's okay to pay someone literally nothing to put in real work hours is infuriating. Even if there was someone interested in accepting, for reasons that are hard to imagine, transforming paid work into free labor is an outrage. It devalues everyone in the field, and makes a mockery of the work performed by editors and writers. On behalf of digital media workers everywhere, let us echo the chorus: WhoWhatWhy should be ashamed.