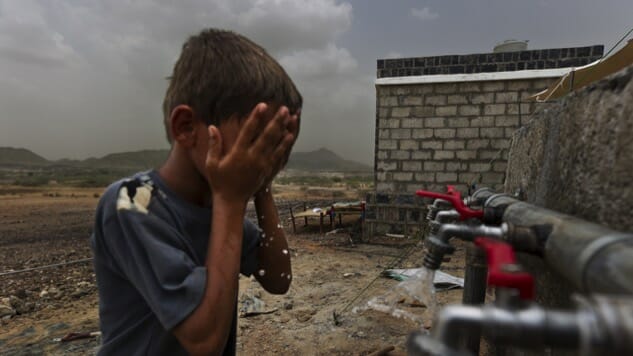 Last Wednesday, the Democrat-controlled House of Representative passed a war powers resolution introduced by Rep. Ro Khanna (D-CA) to end U.S. involvement in Yemen's bloody civil war between Ansar Allah (Houthi) and Saudi-led coalition forces. The measure's success was not unexpected. Public pressure had been mounting for months, and in December, an identical resolution put forward by Sen. Bernie Sanders (I-VT) had made it through the GOP-controlled Senate. What wasn't so expected was that the Democrats, who hold a 38-seat advantage in the chamber, would allow—even help—the Republicans to gut the legislation.
Ultimately however, 57 House Democrats, including a member of the leadership, crossed the aisle and voted for an amendment that did just that, ensuring its adoption. Their names can be seen here.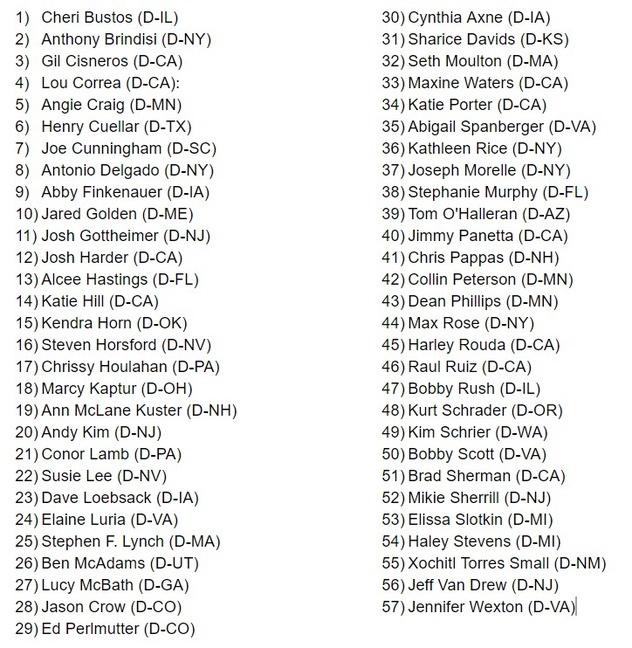 The original Khanna/Sanders resolution took specific aim at ending U.S. intelligence, refueling, and logistical support operations conducted with the Saudi-led coalition, which have enabled America's allies to wage a brutal campaign in Yemen against civilians and militants alike. Already a compromise—a testament to the Senate battle—it contained language exempting joint operations with Israel and expanding presidential authority to conduct the "War on Terror." Still, it represented the first tangible step towards ending U.S. involvement and complicity in war crimes and what is ostensibly an ongoing genocide.
The amendment, introduced by Rep. Ken Buck (R-CO), added language to Khanna's legislation enshrining President Trump's authority to continue intelligence sharing operations with allies he deems appropriate with no check from Congress.
Speaking on the House floor, Buck said the purpose of his amendment was to limit civilian casualties. "I want to make sure that we're doing everything we can to avoid the humanitarian crisis there," he said, "at the same time we recognize the geopolitical significance of our relationship with Saudi Arabia."
But the new language only serves to undermine the purpose of the original resolution. Of the Democrats who voted for it, a number of names stand out—Democratic Congressional Committee Chair Rep. Cheri Bustos (D-IL), #resistance icon Rep. Maxine Waters (D-CA), and celebrated freshman Reps. Conor Lamb (D-PA) and Sharice Davids (D-KS). After the vote, one Democrat went on record stating that he'd mistakenly cast his ballot.
"Madam Chair, during Roll Call Vote number 81 on H.J. Res. 37, the Buck Amendment, I mistakenly recorded my vote as Yes when I should have voted No," said Rep. Bobby Rush (D-IL).
After it passed the Senate in December, the original war powers resolution died in the House without even so much as a vote. Then-Speaker Paul Ryan introduced an amendment to the annual farm bill stripping it of its privileged status under the 1973 War Powers Act. Democrats had had the numbers to stop it after 18 Republicans crossed the aisle, and they could have done so without killing the whole farm bill, but then-Minority Whip Steny Hoyer failed to whip the votes. Seven House Democrats broke ranks, giving Ryan a narrow victory.
For those invested in the fight, it was a bitter pill to swallow, but the promise of a newly-elected Democratic House majority lessened the blow. In an interview last month with Paste, Khanna outlined his months of coordination with Sanders to get to this moment and he expressed confidence that change was coming. "I anticipate a convincing victory in the House, having it brought up right away in the Senate, and a convincing victory in the Senate," he'd said.
This time around, however, the sting is most assuredly worse. Despite their advantage—large enough to force through any legislative item without bipartisan support—House Democrats couldn't even pass the same war powers resolution the GOP-controlled Senate passed in December without first watering it down. Ironic.
While U.S. lawmakers deliberate, Yemen is in crisis. The civil war, which began in 2015 after Zaidi Shia Houthi rebels overthrew the internationally recognized—but struggling—government of Sunni President Abdrabbuh Mansour Hadi, has erupted into a sectarian bloodbath fueled by international powers backing both sides. The violence has claimed a shocking 80,000 lives by some estimates and hundreds of thousands more have died of starvation and disease. Millions are in immediate need of humanitarian assistance. The country's medical infrastructure has been decimated and the coalition keeps tight control over the ports with a blockade.
A war powers resolution passed by the House and Senate demanding an end to U.S. involvement in Yemen's civil war has the power to not only send a message to the world about America's commitment to its values, but also to put immense pressure on Saudi Arabia and the other coalition states to find a meaningful resolution to the violence. For now, however, such legislation doesn't seem to be in the cards.
Paste reached out to each of the Democratic representatives who voted in favor of Buck's amendment for comment. The responses of those who got back to us are included below.
Rep. Lou Correa (D-CA): "I firmly believe the United States must maintain strong cooperative alliances to effectively fight terrorism around the world. That means sharing information. But information sharing is a two-way street. We need partners whom can tell us what's going on around the world."
UPDATE: Rep. Katie Porter (D-CA) was asked about her support of the Buck Amendment at a town hall. In her response, Porter claimed that the original resolution arguably did not prohibit the kinds of activities allowed by the amendment anyway and that it did not change the original resolution. "The idea was that the Buck Amendment didn't really change the nature of the law," she said. "Military intelligence sharing…not logistical support, not fly our planes, not 'we're going to fuel you,' not 'we're going to tell you where to go and help you,' but strict intelligence sharing—things like letting them know that there are civilian targets…that kind of intelligence sharing was arguably already permitted under the resolution that Ro Khanna introduced…and that I signed onto."
But the original resolution clearly specified intelligence sharing was an unauthorized military activity, stating that "Since March 2015, members of the United States Armed Forces have been introduced into hostilities between the Saudi-led coalition and the Houthis, including providing to the Saudi-led coalition aerial targeting assistance, intelligence sharing, and mid-flight aerial refueling." Moreover, looking at the language of Buck's amendment, it is clear that a court could interpret it to include activities that are not strictly intelligence sharing. "Nothing in this joint resolution may be construed to influence or disrupt any intelligence, counterintelligence, or investigative activities," it reads, clarifying that such activities only need involve intelligence gathering, analysis, or sharing.