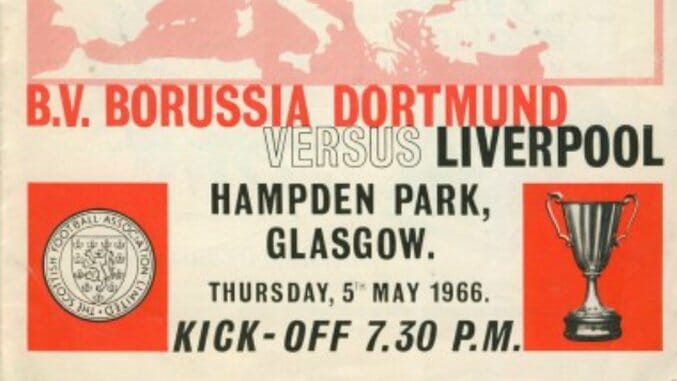 A lot has been said about the clash between Liverpool and Borussia Dortmund in the Europa League quarterfinals. There's Jürgen Klopp facing the team where he made a name for himself wearing different colors. There's the near-complementary playing styles, making this akin to watching two high-flying cruiserweight wrestlers battle it out. There's the (mostly) amicable air between the two sets of supporters. There's fans in both colors singing You'll Never Walk Alone.
For a tie as electric as this, it's surprising that there isn't more competitive history between the two clubs. But they do go back a ways, and their first meeting, held 50 years ago next month, was a real doozy.
This week we look back at the 1966 European Cup Winners' Cup Final and the first meeting between The Reds and Die Schwarzgelben.
Before jumping in, it's worth remembering that this was Bill Shankly's Liverpool. By the time they traveled up to Glasgow to finish their European adventure, Shankly had led his team out of the second division and guided them to two league titles (including that very season) and had won the FA Cup the season before. This was a strong team hitting their stride under one of the most decorated managers in English football history.
Which made the result at Hampden Park all the more astonishing.
After a testy first half, both teams came out of the tunnel for Act II raring for a breakthrough. First blood was finally drawn around the hour mark when Dortmund center forward Sigfried Held hit a gorgeous strike from the edge of the 18.
The lead wouldn't last, however. Not seven minutes later, Liverpool inside forward Roger Hunt collected a cross near the penalty spot and sent it past Hans Tilkowski. The goal sparked a pitch invasion, stopping play for several minutes and leaving the pitch littered with streamers and other detritus.
The rest of the second half was frenetic, with both teams escaping disaster on several occasions through a combination of superb goalkeeping and sheer luck. As it is, neither could find a winner in 90 minutes, and the game went into extra time.
Both teams tried to keep the frantic pace going, but fatigue was settling in and players were beginning to succumb to cramps. Each side was running out of gas.
But one team did ultimately find the winner. In the 107th minute, Dortmund winger Reinhard Libuda sent a long ball, part cross and part shot, into the box from more than 30 yards out. The ball carried farther than anyone thought it would and made a dive toward the goal. It hit the post but ricocheted off of Liverpool keeper Tommy Lawrence and settled into the corner of the net. For Liverpool fans, it was an embarrassing and devastating way to lose a game, nevermind a cup final.
Dortmund held on for the 2-1 win in extra time and lifted their first piece of European silverware. Liverpool had to console themselves with their league title that season.
Later today Liverpool and Dortmund will meet again in a high-stakes European tie. A level aggregate scoreline, a slim away goal advantage to Liverpool, more Kloppomania than you can shake a stick at, and Dortmund fans planning a tribute to the victims of Hillsborough, today's game will be a wild ride. Kickoff is at 3pm EST on Fox Sports 1.