If 43-year-old goalkeeper Brad Friedel, formerly of the US Men's National Team, plays just one game for Tottenham Hotspur this season, he'll become the oldest Premier League player of all time (the current record-holder is John Burridge). Even if Friedel doesn't see the field, he has plenty of other awards to fall back on.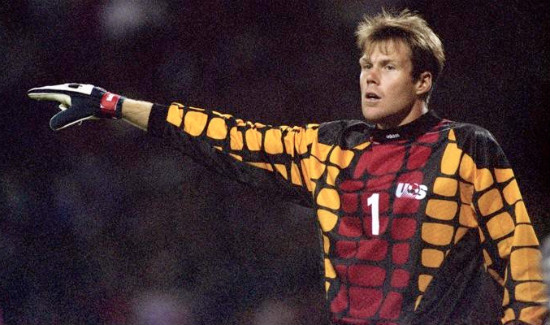 A follicularly fulsome Friedel won the Hermann trophy in 1992 for his junior year at UCLA, (and was later named to the College Team of the Century) and was 1997 Goalkeeper of the Year Award in his single season in Major League Soccer. Then, after securing a work permit, he started in on the Premier League records.
Friedel was the second goalkeeper to ever score in the EPL (see video below), and is still one of only five to so. He's amassed an impressive 450 starts in England, as well a the record-setting 310 consecutive starts. He sits eighth all-time with 132 shutouts—even more impressive considering the bulk of his time he played for non-contenders.
While Friedel is remembered fondly for his club efforts, he leaves a polarized view with US national team fans. He in 2004, a full decade ago, announcing he was tired of the travel from continent-to-continent to play in friendlies—or sometimes sit the bench, thanks to the fierce contest with Kasey Keller for the starting spot.
Friedel played just once at the 1998 World Cup, where Keller was the starter. But in 2002, he was huge for the United States, both metaphorically and physically, showing all his best attributes during the team's historic run to the quarterfinals, saving two penalty kicks (proper, regulation-time penalty kicks as opposed to shootout penalty-kicks) along the way.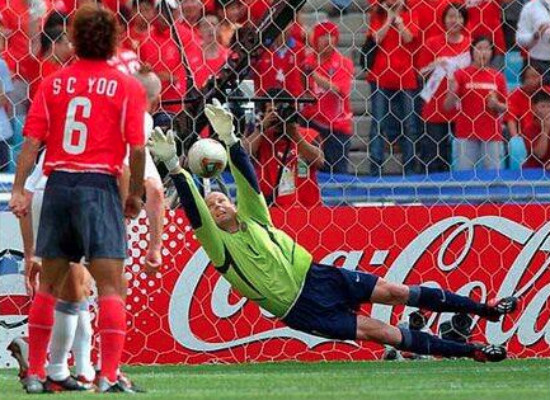 Friedel's most iconic performance in 2002 was the greatest World Cup performance by a US goalkeeper since Frank Borghi's shutout against heavily favored England in 1950. In the second game, against South Korea, Friedel saved a penalty in the first half. Friedel doesn't move one way on the penalty kick until he's sure of the direction. Then, with his Dhalsim-like arms, he covers the mouth of the goal with exact precision on a well-struck ball. Not much later in the match he saves three shots, all within 10 yards, to secure the 1-1 draw. On each save, his feet are just as ready to make the appropriate save as his hands are. He is completely balanced, waiting to pounce. Without the point from the tie, the US doesn't advance from the group and eventually reach the quarterfinals.

(The penalty-kick save is at the 4:30 mark.)
So what made Friedel so formidable in 2002? And how has he survived in the Premier League until his mid-40s?
First, we have to talk arm length. Friedel's wingspan, surely pushing 80 inches, was utilized in the utmost calculated ways. He would never wildly attack the ball, but instead methodically position and correctly react to every shot.
As for longevity, Friedel has said repeatedly, including in this Reddit AMA, that it's all about yoga, or, as he puts it "a four letter word called yoga." Daily yoga kept him astonishingly flexible and able to handle the grind the body takes from goalkeeping. It allowed him to maintain his surprising agility and quick feet, neither of which matches his bald head or aging look. In addition, Friedel honed his reflexes to always play percentages. Even when it would be easy to be caught leaning one way, his humongous size made post-to-post coverage simple and dealing with aerial service easy.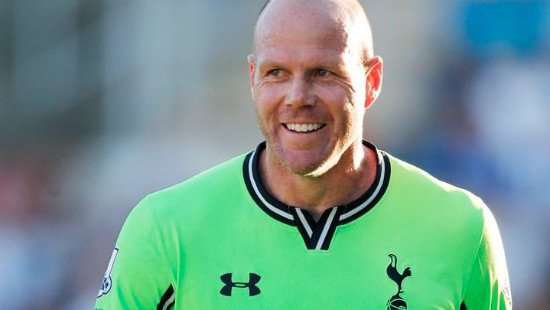 To gauge the greatness of a player, you have to take into account how long they competed at the top level. Friedel's game was beautifully consistent for so long without dipping or changing. He was just as good as a 40-year-old as he was when he was 30. Perhaps retiring from international play allowed him to focus more on staying at a premier level. It's hard to say. What we do know is that Friedel used every ounce of his knowledge and ability to further his career. Whether it was translating his basketball prowess into handling crosses, or practicing with self-made balls of tape in the dark, or taking yoga classes every day to ensure his fitness, Friedel was solely focused on competing. And while Friedel was originally caught in a dogfight to earn time, he eventually surpassed his peers and established a standard for all goalkeepers to follow.