Calls For Black Serie A Players To Go On Strike In Solidarity With Sulley Muntari
Photo by Enrico Locci/Getty
Soccer
News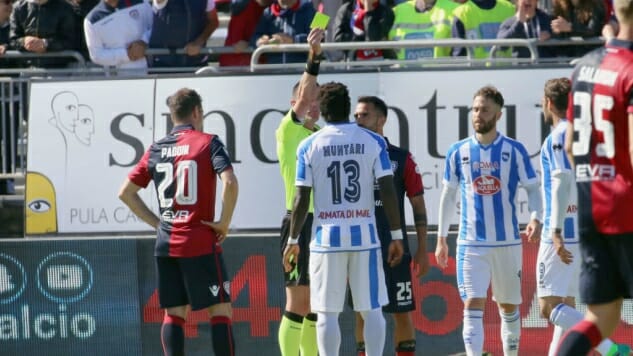 On Monday we wrote about the racist abuse hurled at Pescara midfielder Sulley Muntari. After being the target of racial slurs and insults from Cagliari fans during their late-season Serie A match, Muntari approached the referee and asked him to do something. The official declined, and when Muntari insisted he was shown a yellow card for dissent. Frustrated and unwilling to take any more abuse, Muntari walked off the pitch in protest.
In doing so, Muntari was given a second yellow card, resulting in an automatic sending-off (something which smacks of "you can't quit! You're fired!"). It also meant that he would be given a one-match ban. While his club has been reticent to go to bat for their player, FIFPro was more than willing to step in and demand that Italian football authorities rescind the first yellow and lift Muntari's ban.
"We urge Italian authorities to hear Muntari's version of events, investigate why the situation was mismanaged, and take firm action to ensure this never happens again. Muntari was well within his rights to approach the referee, as the first point of reference, to make his grievances known and seek a solution. […] Professional footballers should expect to be adequately protected by the relevant authorities,"
Yesterday, the Italian Football Federation gave their response to FIFPro's plea: "nah;
Not only will Muntari's ban be upheld, but Cagliari will receive no punishment whatsoever, as the disciplinary committee concluded that "an approximate number of only 10" fans were involved in the incident.
Kick It Out, the organization tasked with fighting racism in football, did not mince words after the Federcalcio announced their decision.
Gutless failure to take action by the Italian authorities. Those with power in Italy need to take action to stop this happening again. https://t.co/5MfVyAhi7Y

— Kick It Out (@kickitout) May 3, 2017
So what happens now?
Garth Crooks, the former Tottenham and Stoke player and current Kick It Out trustee, has an idea— every black player in Serie A should strike this weekend.
"Kick It Out has made representation to FIFPro, the World Players' Union, to share its frustrations about the treatment of Sulley Muntari by the FIGC (the Italian Football Federation). The gutless failure to not take action by the Italian authorities should not be allowed to pass. It's unbelievable that Cagliari escaped punishment as 'only 10' fans were involved. This situation should never be allowed to happen again. Garth Crooks, an independent Kick It Out Trustee, is calling for every self-respecting black player in the Italian League to not play this weekend unless the Italian authorities withdraw the ban on Sulley Muntari."
This isn't a bad idea, and players striking en masse would certainly send a message that Muntari's treatment— by fans, referees, clubs, and football authorities— is unacceptable. But given how far Italian football is willing to go to avoid taking action against racism and protect abusive figures, and given that the current president is an unapologetic racist, players and FIFPro should prepare for the possibility of not only continued inaction but retaliation against anyone participating in such a strike. (Not to say that they shouldn't strike, just that they should know what they're dealing with.)
At this point, it's highly unlikely that Italian football authorities are going to suddenly grow a conscience, and also highly unlikely that UEFA or FIFA will step in to set things right. If racism is ever going to be pushed out of Italian football, it may well come down to the players to make it happen.