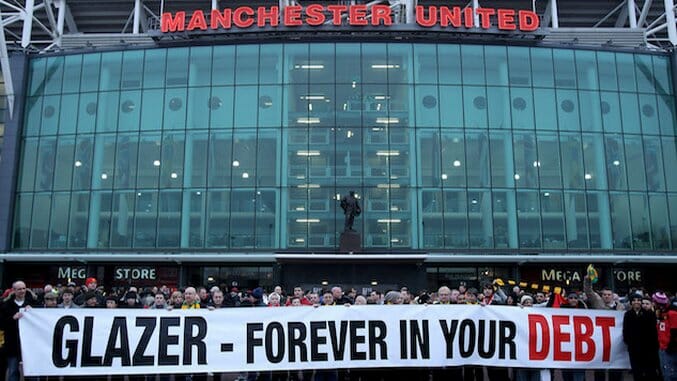 Who will profit the most from Manchester United's collapse in form?
It is not Liverpool, Chelsea or Arsenal fans, although I am sure they are enjoying it. Nor is it Manchester City fans, now delighted to be the sole remaining powerhouse in the north.
It's not bottom of the table teams who can steal three points away from what was once a cauldron at old Trafford.
It's the Glazer family. Chairmen of the board at Manchester United.
Employing a tactically inept manager in Louis van Gaal to run a team of players who wouldn't make the first team 6 seasons ago (except David de Gea) provides the perfect distraction from what is actually happening at United.
Securing a cardboard chairman who cares about being liked more than winning helps the Glazers.
A huge debt has been paid off by Manchester United FOR the Glazer family, today valued over 300 million, something the fans quite rightly were appalled by when it was first reported in 2005. But now with the awful decisions being made by the manager—Martial and Rashford out of position, Carrick in defence, Fellaini playing!—and suicidal decisions being made by our defence and midfield, the real issue isn't being examined.
At the scene of a car crash, it's Look look! Over here someone has fallen off their bicycle!
Gone are the days when good football teams were simply groups of good players. Nowadays money rules the game. Just look at every recent champions league winner for be past decade. All big spending teams. If you have both the players and the money you have cracked it, but most of the time now it's get money-buy players, not have players-get money.
Barcelona. Real Madrid. Manchester City.
And much respect for Leicester who have less money, have scouted as well as any team in Europe and are seeing results. May they win the Premier League and inspire teams up and down the country.
But the saddest thing of all is the club will sink into an even further rut. Manchester United would benefit greatly from a buyout, a wealthy Chinese company, or a football loving sheik to splash the cash. But it won't happen. To do that the new guy would have to clear the Glazers debt, something the Glazers would be delighted to have happen. But who would do that? I repeat, 300 million!
And so it seems we are stuck with them.
Manchester City will continue to gain distance on us and soon we may be so far away from the pack so as not to see the direction to head to play catch up.
Alex Ferguson was still young enough and smart enough to go on when he retired. He claims he wanted to spend time with his wife which is a lovely thought. What may be a more salient reason might be two fold.
HIS team—Scholes, Rio, Giggs, Ronaldo, Keane, Cantona, Neville, Butt—are all gone, and the future legacy of his club is one of bouncing back from defeats, not climbing atop podiums.
He is a smart business man, concerned as they all are of maintaining a legacy. This may have been his best timed decision ever as manager.
The badge sits heavy. The struggle is real. The fight goes on.
You can find @DominicMonaghan on twitter. wildthingsdom on Instagram.