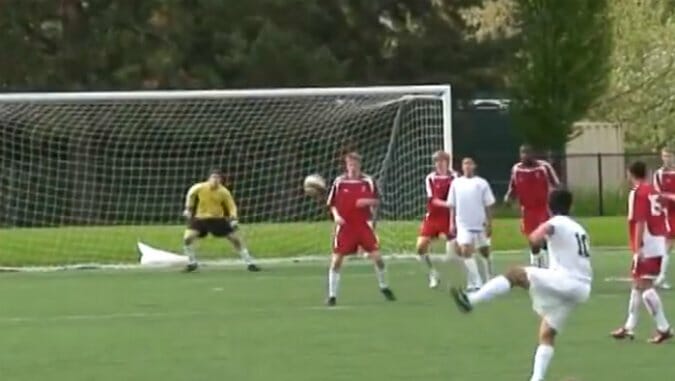 This incredible Roberto Carlos-eque free-kick and equally brilliant stretching save from the goalkeeper was uploaded to YouTube on Jan. 5 and quickly went viral. The video's especially great because you can see the white team's subs already celebrating what they thought was a CERTAIN goal, only to see the keeper tip it around the post.
When you see a moment of soccer perfection like this, you want to know who the players involved are. Frustratingly, no one seemed able to identify the players or even the teams involved. Until now …
After Using the top-secret Google ninja search skills that all Paste Soccer writers are required to possess (meaning: I did a few searches, perused a comment thread on r/soccer and checked a few rosters to confirm accuracy) I'm 99 percent confident that this free kick and save took place in 2007, not 2015.
And it's not high-school soccer, as has been reported elsewhere, though the players are high-school age. It's actually two elite club teams from Oregon—F.C. Portland in white and Beaverton Westside Metros in red.
The F.C. Portland free-kick taker who bends it better than Beckham is named Joe Sleven, and the Metros keeper who bests him is Eric Wilson.
Neither went on to professional soccer careers, though both played college: Sleven at University of Portland and Wilson at Middlebury College.
But two players featured in the video are currently in Major League Soccer. As spotted by redditor LieDownChauncey, #9 for the Westside Metros is Danny Mwanga, who will play for Orlando City SC in 2015, and #15 is Erik Hurtado of the Vancouver Whitecaps.