Mario Balotelli has finally scored a Premier League goal for Liverpool FC. How he scored that goal, however, is a story unto itself, and demonstrates one of the less obvious threats in modern soccer: allowing opposition wingers possession around the edge of the 18-yard box on an initial attacking run.
The reason is simple; unlike further outside in the flanks, where players will generally either send in a cross or make a pass back, it's very difficult to gauge what a player will do on the edge of the 18. They may take the ball to the byline, pass back to the top of the box, shoot for the far post, or opt for a cross, (be it slow and floating or low and driven across the face of goal).
Tottenham Hotspur illustrated this problem last night against Liverpool, when Mario Balotelli scored in the 83rd minute of play, sealing a vital 3-2 victory for his side. The move began shortly after Jordan Henderson passed the ball to Adam Lallana on the right, who had Jordan Ibe out wide as the obvious passing option: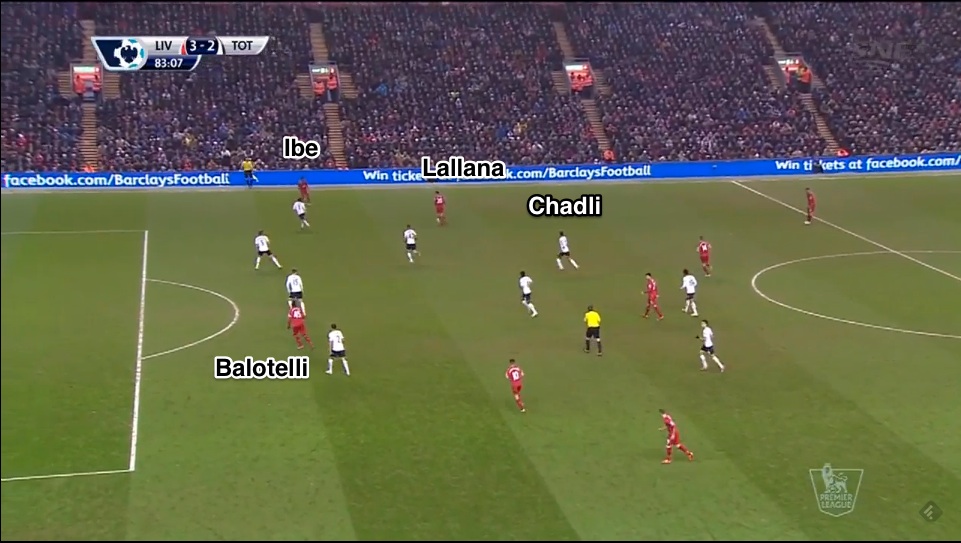 I've also noted in the above image the position of Nacer Chadli, who came on only seconds earlier to replace Christian Eriksen. Initially, he's far removed from the play, which will be become problematic.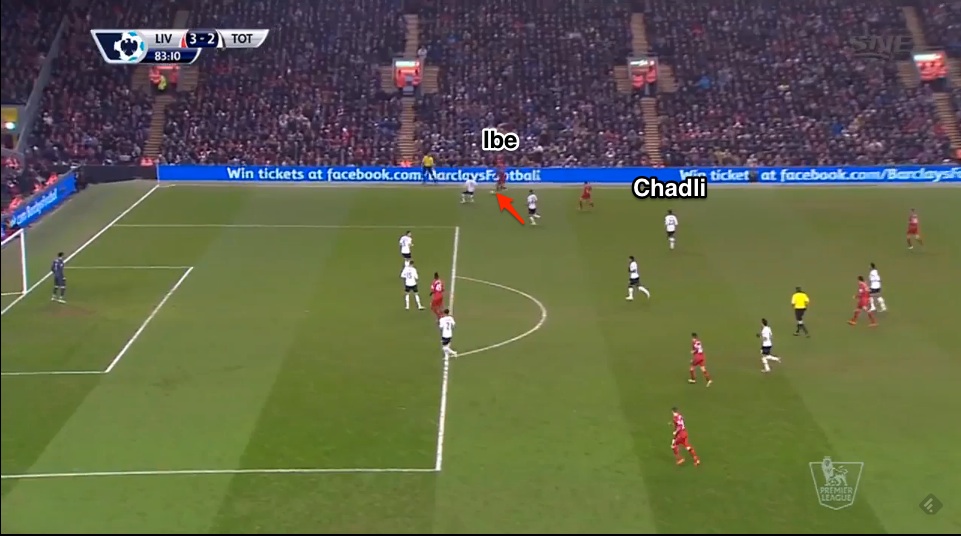 Lallana has passed to Ibe, and now two Tottenham players are closing down. This should be a routine defensive play, keeping Ibe as far from the edge of the box as possible, preventing a cross, and trying to win back possession. Chadli, for his part, is hanging back, perhaps to help cover Lallana or the player further afield in case Ibe passes backwards.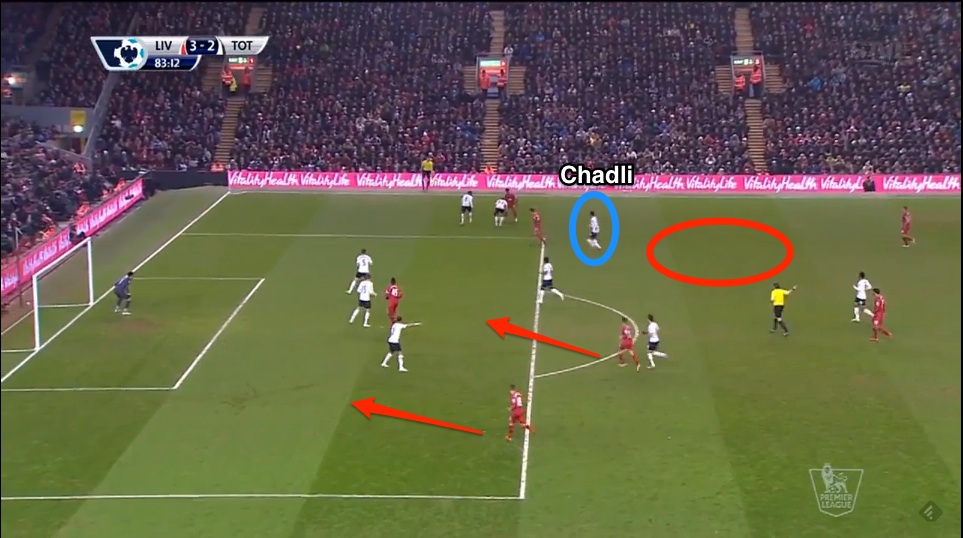 The image above is taken immediately before Ibe sends a perfect pass ahead of Lallana, essentially through the legs of his two markers. I'm willing to say that this is one of those moments where skill-in this case Ibe's pass and precision-overcomes otherwise sound defensive positioning. Perhaps Chadli, who is clearly now running to keep pace with Lallana, might have done so with more urgency, but he made a reasonable bet Ibe wouldn't be able to pass to Lallana.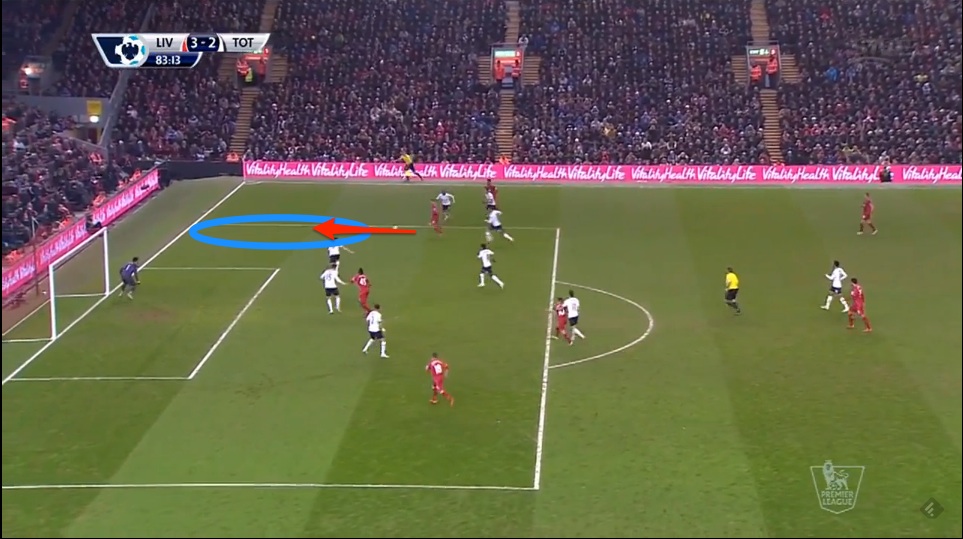 Lallana now has the ball in the dangerous area on the edge of the 18-yard box with Tottenham's defenders tracking back, exactly what every defending team should try to avoid. Moreover, the presence of two other Liverpool players further taxes the defense. At this point, Spurs can only hope lady luck is on their side.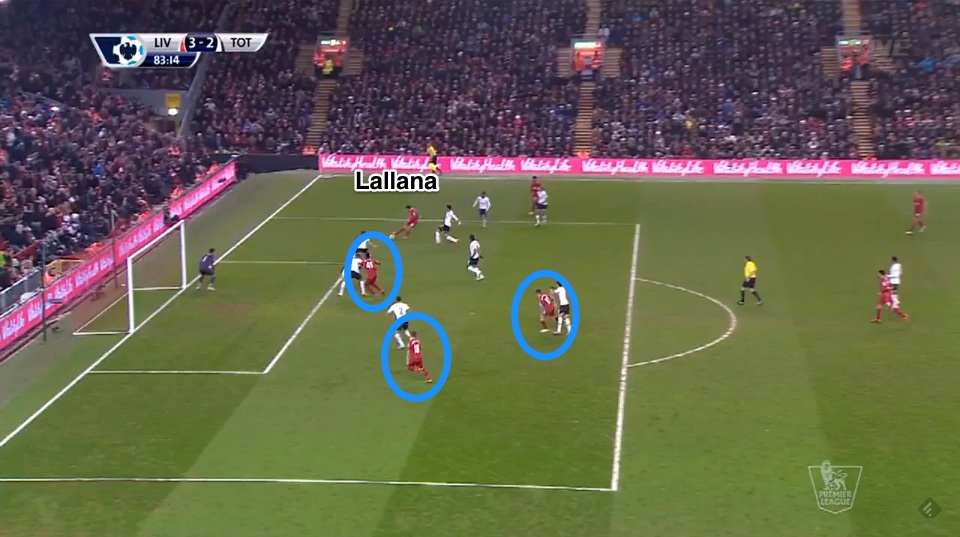 Balotelli is clearly the winning option for Lallana, and he simply runs behind defender Eric Dier and shins in the ball. The low cross is so quick it's hard to fault Dier here at all.
I like this example because it strongly counters the idea that all goals originate from defensive "mistakes". We can't fault Chadli for not keeping up with Lallana because he reasonably assumed Ibe wouldn't be able to make a pass between two markers. And while we might fault the two players marking Ibe, a pass like that takes equal parts luck and skill. Once a player like Lallana has the ball in that area of the pitch, it's very difficult to defend.