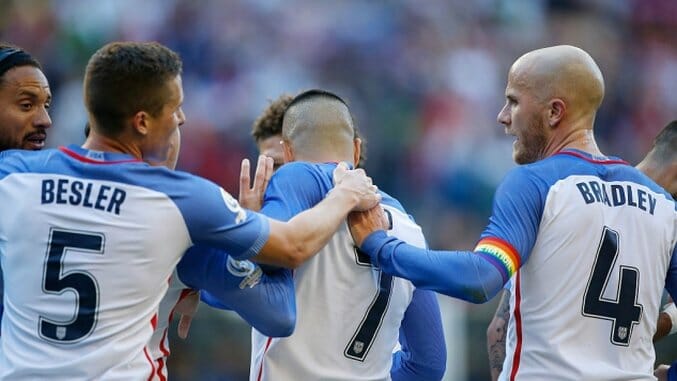 On Saturday, Orlando City FC held a set of tributes in honor of the victims of the mass shootings at Pulse nightclub before their home game against San Jose. Some were fairly straightforward— special t-shirts worn by the players, Pride flags waved in the stands, etc.
But two gestures stuck out in particular.
First, a section in the stands where exactly 49 seats were left empty, with balloons tied to the backs of the seats. And second, a complete stoppage of play in the 49th minute, with players on the pitch halting their runs and standing pat to observe a moment of silence with the fans.
(The 49th minute observance begins around 2:50.)
The Washington Spirit followed suit in their NWSL game at home against the Orlando Pride. Only this time, the silence was replaced by applause.
Thank you, @WashSpirit. #OrlandoUnitedpic.twitter.com/LiRWPNhtCH

— Orlando Pride (@ORLPride) June 19, 2016
Invariably some people will roll their eyes at these kinds of gestures. Some of the complaints are valid, such as the commodification and branding of tragedy and how corporate interests co-opt marginalized identities for profit. Other times, like when certain fans complain about giving "those people" more attention than they deserve, notsomuch.
But the gestures matter. In this moment, they matter a whole lot.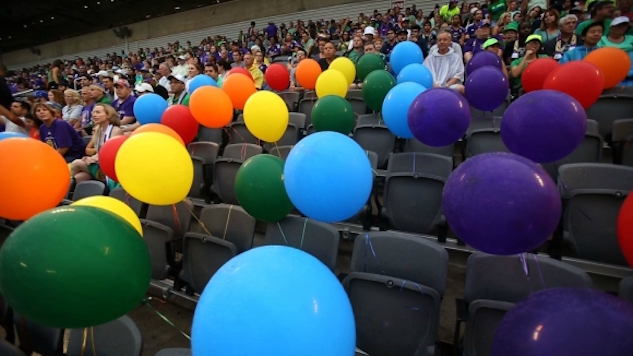 So here's a thing: if you are not one of the millions in the US who claims a letter in the LGBTQA+ acronym as part of your identity, you probably know someone who does, statistically speaking. It's possible they just came out last week. Whether that someone is a friend, a family member, a neighbor, a coworker, or a fellow member of the supporters group you're part of, you probably know that they've had an emotionally fraught week since the shootings.
Not everyone in the LGBT community had a direct connection to the tragedy. Yet it still left many feeling raw. The shootings served as a potent reminder for those within the community: we are never safe.
In wider society, there's this latent desire for bigotry to be "over" without doing much in the way of follow-through. There was this emerging sense that homophobia would be "over" after the Supreme Court handed down their ruling on Obergefell v. Hodges and made same-sex marriage a constitutional right. This is not unlike the (patently false) assertion that racism is "over" because Barack Obama was elected president.
Those in the LGBT community know better. Our elders lived through Stonewall, and the UpStairs Lounge, and an HIV crisis that the government openly mocked. The slightly younger of us (like me) still remember Matthew Shepard, and Brandon Teena, and the emergence of Westboro Baptist Church. Beyond the high-profile acts of violence, many LGBT people still experience bigotry in one form or another; whether it's an aggressive confrontation on the street, or getting kicked out of a public restroom, or being disowned by their family.
For all the recent cultural visibility and legal victories, being out and open about one's sexual orientation or gender identity is still dangerous. And no, not "wearing a Tottenham kit to a bar full of Arsenal fans" dangerous. Being out means "doing the math" in just about every social situation you find yourself in. It's hard to describe just how frightening— and, ultimately, exhausting— it is to have to worry about whether it's safe to hold someone's hand in public, unless you've had to do that yourself.
So we look for spaces where we can, in theory, let down our guard for a time around people who are either part of the community or who at least have our back. For some, it's the bar/club scene. For others it can be a local music scene, or a fandom community.
And for some of us, in the US at least, it's soccer.
For the most part, MLS supporter culture is more progressive than in other countries when it comes to LGBT people. Plenty of us are in the stands every home game. Several teams have a Pride Night or are otherwise involved in local Pride events. MLS and the NWSL have initiatives to reach out to LGBT fans and tamp down on homophobia, and while Don't Cross The Line has its problems, it's a significant improvement, both historically and compared to other currently-operating sports leagues. And several American players, including Megan Rapinoe and Robbie Rogers, are publicly out as gay.
Even so, the culture still has some fault lines. Some of the same fans who waved Pride flags this week also sang transphobic songs about the mother of former Galaxy and Revs goalkeeper Matt Reis. LA will host their own Pride Night on Wednesday while running ads and promotions for Chick-Fil-A. Robbie Rogers and Alan Gordon play on the same team.
And of course, every game in the Copa América Centenario last week was been preceded by a moment of silence. Even the games featuring Mexico, whose fans chose to continue using a particular chant mere minutes after observing the moment of silence.
When I came out as trans earlier this year, some of the most touching messages of support and solidarity came from those who I know through soccer. Most notably, from fellow soccer writers. And before that, I had been out as bisexual for many years, and was openly identifying as queer when I started meeting people in the American soccer community. Yet I've also received a fair amount of homophobic and transphobic abuse from other soccer fans— including fans of the same team I support— who then defended it to others as "banter." Years ago, long before I came to terms with my gender identity, I was yelled at for being in the "wrong" bathroom at one of my first Chicago Fire games. I've been threatened with physical harm. And to be perfectly frank, I've gotten off easy. There are worse stories from fans I've talked to.
So our "safe spaces" are never as safe as we'd like to think. We knew that before Orlando.
When you're in the position that so many LGBT people so frequently find themselves in, it's easy to feel very isolated. It's never just about the words or the threats of violence; it's the fear that no one would have your back if things went south. And the fear that no one would feel too bad if something awful happened to you.
You can criticize LGBT events and outreach from leagues and teams all you want. You can say that Don't Cross The Line is ineffective. You can say team Pride Nights are little more than sponsor activation opportunities. You can say that the rainbow flags are just #branding. And, to some extent, you'd be right.
But unless you've had to do some very quick calculus to figure out if it was worth using the public restroom, or going to a party at the house of someone you didn't know, or holding someone's hand while walking down the street, you might not understand how much the gesture matters.
We live in a country where lawmakers are trying to remove my right to use public restrooms and pastors say the Orlando victims deserved to die. These team gestures, heavily corporatized as they are, still send a message that some people are with us. And for those of us for whom soccer provides some measure of comfort and community, that is no small thing.
Before I found a Premier League club to follow, before my MLS franchise even existed, my team was the USMNT. Watching them for the first time during the 1994 World Cup filled me with a sense of pride I didn't know was possible with sports. It wasn't about winning and making the playoffs, like my other sports love (the Bulls) was. It was about representing your people well. It was about being a champion in the ideological sense.
That's why it meant so much to me to see the captain of the USMNT wearing a rainbow armband during the Copa América quarterfinal match against Ecuador last week. Michael Bradley didn't just wear the armband— it was his idea.
(There was a rumor that US Soccer was threatened with a $1000 fine if Bradley wore the armband, and that they opted to do it anyway and just pay the fine. It ended up not being true, but US Soccer said if they were hit with a fine, they would've done exactly that.)
In the best of times, those of us in the LGBT community are ignored. So much so that elected officials won't even admit that it was LGBT people who were targeted in the shooting. And at the worst of times, we're subjected to discrimination, threats, and violence. Being out can be lonely and scary sometimes. Which is why seeing the captain of my team wearing Pride colors meant the world to me.
Even if it was just a gesture.