Promotion and Relegation the American Way: How MLS Can Implement Pro/Rel Right Now
Photo by Victor Decolongon/Getty
Soccer
Features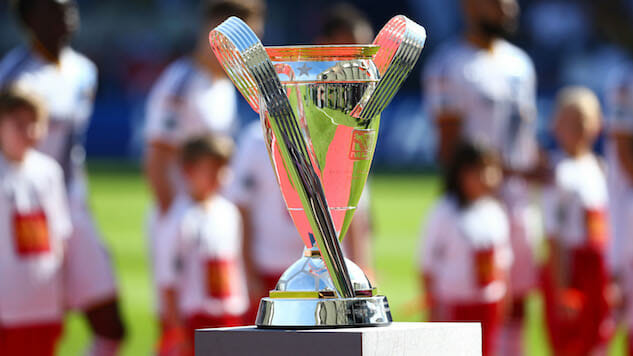 Even in their darkest hour, the Pro/RelBros of America's soccer fandom are claiming a sad sort of triumph. To them, the collapse of the New York Cosmos—and potentially the NASL along with it—proves the U.S. federation has been rigged by the moneyed elites of MLS & Soccer United Marketing. The common fan has yet again been denied their right to support a grassroots club's push to join the top flight.
In reality, an implosion of the second division proves the opposite: U.S. soccer—both the sport and the federation that represents it in America—is not ready for full promotion and relegation, and may never be.
Nevertheless, Pro/RelBros continue to heap social-media scorn on anyone who suggests it's not "realistic" or "pragmatic" to implement promotion and relegation between tiered leagues here—just look how well they work in Scandinavia!. But take a moment and put yourself in the shoes of a Kroenke or a Kraft, watching the NASL go down in flames and thanking their lucky stars their nine-figure MLS investment isn't being burned along with it.
It's indisputable: MLS is stronger together, without the threat of relegation to a lower tier for its member clubs.
At the same time, pro/rel supporters have a point. The demand has never been higher for professional soccer in the U.S., and MLS is woefully underserving the market, missing out on a generation of fans who are buying jerseys of foreign leagues and teams. There are a host of regions and cities who want top-flight soccer, and quite a few MLS cities who have no reason to watch once it's clear their club is going to be a bottom-table side.
But I've got an idea that achieves most of the goals of the pro/rel crowd without threatening the pocketbooks of American soccer's bourgeoisie, one that re-aligns MLS by performance instead of geography:

It's simple: the MLS' top 11 teams by points from the 2016 league table will start in the high conference, called "Premier" here for clarity's sake. Meanwhile the bottom nine start in the "Championship," along with expansion clubs Atlanta United FC and Minnesota United FC. Both conferences would play a double round-robin within their conference, and a single round-robin against the other conference teams.
And here's the twist: the top eight finishers in the Premier Conference would receive bids in the MLS Cup Playoffs, while only the top four from the Championship Conference would get a berth.
This is the only real pain point, the only differentiator between "high" and "low". All 22 teams will still be first-division sides, single-entity would remain in effect and nobody loses out on any TV money. When the bottom three Premier teams are "relegated" in 2018, the franchise values won't be cut in half, nor would there be a fire sale of all the teams' best players.
MLS is uniquely positioned to pull this off. The regular-season table and Supporter's Shield carries more weight with fans and media than in other North American leagues like the NHL and the NBA. The fact that teams will the season with either a 73 percent or 36 percent chance of making the postseason tournament doesn't render their regular-season campaign pointlessly easy or difficult.
Yet this format will help rev up postseason excitement. If the 12-team bracket is seeded by points regardless of conference, the underdogs will have a decent chance in the playoffs. For example, should the Portland Timbers dominate the Championship in 2017, they could be the No. 1 overall seed. Meanwhile, every Premier team that survives the relegation scrap has a chance to win the MLS Cup.
To ensure Championship teams don't miss out on high-ratings showcase games, the league could implement a separate end-of-season promotion playoff, as they do in England. The top two finishers would earn automatic promotion, while the next four teams would play home-and-home semifinals before a winner-take-all showdown on a neutral site. This also fills the hole in the schedule created by dropping from 34 to 31 regular-season games.
So: we have a balanced schedule in each conference, every team playing every other team, and meaningful end-of-season and post-season action for all but the bottom few sides of the lower conference. There's more excitement for the regular season, more excitement for the playoffs and zero risk to an ownership group of whom half see MLS as an elaborate football-stadium cost-defrayment mechanism.
But what, you ask, about actual promotion? What is the path for workmanlike local clubs to rise up and take control of the means of production play in the first division?
Facebook Group:
Supporters for Pro/Rel Association

Shirts:https://t.co/lIhfzlrip2

Scarves:
DM @bornmancityfanpic.twitter.com/WY1EUE4zuY

— SGs For Pro/Rel (@SGS4ProRel) May 16, 2016
The league can do it same way they always have: via expansion.
MLS commissioner Don Garber was recently greeted by jubilant throngs in Cincinnati, a city that built what was at the time one of the most hapless franchises in pro sports a free stadium—and then gave that NFL franchise such a sweetheart lease they were to pay negative rent (be PAID by the county to use the stadium) from 2018 to 2026. These same fans, whose elected officials later sued the Bengals for continuing to be terrible, are greeting Garber like a hero because he's hinting he might be willing to fleece them all over again.
Yet for every "let's try and wring some money out of this market" expansion bid cough Miami cough, there's been an effective 'promotion' of an already existing club and their fanbase. From the Seattle Sounders and Portland Timbers to Orlando City and Minnesota United, MLS has a long history of de facto promotion—and this model is built to accommodate it.
Cincinnati, Sacramento, Phoenix, Nashville, Tampa Bay, Detroit: MLS can pick from a raft of major-league cities with minor-league soccer clubs and add them two by two over the coming years. From 22 to 24, the conferences grow to 12 each and we get the original 34-game regular season. Grow from 24 to 26, and we end up with a 37-game schedule, one more than the English Premier League. When the league grows to 28, we split the conferences into geographic divisions and do a double round-robin in-conference and a single round-robin against the geographic counterpart in the other division, dropping the schedule back down to 33 games.
The 12-team playoff field will have to be expanded somewhere in there, and expansion up to 30 and the ultimate 32 will make interconference play in the regular season all but impossible.
However, with the groundwork having been laid over the course of a decade more, that's when MLS and U.S. Soccer can work out the financials of separating the two "conferences" into a true first and second division, with true promotion and relegation.
Though the Pro/RelBros may chafe at this ideologically impure hybrid version, it could be put into practice right now, deliver many more high-stakes games, make the league a better on-field and TV product and dramatically grow the game in this country, at the local and national levels.
Isn't that the point, ultimately, of promotion and relegation in the first place?