Sky Sports' Latest Hot Take: "Claudio Ranieri Was Bad, Actually"
Photo by Michael Regan/Getty
Soccer
News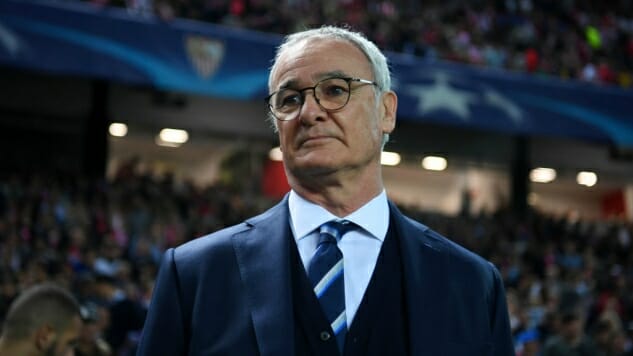 There's long been a thin, pale streak of xenophobia running through English football. This is especially true when it comes to managers. It's why mediocre Englishmen like Roy Hodgson are celebrated as folk heroes while the likes of Pep Guardiola are greeted with suspicion. Time and again we see a double-standard at work— if you're from the Home Nations you will be given endless opportunities despite your shortcomings, and if you're from The Continent you can't make any mistakes ever.
Which possibly explains Sky Sports' recent indulgence in historical revisionism by trying to cast Craig Shakespeare as the true architect of of Leicester City's title-winning season, with Claudio Ranieri portrayed as creating more problems than he solved.
Shakespeare, who was officially given the Leicester job until the end of the season over the weekend, has been tasked with a difficult job— keeping the Foxes out of the relegation zone and holding on to their place in the Premier League next season. (And maybe do something fun in the Champions League, since it'll likely be a while before they come back.) The longtime assistant manager has strong backing from his players, the club owners, and others throughout English football who are familiar with his work.
All well and good. But lately backing "Shakey" has taken on an insidious tone— trashing former manager Claudio Ranieri.
Sky Sports went to get the "real story" behind last season's title run and this season's collapse and managed to get their compelling narrative from exactly one source— former player and current first team coach Kevin Phillips, who very obviously has a score to settle with Ranieri.
"[Shakespeare] was holding the place together. I worked there for a short period under Ranieri and at times the organisation wasn't good," recalls Phillips, who left to become assistant manager at Derby County in September 2015. If it wasn't for Shakey it could have fallen apart a lot earlier. Of course the manager takes all the credit for winning the league – which he deserves an awful lot of – but it would have been a lot more difficult for them to win it without Shakey being there. It was certainly a learning curve for me and Shakey, because at that time it was us running it with [goalkeeper coach] Mike Stowell, and Ranieri came in. We'd have our sessions planned for the players and literally as we were walking out onto the training pitch Ranieri would come over and say I want to do this now with them, and he'd change it. We were like, 'fine, go on then, you take it'. But he'd say, 'no, no, no you take it'. And he's telling us to put a session on that he wants and we don't know what it is. We had to adapt."
The article at Sky also casts aspersions on Ranieri's habit of making regular flights home to Italy to spend time with his elderly mother. This time last year those visits were a sweet human interest story about the manager that was taking the Premier League by storm. Now, apparently, they're a damning indictment of a foreign coach whose priorities were never quite straight.
The article also cites the renewed vigor and improved performances from the squad following Ranieri's departure as proof that he was the wrong man for the job. Because the New Manager Bounce doesn't exist and this is a purely isolated phenomenon.
Craig Shakespeare deserves at least some slack-cutting as he tackles this huge job, even if it's just until the end of the season. Throwing Claudio Ranieri under the bus at the same time seems like a strange way to do that.