Lots of soccer players signed with lower division clubs in Europe or played for American universities, only to wash out due to injury, being not quite good enough or maybe being distracted by other pursuits. Most of these folks you've never heard of because they went on to lead normal lives: 9-5 job, kids, mortgage, all that.
But some of these players went on to bigger and better things—actors, musicians, comedians, famous chefs, key White House staff members, even time travelers—and became even more famous than if they'd continued playing soccer. Here are 10 former players who made a far bigger impact off the field than they ever did on it.
1. Jon Stewart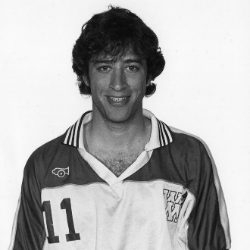 Before The Daily Show, before The Jon Stewart Show, even before Half Baked, Stewart played soccer at The College of William and Mary in Virginia. Considering they were—and still are—a Division 1 school in several sports, including soccer, Stewart must have had some pretty decent chops on the pitch. However, Stewart himself summed up his time at William and Mary thusly, "My college career was waking up late, memorizing someone else's notes, doing bong hits, and going to soccer practice."
Stewart does remember, where he played though. When, in an online Q&A with a fan club, he was asked what position he played, Stewart said, "I was known as the little guy by the sideline, otherwise known as wing."
He graduated in 1984 with a degree in psychology and later coached soccer at Gloucester High School. In 2006 he was made an honorary All American by the National Soccer Coaches of Association of America.
2. Gordon Ramsay
Nowadays the celebrity chef makes a career out of yelling at people on Hell's Kitchen and its various iterations, but before that he was a fine footballer. Raised in Stratford-upon-Avon, England, he played county football for Warwickshire U-14s (which is a bit like being all- state in the US) and later had a trial with Glasgow Rangers.
He controversially claimed to have been on Rangers' books and to have played a couple of games, but a Rangers spokesman clarified the situation in 2009, telling The Telegraph that "Ramsay was a trialist in that testimonial game. He trained with us for a few months after that but then got injured." Ramsay's early career was indeed marked by injuries, and so he turned his focus to cooking at 19.
Ramsay took part in charity game in 2006 for Soccer Aid, but was forced to remove himself at halftime because of, you guessed it, an injury.
In 2013 he opened a restaurant with David Beckham, the Union Cafe in London.
3. Robert Gibbs
Gibbs has a most impressive resume: press secretary for John Kerry's 2004 presidential campaign, communications director for then-Senator Obama's 2008 presidential campaign, the 28th White House press secretary during President Obama's first term, senior campaign advisor for President Obama's 2012 presidential campaign, a stint as an advisor on MSNBC … and, best of all, goalie for the North Carolina State Wolfpack soccer team from 1990 to 1992.
Gibbs was a walk-on who convinced the coach he was worth a spot on the team, but only played 43 minutes, spread over two games. I'll bet he could have handled the post-match press conference if called upon though.
4. Julio Iglesias
Iglesias is the best selling Latin artist of all time. But if not for a car accident which ended his career, the world might have never known was a fabulous musician he was.
As a young man, he alternated between studying law and playing professional soccer as a goalkeeper in his home city of Madrid. For a time, he even played for Real Madrid Castilla, Los Merengues' B team. However, the car crash however smashed his lower spine and permanently weakened his legs, putting his soccer dreams to bed.
Famously, while in the hospital after his accident, a nurse gave him a guitar, which is where he discovered his musical talents.
5. Rod Stewart
"Rod the Mod" grew up in a football loving family in postwar London. He captained his school side and played center-half for the Middlesex Schoolboys. After school he had a trial with 3rd Division Brentford though he was never offered a contract, despite long standing rumors to the contrary. After not being called back after his trial, he threw his lot in with music instead of football. In his autobiography, he is quoted as saying, "Well, a musician's life is a lot easier and I can also get drunk and make music, and I can't do that and play football. I plumped for music … They're the only two things I can do actually: play football and sing."
He never gave up the beautiful game altogether though, and famously has a full-size football pitch on the grounds of his Epping estate. Professional football may have missed out on some raspy talent, but at Stewart adds some quality vocals to the Celtic Park crown when he goes to support bis beloved Hoops.
Unfortunately, Stewart's soccer skills recently became a problem, as he is being sued by a concert-goer who was—allegedly—hit in the nose by a soccer ball Stewart kicked from the stage.
6. Tom Cruise
Before he was the star of … every movie ever … Cruise played high school soccer while growing up in Canada before a knee injury ended his sporting activities in his senior year.
He's often spotted at LA Galaxy matches, recently showed off his playing skills with Cameron Diaz on a movie set, and let's not forget his ongoing bro-mance with David Beckham.
It's not clear what position Cruise played, but at 5'7" Cruise probably wasn't a centre-half or a target man.
7. Johnny Marr
The legendary guitarist and sonic driving force behind The Smiths—one of the most beloved and influential English rock bands of the 1980s—played football for several youth clubs while growing up in Manchester, and even had trials with both Nottingham Forest and Manchester City. Neither trial worked out though, and Marr himself blames the eyeliner he was wearing on the pitch at the time.
However, in a parallel universe somewhere, Johnny Marr played on the left wing as Brian Clough's Forest stormed across Europe. That's a universe I would like to spend some time in.
8. Bob Marley
Marley is best known for bringing reggae out of the Caribbean and releasing it on the world. His songs were about oppression, revolution, freedom and Rastafarian spirituality—all paired with some of those most unique and interesting instrumentation ever devised. He was beloved the world over, but he was worshipped in his home country of Jamaica.
He also loved soccer, closely followed Pele and the Brazilian leagues and made playing the game a part of his daily routine, even in venues prior to concerts. In 1979, just two years before his death, he said that "football is freedom". If not for the poor soccer infrastructure in Jamaica at the time, he might very well have chosen the game over his music.
Despite a persistent urban myth, a soccer related injury did not cause the lesion which led to the discovery of the cancer that would later take his life. Bob's no longer with us, but he still deserves a spot on this list.
—Read more about Bob Marley and soccer in this Paste Soccer story by Bahhaj Taherzadeh.
9. Channing Tatum
He might look like a quarterback, but the man who led the G.I. Joe team in "G.I. Joe: The Rise of Cobra" went undercover in 21 Jump Street and gyrated on stage before breaking our hearts in "Magic Mike", also played varsity soccer for Tampa Catholic High School in the late 1990s.
He even kicked it around on screen a bit in "She the Man", a movie in which he plays a self-described "soccer stud."
10. Matt Smith
Best known as The 11th Doctor during Doctor Who's recent resurgence in popularity, Smith played for the youth teams of Northampton Town and Nottingham Forest and was even approached for a trial by Leicester City. A back injury stopped his career short at 16, though, and he was persuaded to try acting.
He did have kick-a-round on screen during the Who episode "The Lodger," but was later banned from playing in a Tuesday night pub league by the BBC, out of fear that he would injure himself and affect the show's schedule.
Since The Doctor regenerated into Peter Capaldi last year, Smith is surely back out on the pitch somewhere. Or should we say somewhen …