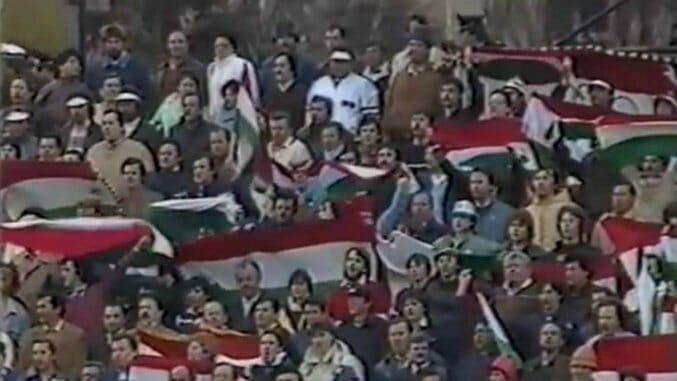 If you heard a faint clickety-clackety sound yesterday morning, it was likely the sound of thousands of people quickly looking up the Austro-Hungarian Empire on Wikipedia. For most of us on this side of the Atlantic (and this side of 40), Austria vs Hungary was meaningful only insomuch as we could make jokes about dead Archdukes.
That attitude, of course, ignores and erases Austria v Hungary as one of the fiercest and longest-running rivalries in European football. Their first clash dates back to the turn of the 20th century— back when they were still under one crown— and in the intervening years both countries have undergone some serious upheaval.
There's a lot of tension and old wounds in this rivalry, yet the stakes aren't usually that high. They mostly end up meeting each other in friendlies. Yet when they do get thrown together in a competitive fixture, like they were yesterday, it can be a sight to behold.
This week we look at the last time these two neighbors clashed in a competitive fixture— more than 30 years ago.
Austria and Hungary were drawn together in the qualifying tournament for the 1986 World Cup, sharing a group with the Netherlands and Cyprus. They had met earlier in qualification, with Hungary claiming a 3-1 victory in Budapest. As the qualifiers wound down, both sides went into their second meeting with a trip to Mexico still up for grabs but with the Hungarians in a much stronger position.
Of course, it's worth pausing to note the geopolitics of the game. While Austria had recovered from WWII and emerged as a stable constitutional republic, Hungary was still weighed down under a brutal communist dictatorship. Their own complicated history played out against the backdrop of the Cold War, its late stages offering hope and uncertainty in nearly equal measure.
On the pitch, things were much less complicated. Hungary was a much stronger side, and it showed in their thorough dismantling of their western neighbors. József Kiprich opened the scoring in the 21st minute after an incisive flanking run fooled two defenders and set him up for a clinical finish. He doubled the lead just 12 minutes later when he came out on top in a goalmouth scramble. The killing blow landed in the 48th minute when Lajos Détári finished off a long cross and left the keeper laying on the ground and pondering his life choices.
Hungary had one more fixture in World Cup qualifiers, a 1-0 loss to the Netherlands. But the win over Austria was enough for them to win the group. Austria narrowly lost out on the second qualifying spot to the Netherlands on goal difference. Yet Hungary's campaign in Mexico ended up being the beginning of their decline in international football, with their first group stage match, a 6-0 loss to the Soviet Union, usually cited as the Ralph-Wiggum-slow-motion-heartbreak moment. They went on to beat Canada 2-0 and drop the last match to France 3-0. It would be their last World Cup appearance.
Meanwhile, Hungary is currently top of their group at Euro 2016. They still have fixtures against Iceland and Portugal— on Saturday and Wednesday, respectively— before they can start feeling too confident. But who knows? This could be the start of a long-overdue revival in Hungarian football.