Late Sunday evening, Michael Cox, the man behind the popular tactics site Zonal Marking, tweeted this:
Man-marking costing Burnley the win today

— Michael Cox (@Zonal_Marking) February 8, 2015
Though perhaps not the most exciting fixture on the Premier League calendar, Burnley 2-2 West Brom was significant in part because Burnley, who are currently a single point above Hull City and the relegation zone, had given up a two goal lead against the Baggies.
Both goals conceded by the Premier League newcomers came from set pieces, and both involved a chaotic mess of players running around the 18-yard box. Burnley, under manager Sean Dyche, were clearly employing a man-marking system.
There is of course an old debate in England about the benefits of zonal versus man-marking. Appearing on Sky Sports in December 2014, Jamie Carragher summed up the popular view:
The man on the street, the supporter, he wants two on the post, one up front, two on the edge, everyone marked and someone on the front space. You need 14 players! …That's the problem with man marking, you're not even looking at the ball because you're so obsessed with your man. There's for and against for both of them but this is the problem with man marking, people don't watch the ball. Why is it that people won't blame man marking as a system? Because it's easier to say, 'Oh it's his fault, so it's okay'. But you've still conceded a goal, no matter what the system.
Both Burnley goals illustrate this problem, but let's focus instead on the second, decisive equalizer.
The moment the corner is taken. Burnley have three defenders near goal, but everyone clearly has a man closer to the edge of the 18-yard box. Both Joleon Lescott and Brown Ideye are farther out, and have markers. Lescott will use this to West Brom's advantage …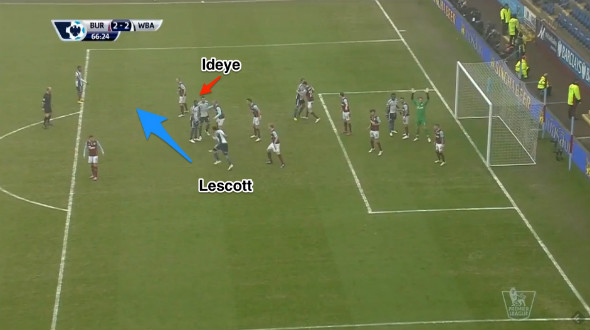 …by drawing his marker behind the play to open up a spot for Ideye to run into. More importantly, because Ideye's marker his behind him—naturally, as markers are forced to react to their man—he has an advantage on the play: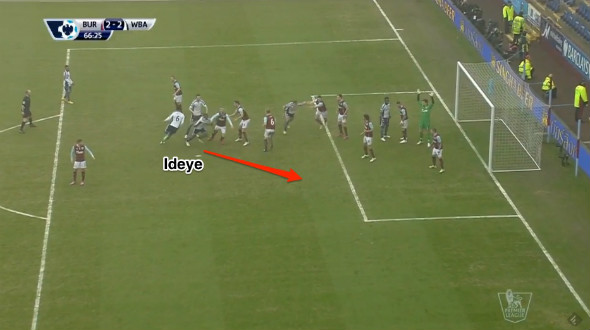 More importantly, the two Burnley defenders closer to goal are left ball-watching, allowing Ideye to further run in unimpeded: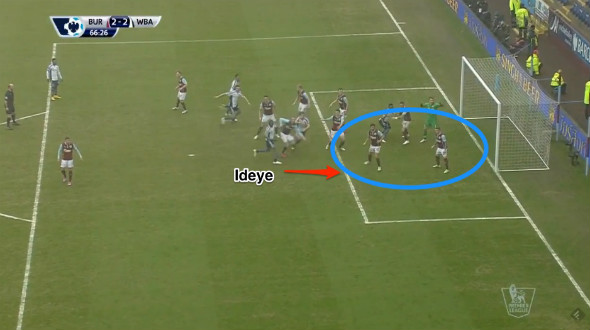 Ideye's marker manages to get ahead of him but he gets tangled up (or fouled) as another West Brom player, Gareth Mcauley, drags his marker into the picture, further making it difficult to defend the goal-scorer: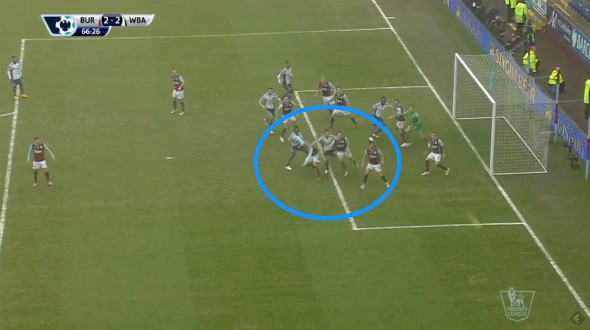 Finally, Ideye is left essentially unmarked for the header: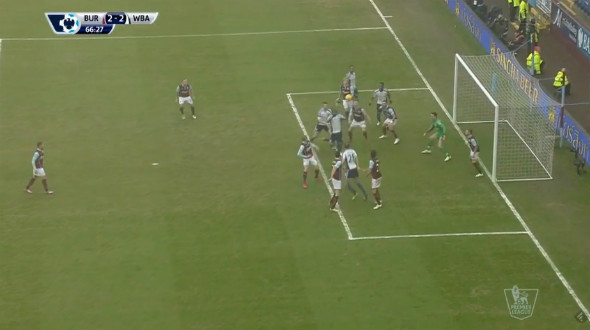 This all happens in the space of two seconds. Man-marking is inherently a reactive enterprise, and can be easily exploited on set-pieces. While it might appear as though this was a failure of "individual marking," it's clear from this example that the system itself shares most of the blame.