The first to be signed under IMG Models' new "Brawn" division, 26-year-old Zach Miko has become the first-ever plus-sized male model in an industry where the average waist size ranges between 28 and 30 inches, while the average American man has a 39-inch waist.
Since getting his big break as Target's first plus-sized male model in 2015, the six-foot-six native of Stratford, Connecticut has been making international news, headlining such publications as The Guardian, GQ and Women's Wear Daily while shining light on the lack of variety in the world of male modeling. With a 42-inch waist, he's become a role model for men around the world who feel unrepresented in mainstream fashion media, and thanks to his rugged good looks and status as an Internet sensation he has an incredible platform with which to continue boosting his modeling career and this milestone moment in men's fashion.
An advocate for body positivity, a trailblazer in Big and Tall style and one half of the acclaimed musical comedy duo called "The Dreamstalks," Zach Miko represents the new face of male modeling, and during a recent chat he was able to share with us a few thoughts on his personal style, life since being signed with IMG Models and what "Brawn" means to him.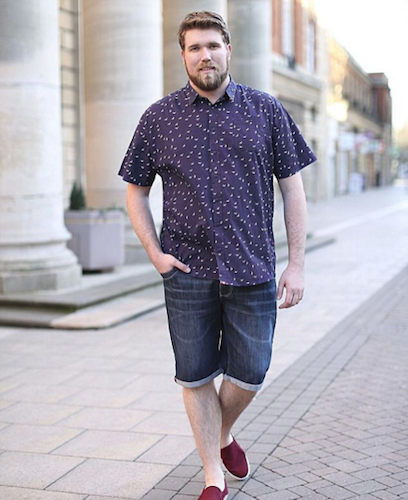 Paste: Congratulations on being signed to IMG's new "Brawn" division. For many, you (and your work with Target last year) symbolize what can only be viewed as the beginning of a necessary shift in male modeling. What would you say to that? How do you think the introduction of the "Brawn" division will affect the fashion world at large?
Zach Miko: Thank you! I am so honored, grateful, humbled, just so many overwhelmed emotions. Modeling and fashion is a world that felt unavailable to me growing up, I always admired it from afar but felt like I could never truly take part. Brawn is a dream come true for me and I hope for more guys like me, big and small, who felt unrepresented. Fashion should be for everyone, and I hope with the introduction of Brawn we can finally open the doors to the personal style and self worth that felt unattainable for so many of us for so long.
Paste: Life has probably been a whirlwind of events for you since modeling for Target last year. Can you tell us a bit about what's happened to you since then?
Miko: Oh jeez, it's been nuts! Since I started modeling I feel like I've been on every fashion blog in the world, newspapers, TV, everywhere. I have fans! I have fans that aren't my wife and my mom. After the ball started rolling I was contacted by Ivan Bart, president of IMG models, on Instagram and signed as their first Brawn man in history. My Instagram followers jumped up to over 58,000. I've seen celebrities compliment me, and even the mailman knows my name; it has been totally surreal and wonderful.
Paste: Why do you think you have had such a positive effect on people?
Miko: I think people of size, like me, have felt marginalized growing up. We grow up looking at traditional models and feeling like because we don't look like that we are not of value for some reason and not attractive. It took me a long time to change my way of thinking and realize that this standard of beauty I was sold for so long is just ridiculous. Beauty isn't a box you have to fit in; everyone is beautiful, individuality is beauty. I think when people start to see different body types in mainstream fashion and media for the first time is just such a wonderful form of validation. It's the beginning of society saying, "We love you for who you are and not who we think you should be."
Paste: Do you think we will be seeing more "Brawn" models in the future?
Miko: I certainly hope so. The women's industry has done an amazing job with inclusivity and diversity with models like Ashley Graham, Candice Huffine, Marquita Pring, Jillian Mercado and so many more. If the men's Industry can do a fraction of what the women's industry has done, it will be incredible.
Paste: How would you define a "Brawn" model?
Miko: In terms of measurements it would be any guy who wears an XL or larger. For example, I wear a XXL shirt and a 42-inch waist. The average male model has a waist between 28 and 30. The average male model weights between 165 and 175 pounds; I weigh 275. I am 6'6"—and the average model is 6 foot.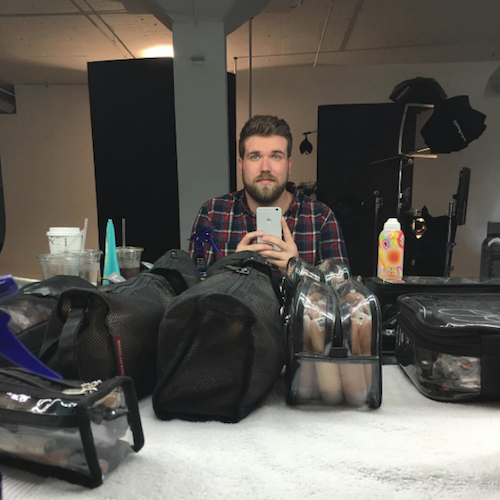 Paste: Are there other ways you think the fashion industry could start boosting body positivity?
Miko: I think the industry is on the right path. They just gotta keep showing more and more variety of shapes, sizes, body types, ethnicities, ages, orientations, gender identities, everything. The world is an incredible diverse place and fashion should be representing everyone. It shows us how beautiful the earth really is.
Paste: Did you always have an interest in fashion?
Miko: I did but never felt like I could be a part as a kid and young adult. I wear a size 40-to-42-inch waist and the vast majority of retailers don't stock sizes more than 36 or 38 so going shopping and participating in the industry never felt like an option. I really hope that one day everyone of every size can participate in fashion and find their own style and voice.
Paste: What kind of clothes are you attracted to?
Miko: The kind that fit. [Laughs.] They are much harder to find then you would imagine. I am very eclectic; I'll wear anything that makes me feel good.
Paste: When you're not working, how would you describe your personal style?
Miko: Laid-back definitely. I get compared to a lumberjack a lot, but not like a lumbersexual, like an actual man who harvests wood for a living. I'll take a great pair of jeans and flannel any day but I also love anything that promotes something I love. Whether it be a sports team, a band, a brewery, a clothing line. I love representing my friends, community and people I believe in. I've been trying to scale down my t shirt collection but every one of them represent someone I love so it looks like it'll just keep on growing.
Paste: On Twitter and Instagram, you've mentioned you're also an actor and comedian. How do you think those talents influence your work as a model?
Miko: They influence me immensely. Acting made me feel comfortable in front of a camera. Comedy helped me be comfortable in front of people and learn not to feel insecure. I always look at every shoot as if it is an acting job. I always want to know who the brand is targeting, and I do my best to become the person they think they best represent. It really is so much fun. Comedy also has taught me to laugh off the haters. Haters gunna Hate. Fantasizing my replies to my hecklers is one of my favorite past times.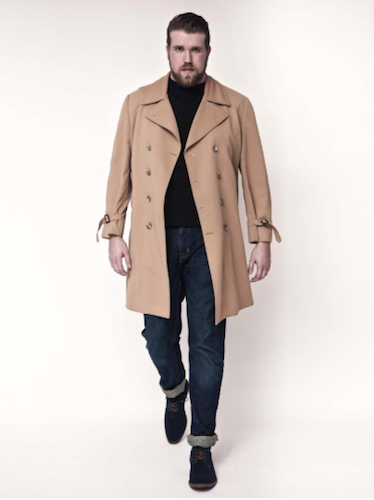 Paste: Was it hard to balance everything when you first started modeling?
Miko: It's a constant learning process. I always remind myself that I am first and foremost an artist. I used to get scared that I wouldn't be able to keep everything going and was scared one thing might hinder another. Now I am seeing how lucky I am to be able to be an artist in at least five different mediums, where no one is more important than another; they are all a part of my human experience and one will never eat the other. I get to do it all, how cool is that?
Paste: What do you do to unwind when you're away from work?
Miko: I love the outdoors. I'm an Eagle Scout and love camping, hiking, rowing, swimming and adventuring. Whenever I can I head out into the wild and reconnect. When I am stuck in the city I love playing my guitar and singing on my couch with friends. I love going on dates with my wife and trying the best foods I can find. I love going to sporting events (I'm a fan of the NY Giants, Yankees, Knicks and Islanders). I try to spend as much time with my friends as possible. I love people and I love my friends. People inspire me and invigorate me.
Paste: So far your career has really broken the mold in male modeling. Do you think it's harder for men who don't fit the "ideal body type" to become a model?
Miko: Definitely. A big issue right now is so many designers and stores simply do not produce clothing in Big and Tall sizes. Until the men's industry does a better job of supplying clothing for the top 50% of American men, it will always be a tough industry for larger men to break in to. I am very confident that designers will realize the multi-billion dollar untapped market that exists in plus-sized men's fashion and I cannot wait until I am just one brawn model among so many more.
Paste: Are there any tips you'd like to share with other Brawn men who are interested in modeling?
Miko: Put yourself out there. I was discovered on Instagram! You never know who is watching. Take pictures where you feel handsome and confident and happy. I have seen and connected with so many amazing Brawn models on Instagram. Their pictures are incredible and inspire me to be better every day. The industry is changing for big guys like us slowly and surely. Everyday, wake up and believe it already has changed and show the world who you are.
Paste: Finally, I feel as if several men and women out there have noticed, but you have a great complexion and beard. What's your secret?
Miko: Lotion and Beard Oil! My mom bought me beard oil last Christmas and now I am addicted. And my wife Laura went to L'Occitane and bought me facial moisturizer—and it has changed my life.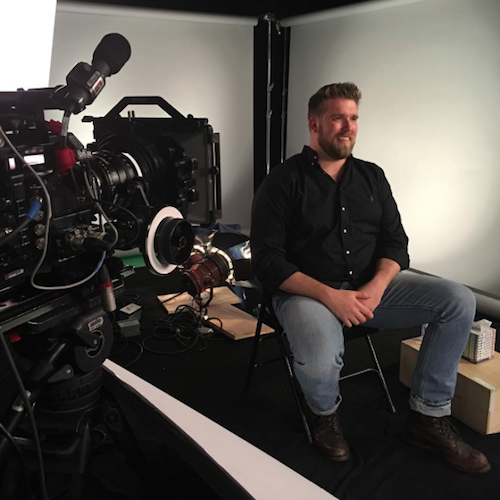 Brent Taalur Ramsey is an American fashion journalist based in Paris, where he spends his free time cycling around the City of Light and adding to his collection of books and tea. Follow him on Instagram or at BrentTaalur.com.