Dressing Extra: I Gave up My Signature Style to Try This Season's Biggest Trend
All photographs courtesy of author
Style
Features
Personal Style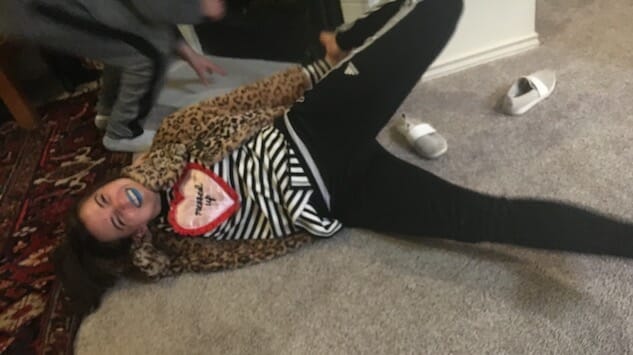 Nobody has ever accused me of being "extra." Mostly because nobody I know uses "extra" as slang, but also because I don't exactly put much effort into looking different from the crowd. My hair: one color and straight. My wardrobe: a lot of leggings and oversized tees. I don't wear much makeup, and I'm always forgetting to put jewelry on with my outfit. My purse, which I used to carry around with me like a safety blanket, is now optional. My phone case carries my cards, and my keys have a little pouch for cash and lip balm. I keep it simple. And that's how I like it.
But the way I like it is both boring and really off trend. To some, at least. From the runways (see Gucci and D&G SS17) to the rise of influencer artists like Kat Toronto, aka "Miss Meatface," it's apparent that people want more from style. Part of me thinks it's a response to the political climate—the crazier our government acts, the more we need accessories and sequins to distract us. What else explains the batty, over-accessorized outfits of the Aughts?
So to shake things up—and maybe to distract myself from the chaos in the world—I decided to forgo my signature style for a week in favor of loud colors, clashing prints, overstated makeup and dresses over jeans. I didn't have many rules for this challenge except for one: all elements for my outfits must be from my own closet, nothing new. This immediately felt like a mistake Monday morning when I first looked in my closet…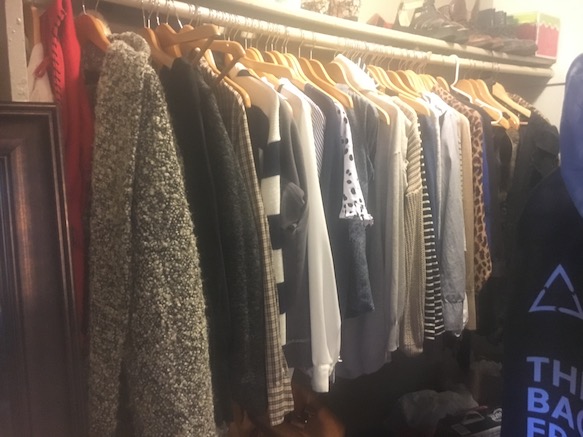 I'm not exactly sure when my wardrobe became exclusively beige, grey and navy, but it wasn't a conscious decision. So obviously it was a challenge finding things that fit the maximalist bill. I had to dig deep into the archives to find things I could throw together. On day one, I remembered I impulse bought a neon-yellow Topshop crop top that was the perfect focal point to build an outfit around. I paired it with a clashing, voluminous red midi skirt in a paisley pattern and my black leather jacket. I accessorized with laced detail Intentionally Blank heels and a cheeky pin. I styled my hair in a messy half-up topknot and ice blue liquid eyeliner for dramatic effect. The color also tied in with the pin, creating just the right amount of cohesiveness.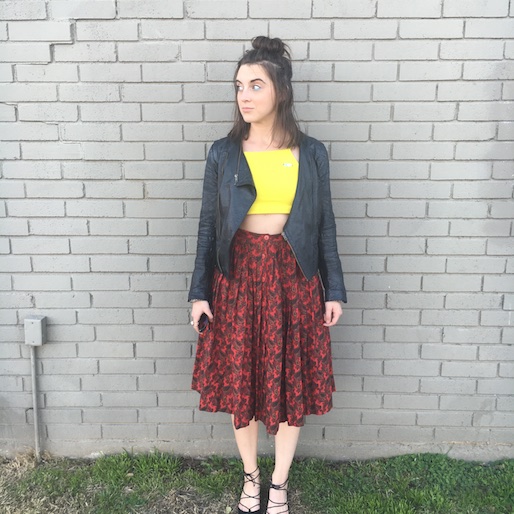 When a friend picked me up at my apartment, she didn't notice the change in personal style as much as she immediately noticed the tank top—("That's cute!"). I really wanted to go for the shock factor and have people ask WTF I was trying, but obviously failed day one.
Day two, I realized that the majority of colors in my wardrobe can be found on vintage skirts. This time I picked a southwestern print, purple mini skirt and paired it with a black polka-dot crop that at least clashed patterns with the skirt. Honestly, the silhouette was very familiar to me, and the subtleness of the dots on the top didn't scream maximalist to me so I tried to do it big with my hair. However, my hair is extremely limited in its abilities…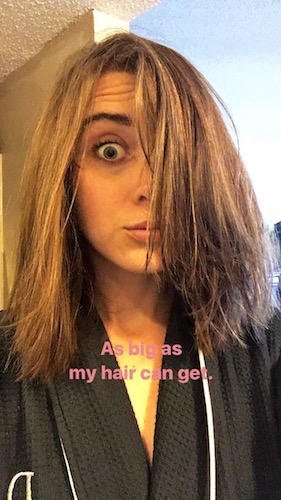 …and it fell even more like two seconds after I snapped this selfie. Failing at both the foundation of the outfit and the hair, I turned to accessories again. I added a lace bow clip to my hair and wore my favorite oversized glasses. I layered socks under high heeled clogs and wore a clashing red toggle coat to try and make the look scream a little louder. I took this look to trivia night with the girls and received plenty of compliments… especially on the socks and clogs combo, which has been a popular look in Austin for years. And while I didn't get any looks of shock or disgust, my girlfriends admitted that I was indeed dressed differently than usual and obliged me with a late night photo shoot.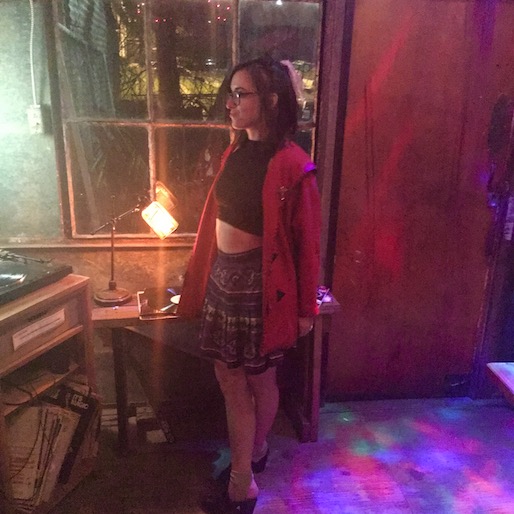 After that, I realized I'd needed to ask someone to take photos of my outfits much, much earlier.
By day three, I was struggling pretty hard to come up with outfit ideas. I decided to break away from the skirts and started my outfit with a pair of extremely busy harem pants that I've kept for years even though the only time I put them on is when I'm having some sort of personality crisis. I topped the outfit with my Bully #33 tank and a Man Repeller-esque bandana tied around my neck. I gave myself a break from the hair and makeup and just did a messy updo. I added some Birks 'n jewelry and was out the door. Despite the relative simplicity of this outfit, it got way more reactions than the first two. My manager was not a fan, to say the least.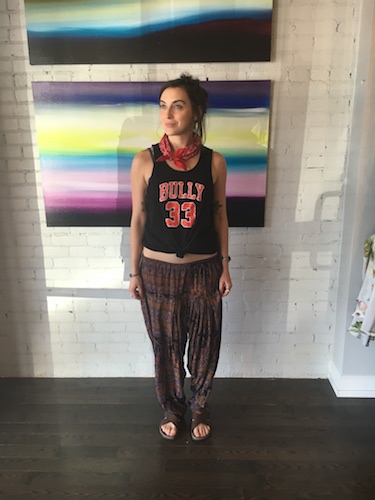 I think the juxtaposition of a sports-y jersey with a doula's work pants is what did it.
Day four, I had absolutely no idea what to do so I searched for inspiration on Pinterest. I decided to start with this street style shot of Susie Lau by Phil Oh and layer a dress over jeans. I do not own anything tulle, so I went for a silk and lace number instead. I do, however, own a pair of ripped boyfriend jeans accented with a giant chocolate stain on the left leg. Very avant-garde.
I added my only pair of metallic shoes, gold platforms and too many necklaces with a bright red lip. All together it was a popular look, but it didn't really register as "maximalist" for most people. In the end, I was happy with my interpretation of the dress-over-jeans look, but the Virgo in me couldn't stand to be seen in weird proportions as I straight up disregard the rule of thirds.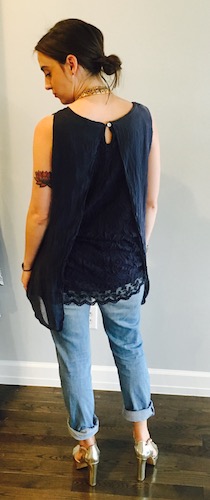 Confession: I saved this Lazy Oaf shirt for the last day knowing I would need a little help coming up with a final look. I got to wear this outfit to a friend's game night so I felt comfortable enough to go all out, but also I wanted to be actually comfortable because there's no point in wearing restrictive clothes if you don't have to. My Adidas track pants are a current favorite and looked especially tacky clashy against the horizontal stripes of my jumper. I layered a leopard print swing coat I normally reserve for fancy dress and smeared on a Smurf blue lip. I also drank a lot of wine, as evidenced by my last outfit photo.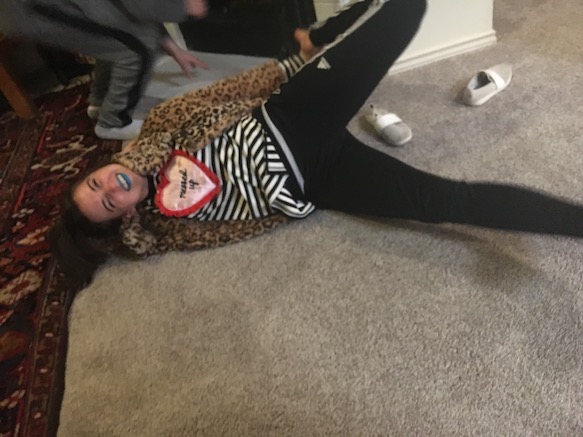 This is probably the closest I actually got to being actually maximalist, but it doesn't feel like it because I was so comfortable in those sweat pants. If I had to do it over, I would have worn my Fenty Creepers with this look. You live and you learn, I guess.
By Saturday, putting on a pair of dark jeans and a button up felt like breathing fresh air for the first time. I was also glad to not have on lipstick or weird eyeliner, as that stuff normally smears, making me look like a drunk party clown in the middle of the day. I don't think I'm very good at dressing like this and should probably leave it to the professionals. It was really nice breaking out items I don't wear enough—like the gold platform sandals and the highlighter yellow crop top—but overall I felt like I was trying to make my clothes something they aren't. I don't dress simply because it was the trend 2-3 years ago. I dress simply because it's what makes me feel good when I step out the door, which is all I ask for.