When someone is so utterly themselves that they can transform into different personas, that's style. Sui Zhen, aka Susan, aka Melbourne-based Dream Beat artist Becky Sui Zhen is one such someone. With over ten years of experience performing in various lineups and a sparkle-soaked resume that, in addition to musician, includes DJ, visual artist, maker of music videos and photographer, Sui Zhen is a dream within a dream.
Inspired by Japanese Lovers Rock, 80s Electro-Bossanova and Dubby-Lounge Pop, her first self-produced LP, Secretly Susan, is out tomorrow, and Sui Zhen has picked up another stylish self.
"Within the Sui Zhen world there is a character called Susan," Sui Zhen told Paste. "I reflect aspects of that character… the pink satin two-piece for example. I like to accentuate aspects of my features so that I become a slightly altered version of myself."
At the same time, Sui Zhen's style possesses a cutting sense of awareness. Often referring to her style as considered, as well as having an innate knack for vintage finds and a passion for local designers, she finds beauty mood, purpose and performance. Swooning yet?
We talked with Sui Zhen about her ever-evolving style, unique relationship with color and who may emerge next.
"Linda? Could it be you?"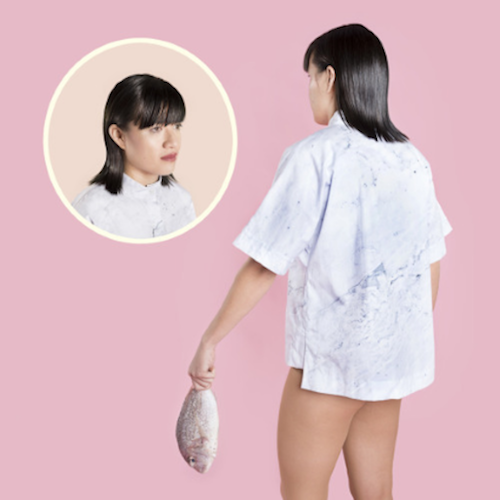 Paste: Tell us a little bit about your style and how it influences you and your performance on stage.
Sui Zhen: My style is considered. I think carefully about the clothes that I own, and I can be ruthless if something is not well-made, durable, comical yet purposeful or flattering… it has to be one of those. I like to wear things made locally if I can. On stage, I don't like to wear what I wear day to day because it is wildly inconsistent. It might look like I am going for a run. Or like I am going to a meditation session. Because I have this world to emulate based on the videos, there is a set of creative limitations I put on the live performance style. Then I can be playful & experiment within that. It's fun to create some boundaries to work within to create a visual language that audiences can tap into.
Paste: What do you think makes up an ideal performance outfit?
Sui Zhen: Something you feel comfortable in and extends the vision of the world you want people to take in alongside the music. Something that allows you to get to where you need to be physically & emotionally to perform. Within the Sui Zhen world there is a character called Susan. I reflect aspects of that character… the pink satin two-piece for example. I like to accentuate aspects of my features so that I become a slightly altered version of myself. Sometimes I wear a wig that looks like an old haircut I had for a press picture. It's confusing because it looks like me, but something is a bit odd about it… I like chasing that feeling. Presently it's mostly satin-shiny fabric in pinks & blues with variations to accommodate for warmer and cooler weather. I like the way it catches in the stage lights and I have complimentary outfits for my live band when I am able to bring them along to shows. It helps to create synergy between us. My outfits are custom made by Girls Who Chat's Isabella, based in Perth, Western Australia.
Paste: How would you say your on-stage style differs from your off-stage style?
Sui Zhen: Right now, it is pretty different. I go through longer phases with my off-stage style and need to have several outfits for different activities I might be doing. For work (in a design & tech studio), I find a few cuts & looks I like and then duplicate them with long & short versions, pants & skirts or skorts! I like to cut a good silhouette and feel in control. If I am working on own work from home, you'll probably find me in the casual-adventure look, patagonia shorts and an old Chris Johanson shirt or a band t-shirt, Always leaving the option open for some outdoors activity, sneakers etc. I have a lot of lovely dresses I've collected from Japan in soft linens and cottons. If I am feeling calm and only have to do one thing, like making music I might float around in something a bit dreamier.
Since I moved to Melbourne from Sydney (Australia) six years ago, I took on a different and more subtle colour palette. Where I used to wear bold bright colours and mish-mash styles a bit more I now swap for casual & practical elegance in navy, black, grey and white. Occasionally a pop of pink or yellow. I feel like it's very much a response to the environment, culturally and also the weather changes so frequently within one day in Melbourne. You need to layer up and feel prepared for everything. Overall, it comes down to mood and practicality. What do I want to express today?
Paste: You seem fearless when it comes to changing up your look. What usually inspires or brings on a change?
Sui Zhen: Ha, does it come across that way? I don't take myself too seriously when it comes to looks. I've never really been afraid to experiment and hate feeling uncomfortable in an outfit so usually I am just working with what I feel the greatest in at that moment. It might be a Malaysian moo-moo or a really considered two-piece outfit from Melbourne designers Kloke… within my musical world, it takes on a different direction. I've made these videos that have a specific tone and colour palette and I want the live performance to reflect that world. So the look will need to recreate certain feelings I try to evoke in the videos. Presently, I am working within the Susan world because I am still promoting the album… but there is something bubbling inside for the next album. In August I will do an artist residency in Japan to work on the new LP concept. Who knows who will emerge next? Linda? Could it be you?
Paste: In addition to making music, you DJ, paint, draw, make music videos and take photos! Do your fashion choices differ according to what you're doing?
Sui Zhen: Yes! Most definitely. When I DJ, I think I like to look a bit more tough & durable. Need to give off the—don't ask me to play something that will compromise my musical taste—attitude. I need to get a leather jacket actually… it's on the list. I'll be schlepping vinyl around and wearing headphones, if I don't consider these things I'll be really clumsy. Headphones tangled up in my hair, skirt caught in the wheels of the record bag, etc. Lately however, I've been only doing a few considered DJ sets, openings, art events, friend's shows… for those I just wear whatever I feel on the day.
When I make music videos, all senses go out the window. I am either sitting on a damp forest floor in a body stocking, open to all elements, or a cold concrete studio floor with no pants. I am really zoned in at that moment to just get the right shot. I pack a big dressing gown for in between. If I am not in the clip, I'll be all about utility and pockets.
I think I touched on it before, it comes down to mood and purpose. How I feel that day, and what I want to express… if the outfit can help to influence that, then it's an awesome synergy. It's not so different from needing to wear active wear to do sports, hiking gear to hike, only the purpose is sometimes more obscure and abstract for an artistic endeavour. It's fun to play with that.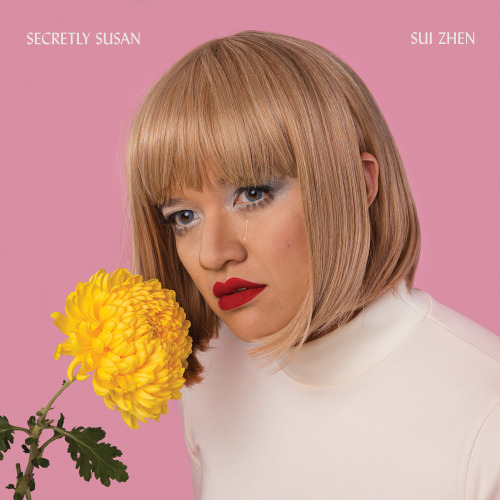 Paste: Are there any specific artists who have influenced your style?
Sui Zhen: Most definitely. There are many cinematic moments, artistic personalities and people I've met traveling that have inspired my style. The character's in Eric Rohmer films are great inspiration, particularly in My Girlfriend's Boyfriend, lots of colour coordination across characters that becomes really symbolic for the story… it's so considered and effective. I also take influence from people just doing their thing, so whilst their look might be something I may not wear what I can take from that is the uncompromising commitment to their self expression. Recently I've been admiring Caroline Polachek's style, Charlotte Gainsbourg from her teenage years and Lizzy Mercier. I buy second-hand Japanese designer clothes when visiting Japan, older Yohji Yamamoto, Issey Miyake & Commes De Garcons are awesome. I also love supporting local designers, Kloke, Verner, Articles of Clothing are amazing you should check them out! There's a picture I have above my desk of my mum at 40 years old, traveling Europe waiting for a train. She's wearing a light denim skirt, Ken Done jumper and has a loose perm and she looks girlishly young, despite the three kids at home… and beautiful. That is a big inspiration for me.
Paste: Color plays an important part in your aesthetic, especially in your video for "Infinity Street" off your forthcoming album. Will you talk a little about your relationship with color?
Sui Zhen: I've recently found out that I process some colours differently to my friends. I've been calling my car green all these years and when I pick people up, they tell me that it is blue. A dress I thought was a deep purple is brown to others. A brown jacket is olive. I wonder if that affects how I interpret colour. I love using a limited colour palette to direct people's moods… the pastel look can feel nauseating and saccharine at times… it's sits on the edge of ASMR and tumblr art, but it can also be incredibly satisfying and magical. Colours help to shortcut communication, just like pictograms instead of words. I love how you can change people's focus from limiting colour use in one area and then using it to punctuate a detail or nuance, whether in video or in an outfit. I've always been fascinated by colour and how it can evoke a mood. I painted my teenage bedroom a burnt orange. My bed linen is always 100% white.
Paste: Any favorite places to shop or find one of a kind wardrobe pieces?
Sui Zhen: Locally, Monkhouse Design in Melbourne stocks the Melbourne brand I listed above (Kloke, Verner, Articles of Clothing) and I think they also stock online. My favourite place to shop is in Japan, the second-hand fashion there is second to none, and just like the vinyl, a lot comes from America but it's the vintage Japanese designers that I am seeking. Also, there are some amazing finds in the department stores. I usually stick to the middle levels, it gets fancier as you go higher up and you may encounter a Julia Roberts in Pretty Woman, "You don't belong here" moment. And it's true, I don't have $3,000 to spend on a jacket. The mid-levels are affordable from local designers, like sov. by Double Standard Clothing and Plain People are nice for everyday wear. If I can't find what I want I'll work with a skilled friend who can help to make it.
Paste: Do you have any beauty essentials?
Sui Zhen: I don't really. I think if you eat well, drink enough water, exercise and get enough sleep, let go of anger and negativity… you'll always feel better physically and emotionally and therefore you'll look better. Relaxed, calm instead of anxious & stressed. Having 'me time' also helps to keep me calm. Since I started to perform a lot more with NO ZU as well as Sui Zhen, I've had to be more aware of make-up and costume, not getting sick on tour and how to jazz up my daily vibe for a show. I think beauty really does come from within… if you're feeling great you'll look great, in my eyes.
Paste: If you had to sum up your personal style in three words, what would they be?
Sui Zhen: Playful, purposeful, sometimes ridiculous.
Secretly Susan is out June 17 in North America on Twosyllable Records, and on bubblegum pink vinyl to boot.