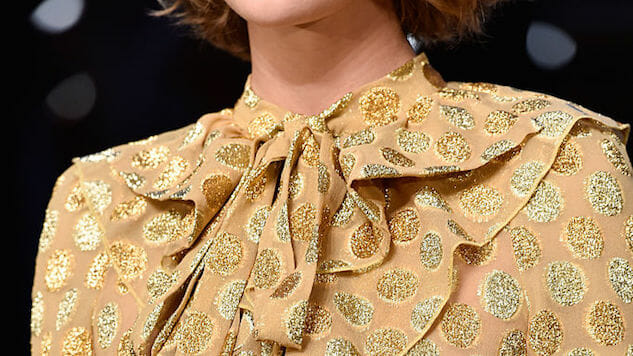 Pussy-bow blouses were made popular by Coco Chanel and Yves Saint Laurent, who took inspiration from late 19th-century Gibson Girls. As the style evolved from designer fashion to everyday wear, the look became a power-dressing staple. In the 1960s to 70s, as professional work opportunities developed for females, the question of what to wear arose.
The pussy-bow blouse was a perfect mix of masculine and feminine—an impeccable wardrobe choice for women laboring in a man's world.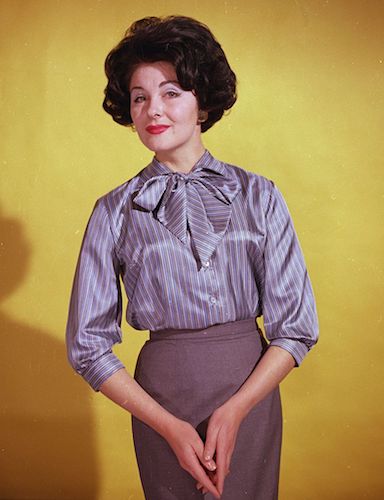 Photo by Chaloner Woods/Getty Images
The blouse is now synonymous with strength. On TV, Mad Men badasses Peggy Olson and Joan Holloway sport the look. Margaret Thatcher wore the style throughout much of the 1980s. More recently, Princess Kate wore a bow-collared dress.
In 2016, the pussy-bow blouse made international headlines. Jaws dropped when Melania Trump appeared in a fuchsia-colored Gucci variation at the second presidential debate, days after our now president's infamous "grab 'em by the pussy" audio recording leaked online. But as the world chattered, questioning what stylist worth his or her salt would make such a selection, Melania appeared bow-clad again. She donned a black Ralph Lauren jumpsuit version for the third presidential debate. A fashion scandal was born. Editors around the globe weighed in on whether the move was deliberate. Melanie took flack for the fashion kerfuffle merely because so much was tied up in the name of the timeless look.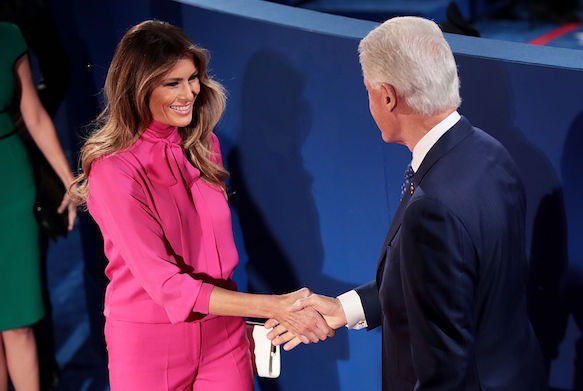 Photo by Scott Olson/Getty Images
So where does the term "pussy bow" come from? Fashion history books leave room for interpretation, though most attribute the name to bows tied around kitten's necks as differentiators. In 1934, a dress pattern advertised in the St. Petersburg Times featured a convertible collar that could be worn in four different ways, including as "an intriguingly feminine pussy cat bow tied high under your chin." Ladies who wear one can certainly hold their chins high. The versatility of the bow is one of its best features.
The pussy-bow exemplifies power, but it can be worn for any occasion and to compliment any style. Play up your personality with prints or opt for sheer fabrics for evening. Select a narrow tie that hangs loose, sans bow, to eliminate the flounce and frill. Or femme it up with an oversized bow in a sherbet hue. Pair it with tailored pieces (like a chic blazer and skirt) for the workplace or with jeans and stilettos for sexy, cool-girl style. Basically, wear your pussy bow however you want—but wear it like a boss.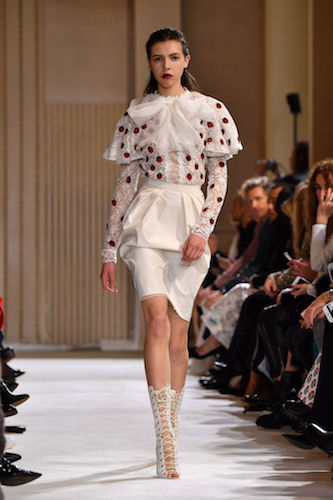 Photo by Pascal Le Segretain/Getty Images
Emily Davidson Nemoy is a freelance writer based in Nashville, Tenn. When she's not at her computer or on her yoga mat, she can be found at live music venues happily spending her excess cash on concert tickets.