You just scored tickets to your favorite band's show and you're pumped! But with that excitement comes the always problematic situation: what to wear. It's a legitimate concern because you don't want to be uncomfortable during the show. If it's inside, overheating is always an issue (you don't want to be stuck lugging around a heavy jacket). If it's outside, there's the potential for rain. To make this tricky situation easier, we've created an outfit guide for the different venues you might encounter. The guides take into consideration what would be most comfortable and appropriate for each setting.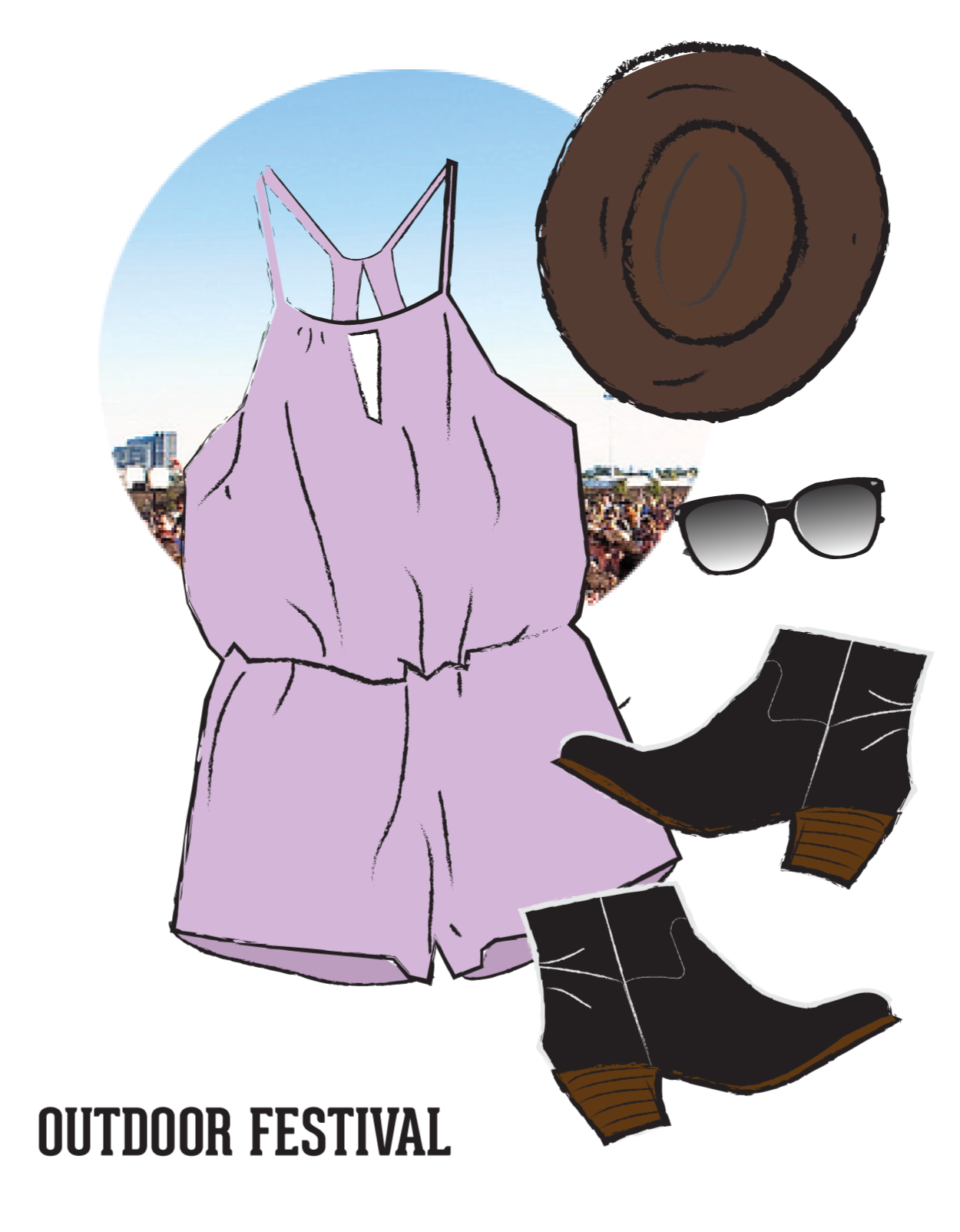 At an outdoor festival, you're subject to the elements whether it's the sun, rain or mud. In comparison to indoor shows, outdoor festivals tend to last longer and involve more walking, so your outfit should be easy and comfortable. We chose an effortless romper, a pair of booties (to protect your feet from getting stepped on and from muddy grounds), sunglasses and a hat (protection from the sun and possibly rain). Don't forget your sunscreen!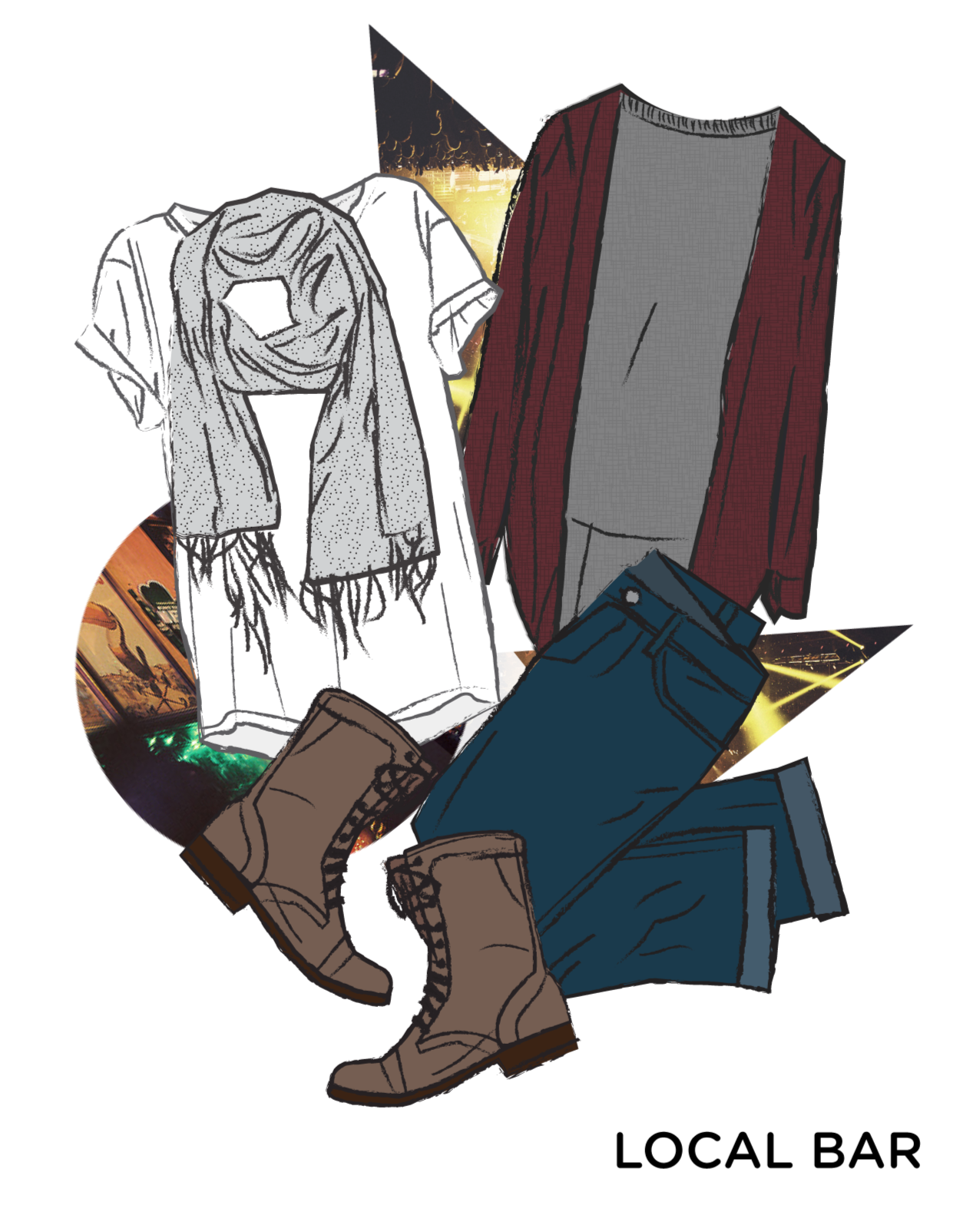 A show at a local bar is all about being relaxed. It could be the band of someone you went to high school with, or the local cover band. But regardless of who takes the small stage, it's all about having a good time. With that in mind, the key to this outfit is being comfortable. The most relaxed outfit we could think of is an oversized cardigan, t-shirt, scarf, jeans and lace-up boots. Easy, without looking sloppy.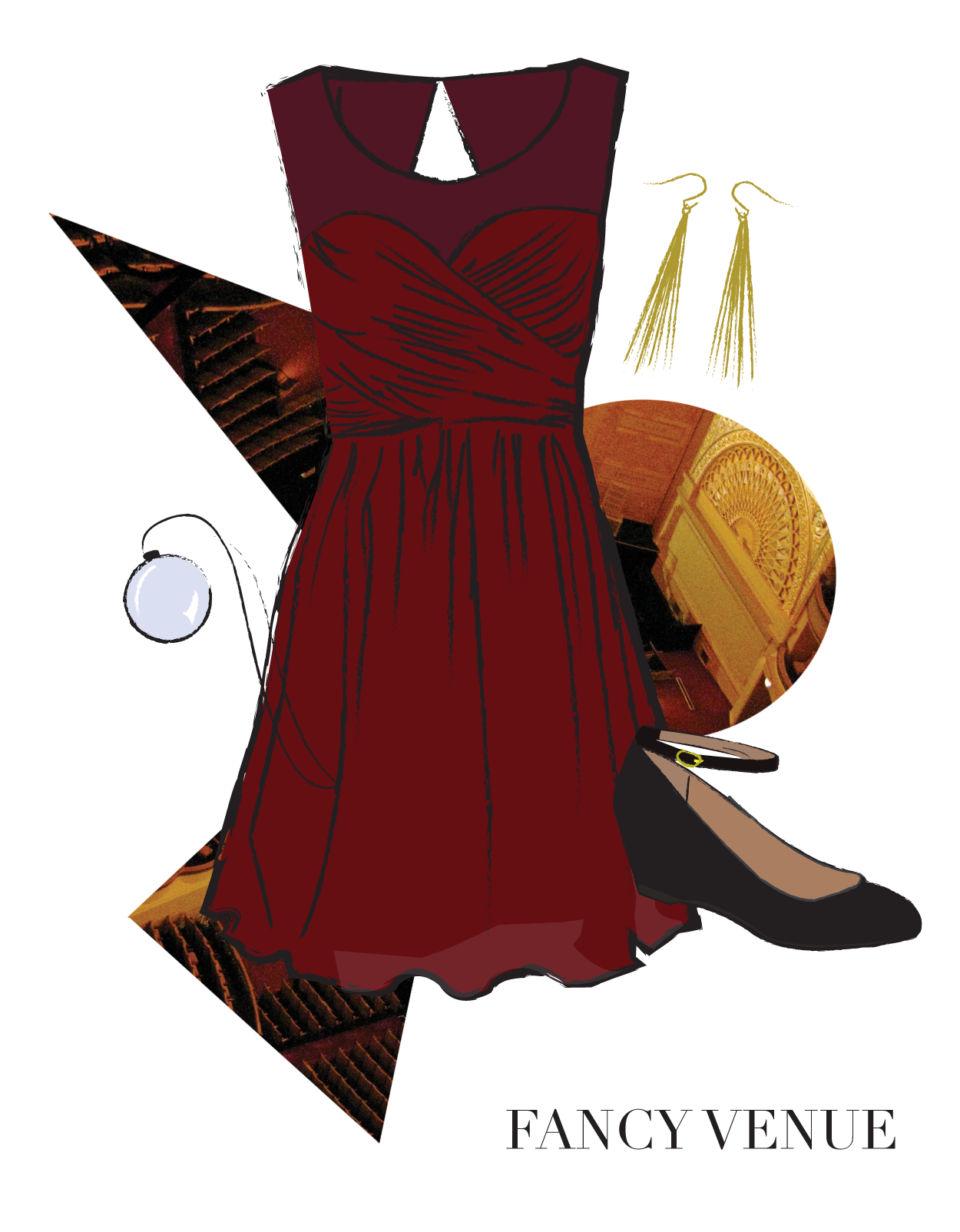 This could be a show at your local theater or even at Carnegie Hall. Either way, it's the perfect opportunity to dress up. So put on your "special occasion dress," a favorite pair of heels (you'll most likely be sitting down) and sparkly earrings.
And don't forget your monocle, you're a distinguished member of society after all.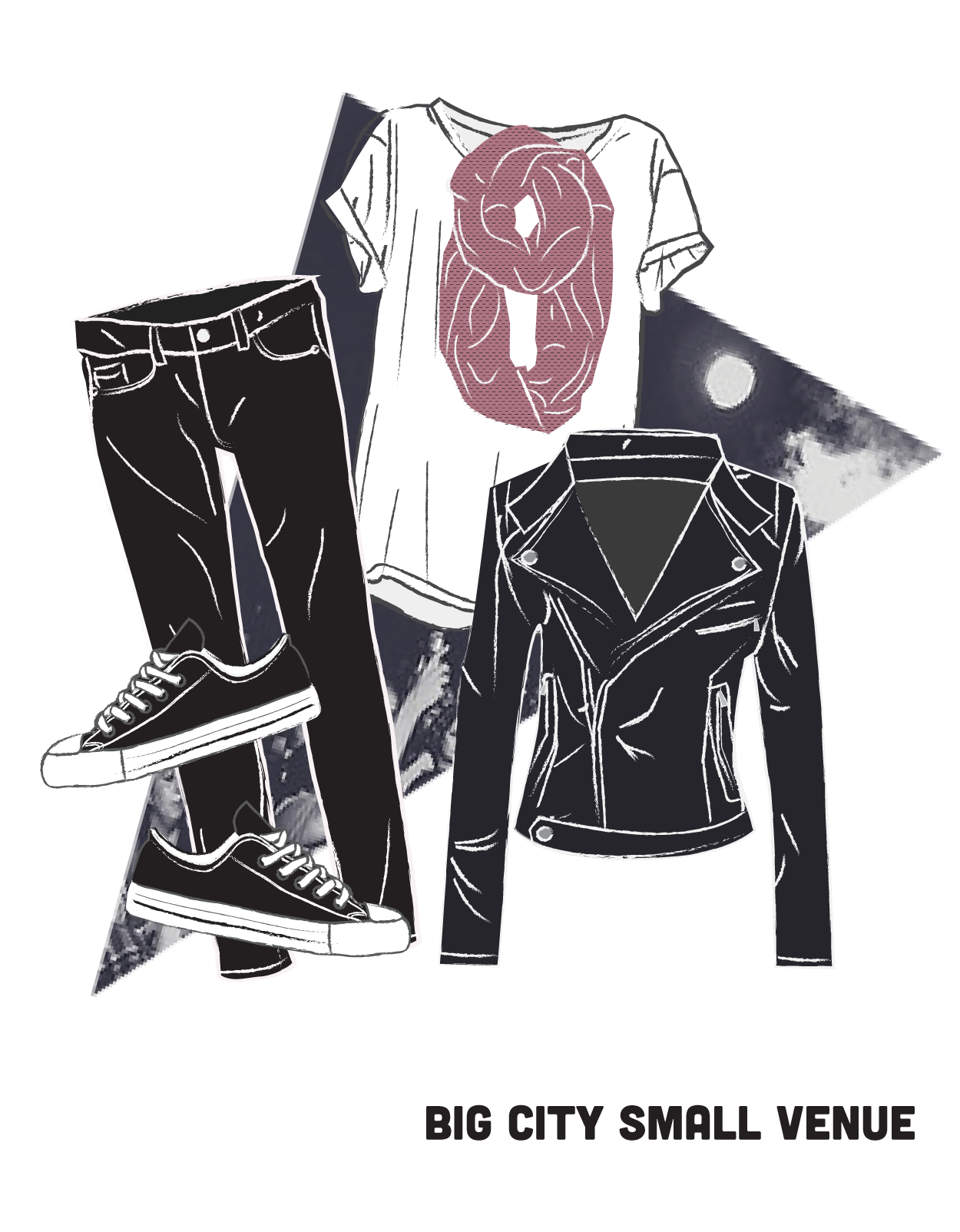 The smaller the venue the more likely the chance you'll lose your personal space and become pressed up against a stranger. A crowded space also means that it may get hot. Whether you're in New York City, Los Angeles or somewhere in between, you can't go wrong with the classic outfit of skinny jeans, a white tee and leather jacket. It has easy layers so you won't overheat, as well as has some protection from the crowd. As far as shoes, sneakers are always a safe go-to. Whatever brand you're loyal to, they'll protect your feet from the beer-covered floor and from getting crushed on when the crowd decides to get its groove on.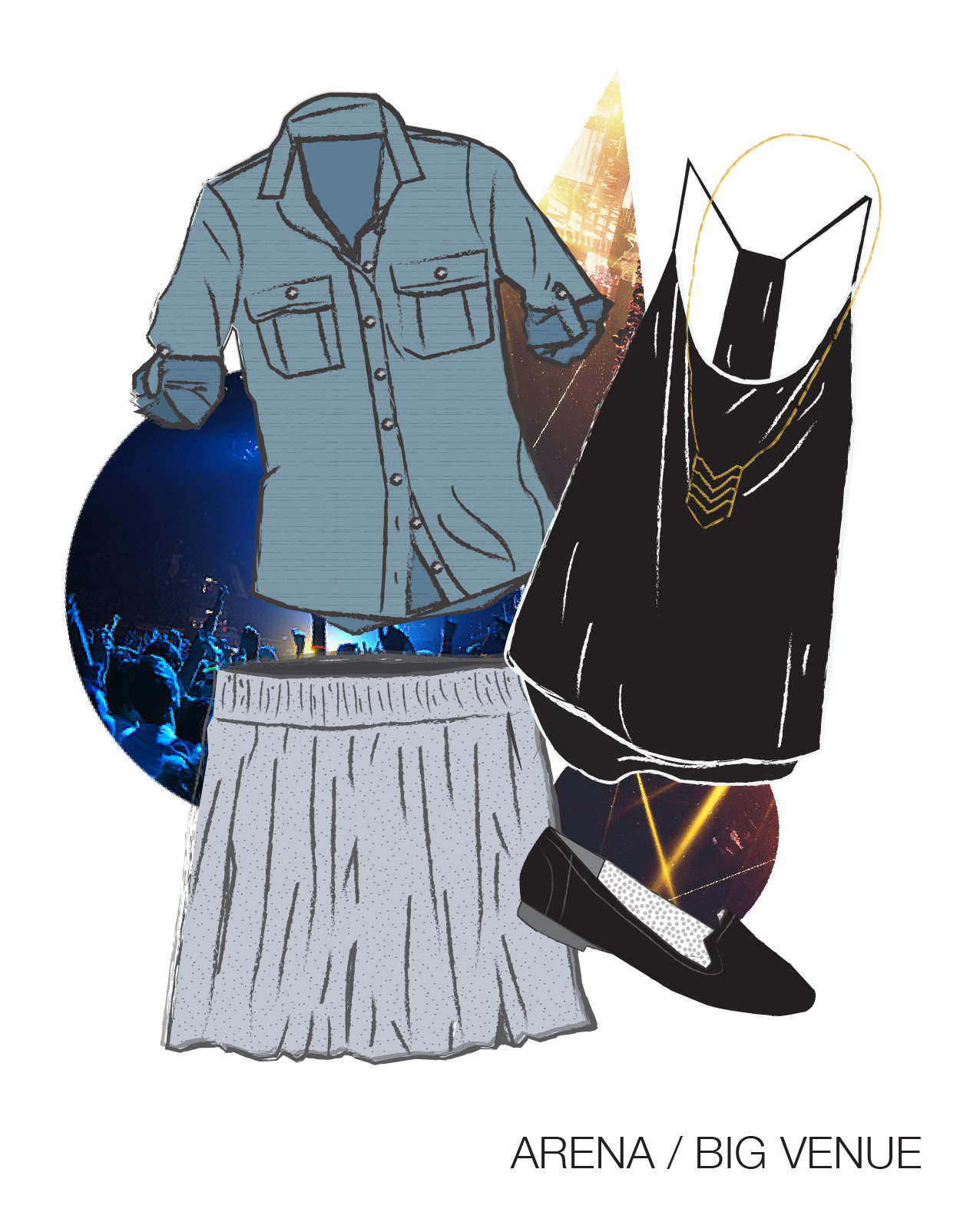 Arena concerts are like the Disneyland of concerts. Filled with special effects and outrageously priced food arena, concerts tend to draw a pretty diverse crowd. You'll see everyone from teeny boppers to baby boomers. Due to the venue's grandness and the fact that everyone has their own seat arena, concerts also tend to border the line of dressy and casual. For these reasons, you could wear almost anything and not stick out too much. We decided to keep it simple with a chambray shirt, statement necklace, pleated skirt and flats. A little dressier than jeans and a t-shirt but still comfortable.