AI Isn't Replacing Authors Yet, But Exploitation of ChatGPT is Making Their Jobs Harder
Image via Leon Neal/Getty Images
Tech
Features
AI Art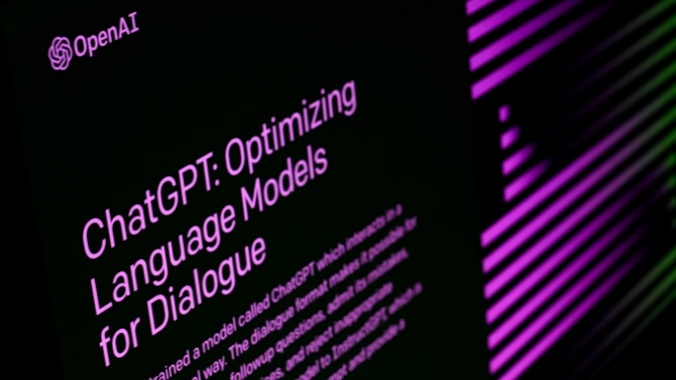 Artificial intelligence is supposed to make our lives and jobs easier, but in just three months the arrival of ChatGPT has become an active and present nightmare infecting the publishing industry. An influx of AI-generated submissions have brought some editors to a grinding halt, and wild west self-publishing landscapes like Amazon are set to become even more difficult to navigate for authors.
OpenAI, the company that created ChatGPT, was originally a non-profit before shifting to for-profit in 2020 and subsequently announcing the GPT-3 language model that forms the foundation of the chatbot. OpenAI is the same company that created DALL-E, one of many AI art generators gaining traction in recent months.
Within weeks of its arrival, ChatGPT has become a very real nuisance for longtime science fiction and fantasy magazine Clarkesworld. Founded in 2006 by Neil Clarke and playing host to award-winning fiction for years, Clarkesworld made the abrupt announcement on February 20 that "submissions are currently closed" before explaining that the influx of AI-generated submissions had overwhelmed their staff.
In a recent blog post on his website, founder Neil Clarke outlined the boost in plagiarism submissions that happens to align quite clearly with the debut of ChatGPT. After having to deal with only a few dozen submissions being detected and banned for plagiarism in October 2022, that figure skyrocketed with a more than 1000% increase to nearly 350 plagiarized submissions in just the first 15 days of February 2023.
Clarke further said that their situation is "by no means unique," and the latest targets in recent months have been the higher-paying outlets with open submissions systems. Easy-to-find tutorials to mass-produce content with ChatGPT for "quick passive income," as most videos phrase it, keep popping up on YouTube with some receiving thousands of views.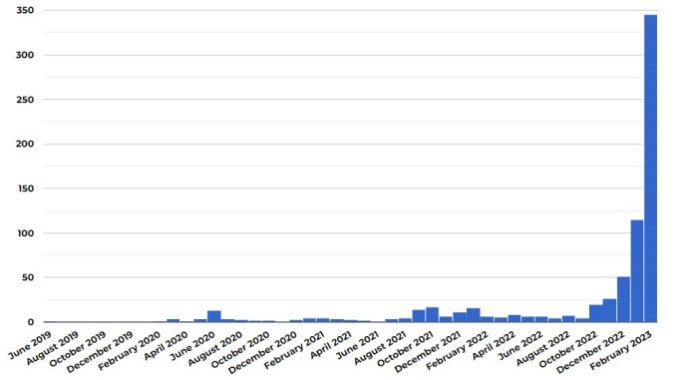 One tutorial from January that is now up to more than 100,000 views even goes on to outline how to use a secondary tool, WordAI, which rewrites existing content so that plagiarism checkers have a harder time identifying that it is stolen. While editors work to develop their own strategies to cut down on AI-generated submissions, OpenAI is playing both sides of the fence by attempting to sell a solution to a problem they created.
On January 31, 2023, OpenAI announced the launch of "a classifier trained to distinguish between AI-written and human-written text." Despite explaining that the classifier only correctly identified 26% of AI-written text and misidentified 9% of human-written text as AI-written, the tool was launched anyways and is free to use through their website.
Of course, some marketplaces like Amazon are simply choosing to pretend the problem doesn't exist. A recent report from Reuters detailed how over 200 e-books on Amazon explicitly list ChatGPT as an author or co-author, which doesn't even scratch the surface of how many likely exist within that self-publishing ecosystem that are purely plagiarized work. Amazon is notoriously opaque with its practices, and the KDP FAQs and searchable help topics on its website never directly mention the issue of plagiarism. Amazon doesn't appear to have ever disclosed whether or not there is an automatic plagiarism check run on new content submitted through KDP, but instead, the question of verifying the authenticity of work falls to the user.
When asked for comment by Reuters, Amazon spokeswoman Lindsay Hamilton stated that "all books in the store must adhere to our content guidelines, including by complying with intellectual property rights and all other applicable laws." Of course, the question of legality is still being debated, as many of these ChatGPT-assisted Amazon publications are paired with AI-generated images to create children's book illustrations and covers that may have additionally stolen art to go with their plagiarized creations.
As of now, actual success stories for these tactics seem far less common than tutorials telling you that you could maybe, potentially, possibly, probably, definitely, eventually make thousands of dollars if you just do it a lot. Brett Schickler, who self-published an illustrated children's e-book in hours, told Reuters he netted less than $100 for his work. However, even unsuccessful arrivals hitting the Kindle marketplace en masse will have a negative impact on authors.
Amazon closely guards its algorithms, ones that seem to change on a dime, and for actual career self-publishing authors it's a delicate balance of knowing how to navigate the landscape and make a consistent income. That delicate balance is suddenly becoming overrun not by new creatives but by grifters looking for a new side hustle. The continued improvement of tools like ChatGPT, and the willingness of platforms like Amazon to look the other way, will only allow more bad actors to fill that ecosystem with more stolen meritless work.
Quality will win out at the end of the day, as factors like reviews and established author presence will keep those who already have search standing on Amazon from being impacted too directly. However, new and emerging authors still building their platform suddenly have a black market of grifters churning out content to contend with. While AI like ChatGPT isn't going to replace human writers any time soon, it only took it three months to start making their lives even harder.