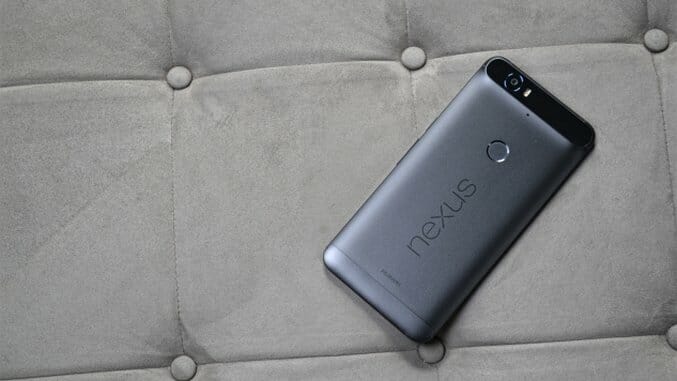 Google, by many accounts, lost its way with last year's Motorola-built Nexus 6. The nearly 6-inch behemoth was too much phone for most and came at an uncharacteristically high $649. This year, the company cast as wide a net as possible, following the footsteps of Samsung and Apple, releasing two new devices. It returned to LG for the budget-conscious Nexus 5X, a spiritual successor to the most popular Nexus device in history, but surprised many by teaming with Chinese phone maker Huawei for the more premium choice, the Nexus 6P.
As important as the 6P is for Google, being the first unequivocally premium Nexus device, it's just as influential for the future of Huawei. The company has quietly built solid phones a world away for years, but failed to get any real traction in a U.S. market dominated by Apple and, to a much lesser extent, Samsung. The 6P won't get Huawei a vast market share, that's not what Nexuses do, but it could open doors if the company delivers.
In the past, the Nexus line reflected Google's vision for an affordable approach to smartphones. In 2015, Mountain View is here to play offering a premium, all-around phone that's gunning for the "Best Android Smartphone" title and deserves everyone's attention.
Hardware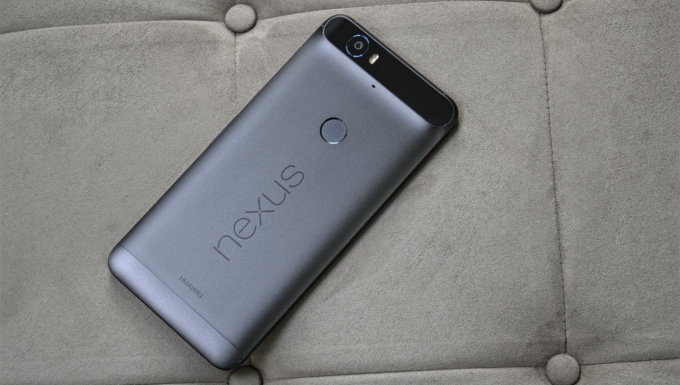 Like many, my initial reaction to the Nexus 6P was akin to a toddler staring down a plate of Brussels sprouts. The main culprit was the unsightly glass bar housing the camera module, laser autofocus and a bevy of antennas and sensors that allow the phone to function. It's a necessary evil, and after spending a wealth of time with the 6P, I can confidently say it grows on you.
Most users will cover it with a case as it is, but the bar doesn't jut out as far as it appears in photos, and gives the phone a distinctive, bold look that most manufacturers shy away from. The device doesn't tilt significantly on a flat surface, but if it is a bother, I'd suggest picking up the Graphite version, which dulls the contrast between the aluminum back and glass.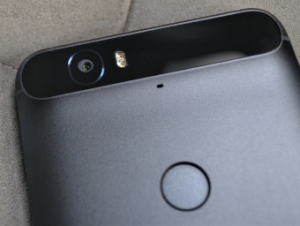 My least favorite design choice isn't the glass bar, but a plastic panel near the bottom. While another necessary evil, the panel disrupts the aluminum construction and the colors don't quite match, making it an eyesore in person.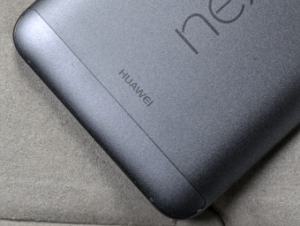 That said, any dissatisfaction with the design and build of the 6P is nothing more than a nitpick. Huawei has done a masterful job. The device feels phenomenal in the hand with a definite heft so as not to feel fragile, but light enough at 178 grams so you won't tire. It's incredibly thin, just 7.3mm, which, when coupled with petite bezels, makes the 5.7-inch screen manageable. Even as a person with moderate-to-small hands, the 6P's screen size, for me, is reasonable to use, with some finagling, in one hand.
The front of the device is a simplistic slab of Gorilla Glass 4, the only pronounced feature being the dual, front-facing speakers. Kudos to Google and Huawei for including them, a trait that should be more prominent among the very best smartphones. The speakers are loud and crisp, offering great sound for a mobile device. They make all entertainment, but especially gaming, more immersive and pleasant. As with any glass front, the Nexus 6P is prone to smudges, though it isn't nearly as bad as the OnePlus X.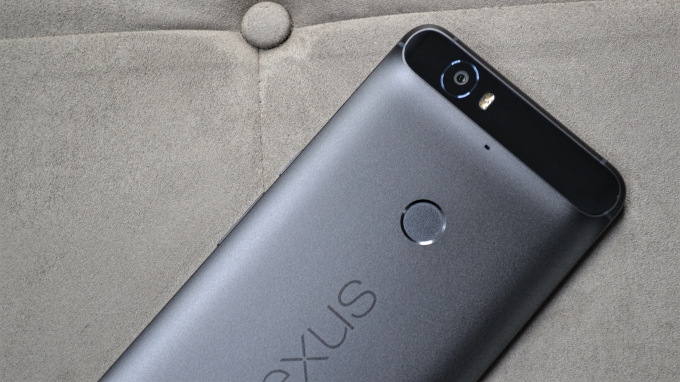 One of the biggest additions to this year's line of Nexus devices is the new fingerprint scanner, dubbed Nexus Imprint. The curious choice here is placement. Instead of, like many companies, placing the scanner on the front of the device, Huawei and Google opted to incorporate it on the back. I was skeptical at first, but the location is nearly perfect. It sits exactly where my index finger naturally rests when I pick up the phone, the only problem being that I have to pick it up in order to use it.
Any inconvenience caused when using the device on a desk is made up for by the scanner's speed and precision. It's one of, if not the, fastest scanners I've used. When it read my print incorrectly, which it rarely did, it was usually because of user error. I never saw the lock screen unless I intended to, most often zipping past it directly to my home screen.
For all its hardware achievements, the 6P's 5.7-inch QHD screen is the star of the show. It's one of the best displays you'll find on any smartphone, with vivid colors and deep blacks that bleed into the glass front, making the entire thing look like one massive display. Every task is improved because of it, and it's the thing people first notice when you hand them the phone. I was saddened by how quickly my eyes adjusted to it, but am easily reminded how wonderful it is the minute I pick up a device with a lesser panel. It is perhaps a touch behind the latest Galaxy phones, but not by much. There is simply nothing to complain about. Some users report a pink tint, most apparent with white tones, but I've had no such issues to.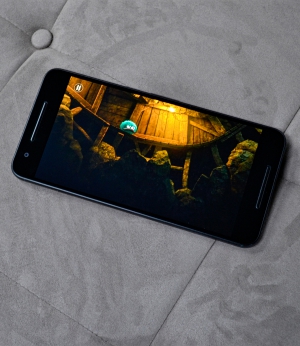 Another notable change with Nexus devices this year is the inclusion of USB Type-C for charging. It might cause minor inconveniences, given that essentially no one has USB-C gear, meaning you'll have to be diligent about packing all the necessary cords when travelling, but the benefits of reversibility and quick-charging are enough to remedy those issues. Plus, in a few years USB-C will be the standard, and you'll have a head start in the conversion process.
Because it is Type-C, it does not support Qualcomm's Quick Charge 2.0 or 3.0 technology, but will still charge rapidly thanks to USB-C's greater power delivery capabilities. Google's claims of "up to 7 hours of use" from just ten minutes of charging rang hollow for me, but the 6P does charge remarkably fast. In my testing, it takes roughly 1.5 hours to get the device from zero percent to full power.
What Huawei has done with the 6P hardware is impressive. There is no doubt, from the moment you lay hands on the phone, the device is worthy of its "premium" moniker. It's even more superb when you consider the $499 price tag, a fraction what many of the devices in the same weight class cost.
Software
As with any Nexus, part of the appeal of the 6P is the stock Android experience. On board this year is 6.0 Marshmallow which, while not the visual overhaul of Lollipop, does bring a few interesting features into the fold. Chief among them are Now on Tap and Doze, the latter helping bolster battery life and the former looking to revolutionize the way users glean information from their phones.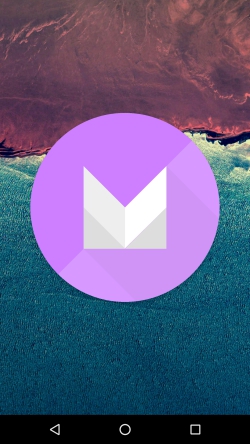 As I wrote in my HTC One A9 review, Now on Tap is more neat trick than useful tool at this point. It takes a second or two to launch and, once it does, it's limited, generally, to apps like IMDB, YouTube, Google Search, Yelp and a few others. It can also be plain wrong (note in the photo below that Now on Tap names Paste a record label). The feature has potential, in a few years it could make navigation on your phone far simpler, but the functionality isn't there yet. In fact, I mostly forgot Now on Tap existed for much of my time with the 6P, never finding a need for it.
Battery life is generally good, though not as stellar as anticipated. Doze offers a nice boost, but is not the world saver Google might like us to believe. Some users report splendid standby time, losing only a percentage or two over eight hours or more. I have not been as lucky. The best night I had with my 6P off a charger saw a four percent loss in battery, the worst as high as 15.
The issue seems to be that Doze activates when your phone is at rest, but if apps or system settings are forcing the device to stay awake, Doze won't be as effective. In order to optimize performance, you may have to fiddle with some settings, or keep a close eye on certain apps. I also live in an area with spotty cell reception, which affects battery life, but the 6P (which packs a healthy 3450mAh battery) has more than enough juice, whether putting it through its paces or using lightly, to get me through the day with percentage to spare.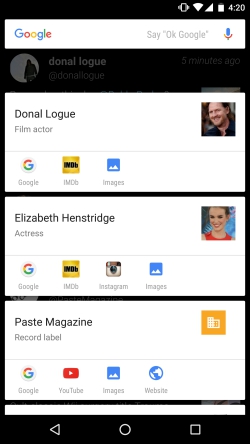 Another big addition to Android is the ability to choose individual app permissions. It doesn't add any flash to your daily use of the phone, but will give more security. If you don't want Chrome accessing your camera, toggle a switch in the settings and ease your mind.
With a Snapdragon 810 processor, Adreno 430 GPU and 3GB of RAM, the 6P flies around its software. There are occasional hitches, which could be attributed to the youth of Marshmallow, but generally the device is smooth. Multitasking is a breeze and heavy apps, like games, never drop frames. The hitches I mention are usually small stutters when flicking through homepages, or jumping into Google Now. It's nothing to worry about, really, just accentuated in its annoyance given how well the device handles everything else.
I did experience random reboots, which were concerning, but they came fewer and farther in between in my weeks with the device, and (per community suggestion) I did a factory reset to see if it would eliminate the problem. So far, the reset has done its job, but if the reboots return I'll update the review to reflect the issue.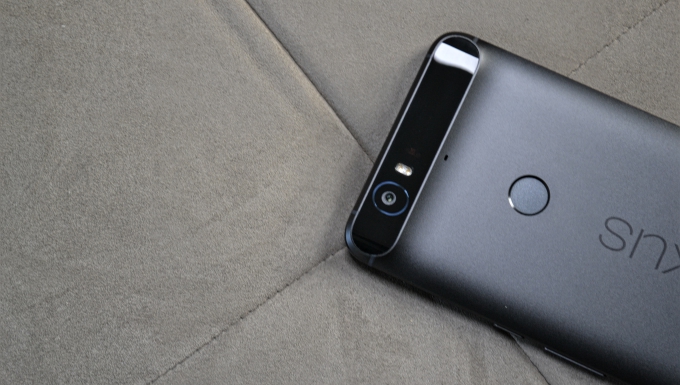 The one confusing hiccup that consistently caused issues for the 6P was the camera app. It's odd a stock app would trip the phone up, given the horsepower inside, but it does. The app can be slow to launch, and slow to capture an image, meaning users may miss a shot or two. You can double-tap the power button to launch the app, which works decently, but is still prone to the lag. The good news is that this can all be remedied with a software update, and Google is likely hard at work improving the situation.
Once you're in the camera app, its intuitive and easy to use. There is a definite lack of control, as you can't pick and choose ISO, white balance and the like, but for the average smartphone photographer, what's included will be enough. The camera itself is a 12.3MP shooter with a f/2.0 aperture, laser autofocus and dual-tone LED flash. It's the best camera to ever grace a Nexus device, giving point-and-shoot confidence no matter the situation.
Photos are crisp with good color, impressive detail and decent dynamic range. Highlights can get blown out, but pictures usually hold up well under high scrutiny. Low light performance is good enough, and the app now offers Auto HDR+, which will adjust the exposure when lighting is low or the scene is backlit (users can also manually engage HDR+ when needed).
Two other features included this year are slow motion video capture, up to 240fps on the 6P, and Smart Burst. The latter, which is exclusive to the Huawei device, allows users to hold down the shutter button and take a slew of photos in mere seconds. The system then lets you create a GIF from the photos, but will also automatically choose the best picture from the bunch. There is a lack of optical image stabilization, a disappointment, but the software included to bridge the gap should be enough for most users.
If you're an avid photographer or videographer hoping to take advantage of the camera's 4K shooting ability, the lack of OIS is something to keep in mind. As is the lack of control, though a third-party camera app could offer what Google's is missing. The front-facing camera is a passable 8MP that will give satisfactory selfies, precisely what it's there to do.
Verdict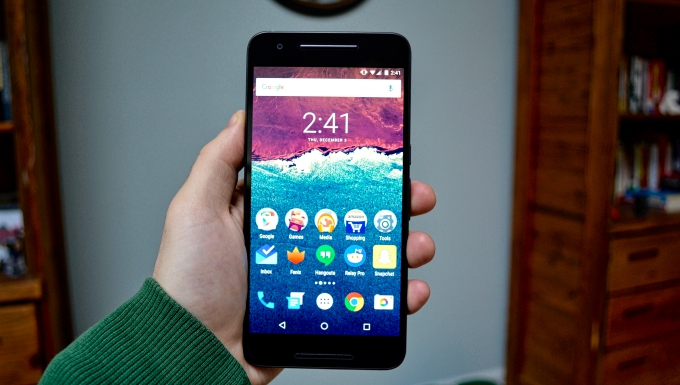 Despite its $499 price, a far cry from equally premium Galaxy devices and Apple's iPhone 6s, Huawei cut no corners making the 6P. It's build is exquisite, with a bold design that earns appreciation over time, fantastic in-the-hand feel and a show-stopping screen. On top of it all, the 6P offers the best software experience of any Android phone with a stock build of Marshmallow that runs like a dream.
After spending many years offering Nexus devices that had significant caveats, Google delivered, with Huawei's help, a fully premium phone with the 6P. In doing so, the company didn't just gun for the "Best Android Smartphone" crown. It came and took it.