Photo editing apps on mobile devices have come a long way with additions like Camera+ and VSCO cam letting users turn a middling resolution smartphone pictures into artistically lit photographs. But while its become easier to edit images in smartphones and tablets, doing any serious editing with RAW or higher-resolution camera images is still very limited on tablets even with a card reader for your iPad.
Despite its attempts with apps such as Photoshop Express, for years now Adobe has been relatively behind the game on the mobile front. Now with Lightroom Mobile, a new free iOS app for the iPad, Adobe is making a major play to let users work with RAW files on the tablet. The new app is an ingenious solution that lets both amateur iPad shooters and professional photographers do serious RAW image editing away from their desks and then sync everything with the full desktop client when they log back in.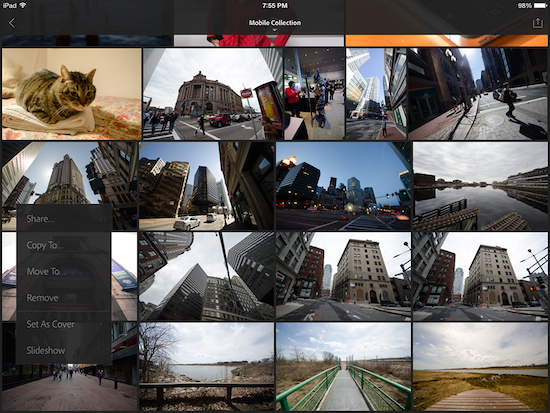 While the app is technically free in the iTunes store, you need to be an Adobe Creative Cloud subscriber to actually use it. Luckily there's a fairly cheap way of getting in through the $9.99 per month Photoshop Photography program, which includes a copy of Photoshop CC and Lightroom 5, plus any subsequent updates for either program. It's a bit pricey, especially if you're monthly Spotify and Netflix subscriptions are starting to add up. However, it's well worth it if you're already planning to edit a lot of images.
The app also requires a bit of initial setup on the desktop side before the iPad app can actually retrieve any photos aside from the ones imported directly from the internal camera roll. Photos need to be moved into a collection and then synced to Lightroom Mobile. Once everything is all set, then you can start working on your photographs as if you were running the desktop client on your tablet.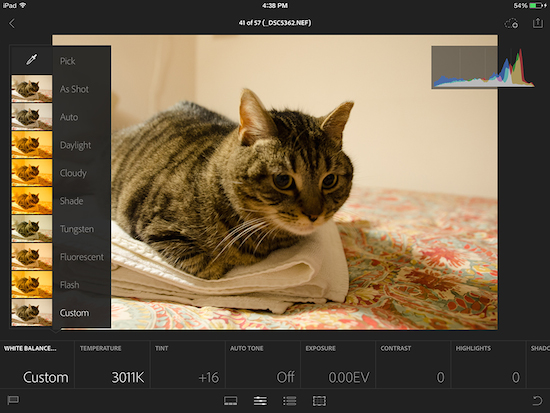 Luckily after this exhaustive process, actually working with photos in Lightroom Mobile is a joy. The app opens up and instantly loads any collections from the desktop that are synced to Lightroom Mobile. After you pane through a few menus the app will give you a nice big window to edit the image in. Tapping on the bottom menu marked a switcher board brings up most of the Lightroom Mobile's editing presets.
They're all neatly arranged in a horizontal bar, letting users change up the color saturation, set a new white balance, Auto Tone to automatically auto level the image's exposure, and many more of the options available on the full version of Lightroom. All of these little tweaks are made using slider bars that pop up once user taps on any of the settings above.
Lightroom Mobile also incorporates many more gesture controls including swiping a single finger up and down on the screen to flag the image as pick or for deletion later. Tapping with two fingers, meanwhile, will pop the metadata and give you a histogram for the picture, and finally holding three fingers on screen will give you a quick glance at the image without all your edits. Some of these gesture controls also spill over to the cropping tab all the way on the right. Dragging your finger from beyond the edge of a picture will let you rotate to straighten things out or make them even more askew.
The middle editing pane, meanwhile, has a few preset filters letting you turn your images into a black and white print, something in sepia, or apply a little fake vignetting for that vintage look. One annoying thing is there are not any options to any granular controls to modify each effect or a way to import your own effects.
Despite all the power behind Lightroom Mobile it still pales in comparison to the full desktop version. There are more than a few essential tools missing including noise reduction, lens profile corrections, sharpening, or curves.
Lightroom Mobile is also fairly limited in that it needs an Internet connection to "import" images aside from images you take on your iOS device. What Adobe has done isn't actually editing RAW images on the iPad as they're still far too large and require too much processing power to edit. So instead what Adobe has done is used Smart Previews to create proxy files in the cloud that shows you a preview, which also carries over your changes.
But this isn't anything you'll ever notice because images refresh across devices within just a few seconds. Alternatively, users who want to work on their images on a plane or in the subway can also download their collections for offline editing.
Lightroom Mobile is a noble first try. The app has a simple and intuitive interface—plus, its use of Smart Previews finally allows photographers to seamlessly edit and view their RAW images on a tablet. There are some glaring post processing holes left in the current version of Lightroom Mobile, but it's important to note that Adobe has plans to improve the app down the line—as well as upcoming versions for the iPhone and Android devices.
If you're already enrolled as a Creative Cloud subscriber and own an iPad, downloading the app and using it is a no brainer. However for everyone else, the $10 per month might be a steep entrance fee. As for the app itself, Lightroom Mobile is an extremely polished app that helps extend Lightroom's versatility beyond the desktop and adds a powerful photo-editing app for mobile devices.
Lightroom Mobile is an iOS app available for free in the App Store.