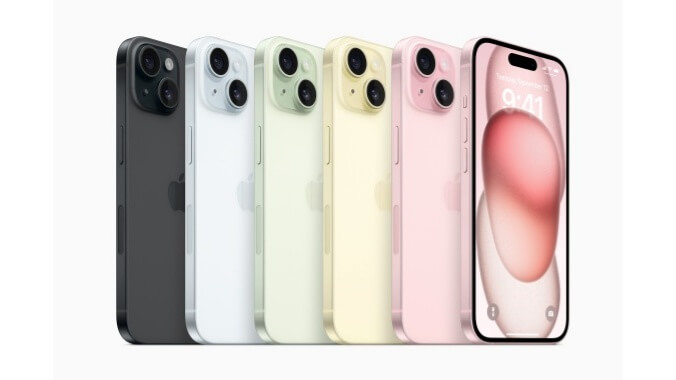 The next generation of iPhone made its debut Tuesday at Apple's Fall 2023 event, giving the public its first look at the iPhone 15 and iPhone 15 Plus, though many of the new additions may look very familiar to those who purchased the iPhone 14 Pro last year.
As has become tradition with many major smartphone developers, most of what sets the iPhone 15 apart from its predecessor boils down to bringing features from the previous year's more expensive device to the main device. For the iPhone 15, that means the Dynamic Island, Apple's minimized notification and app-tracking module that lives at the top of the screen, is making the jump to every iPhone in addition to a much-improved camera array.
The camera system is anchored by a 48MP main camera, up from last year's 12MP, that uses Apple's "quad-pixel sensor" and Smart HDR technology to produce bright, colorful and crisp images in various lighting conditions. The company touted that images shot on the new iPhone boast double the resolution compared to last year's model. The main camera also has 2x telephoto capabilities at 12MP and is joined by a 12MP Ultrawide camera.
The 12MP front camera remains fairly unchanged, but selfie lovers do get new tools to play with in Apple's new Auto Portrait Mode, which packs in new focus and depth tools with better shutter speed that allows users to edit images in the Photos app to have that Portrait Mode feel. These tools are available on both the iPhone 15 and iPhone 15 Plus.
Viewing those images on device also gets a boost from a display with improved brightness. The iPhone 15's 6.1-inch display and iPhone 15 Plus' 6.7-inch Super Retina XDR displays can reach brightness levels of up to 2000 nits or 1600 nits for HDR images. The display's refresh rate is fixed at 60Hz, which is good but a bit of a letdown considering other devices, including Apple's own iPhone 15 Pro line, including variable refresh rates.
The chip powering these improvements is also familiar to last year's iPhone 14 Pro line. The A16 Bionic chip ups the processing power sizeably, touting a 16-core neural engine and 6-core CPU. The improved performance also secures more battery life from the iPhone 15's larger battery (the iPhone 15 Plus' battery is a bit larger than the iPhone 15's), with Apple claiming "all day battery life" without giving exact metrics.
The most interesting cosmetic change lies in the device's back glass, which is now color-infused and has a new textured feel which the company believes will feel better in users' hands along with its new contoured edge.
Noise cancellation during phone calls gets a boost with the new voice isolation mode, which Apple said will cut nearly all background noise during calls, and the still cumbersomely named Emergency SOS via Satellite function now includes roadside assistance via AAA.
The best news, though, is that Apple finally ditched the Lightning port and joined the USB-C party and perhaps writing the final chapter for proprietary charging ports in favor of the universal standard. MagSafe charging is still available for wireless charging for any Apple fans fretting that end.
The company also hit its commitment to carbon neutrality hard throughout the entire presentation, stating that the iPhone 15 line's aluminum enclosure is 75% recycled and its battery and internal components include 100% recycled cobalt and copper respectively.
Though many of the upgrades come from shifting components and tools from last year's premium line, the iPhone 15 and 15 Plus represent a marked improvement in Apple's signature smartphone line, especially as other market players continue to run neck-in-neck with the smartphone innovator.
The iPhone 15 and iPhone 15 Plus will be available for preorder on Sept. 15 starting at $799 and $899 for the base 128GB models before hitting store shelves on Sept. 22. Both will be available in pink shade, blue, green, yellow and black.